Seán Quinn says he visited a local priest to speak to him about controversial 'paymaster' comments he had made from the altar in 2019, in the wake of a vicious attack on businessman Kevin Lunney.
Mr Quinn says during the exchange the priest, Father Oliver O'Reilly, just "sat there".
Father O'Reilly had said 'the paymaster needs to brought to justice' from the pulpit in the days after the attack on Mr Lunney. He did not name Mr Quinn. The comments were picked up by the media.
"I said, 'father, you're wrong – wrong - and you've done me and my family an awful lot of damage. I want to know how you came up with this or where you came out of'," Mr Quinn said.
Seán Quinn told Miriam O'Callaghan despite there being no direct reference to him, he had concluded Fr O'Reilly was referring to him in his comments and that the priest had been "told this and he was told that and he was told the other."
"I have a fair idea who told him, but I'm not going to go into those names," Mr Quinn said.
"He made up his mind that I was involved somewhere along the line, that if I wasn't actually involved in the kidnapping, I was paying for it."
When contacted by Prime Time, Fr O'Reilly said on Thursday that he had never made any accusation against Mr Quinn and that he was "quite surprised at his reaction."
Kevin Lunney was abducted near his home in September 2019, held for several hours in a horsebox, and viciously attacked.
The attackers broke his leg, doused him in bleach, and carved the letters 'QIH' into his chest, leaving permanent scars. He was found injured on a quiet roadway.
The attack horrified the border community where Mr Lunney and Mr Quinn both live.
Mr Quinn has always denied any involvement in the attack on Mr Lunney, who was a senior executive in Quinn Industrial Holdings, the entity which took control of Quinn company assets in the wake of the collapse of the Quinn corporate empire.
During that period, Mr Quinn and his relatives lost key management positions in the company.
Prior to the changes in the company management, Mr Lunney had been a key employee of Mr Quinn.
"I'm not that type of guy. I am not into going around beating people up or getting involved or encouraging people in sports or in business or anything else," Mr Quinn said.
"That's not my style. What I was saying was very clear, was that Mr Lunney wasn't the main culprit in my downfall."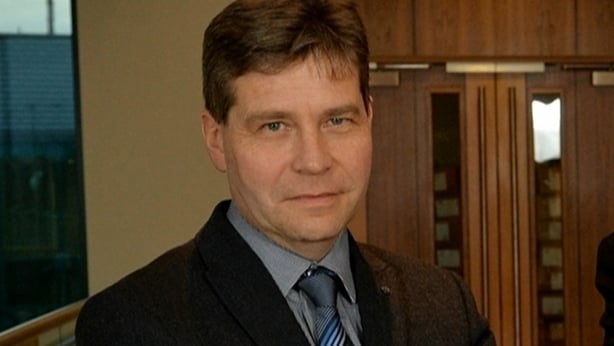 Seán Quinn was speaking in advance of the release of a book he has written giving his version of events in relation to the collapse of the Quinn empire, 'Seán Quinn: In My Own Words.'
A chief suspect in the attack on Mr Lunney was convicted smuggler, Cyril McGuinness, also known as 'Dublin Jimmy'. He fled the island of Ireland in the wake of the attack, and died of an apparent heart attack during a police raid in England in November 2019.
Three other men were convicted of the attack in the Special Criminal Court in Dublin in 2021. They were given sentences ranging from 15 to 30 years.
Asked whether he knew Dublin Jimmy, Mr Quinn said "Of course [but] let's put it this way. I was never talking to him for 30 seconds, if that is any help. And did I meet him ever for a chat? No."
"Would any of your family know him?" Ms O'Callaghan asked.
"Sean Junior played pool with him once or twice," Mr Quinn said. "That was reported. There was a lot of stuff said about that. But I never met the man. No, I never met the man."
Mr Quinn said he heard about the attack on Mr Lunney from a friend.
"My reaction was, well, that was a barbaric act, as I believe it was. Regardless of what Kevin Lunney may have done or said, it does not really matter - a man going home from work at five or six in the evening, he is entitled to go home to his wife and family," Mr Quinn said.
When asked if he tried to find out anything about who carried out the attack, he said it "wouldn't even cross my mind. It wouldn't even cross my mind."
"I don't stick my nose into other people's business, never have. And I think the record around here would tell you that Seán Quinn minds his own business."
Mr Quinn said recent years have been "rough" on him and his family.
"The kids stuck very close by me and supported me as best they could, and I supported them. It does create wee bits of gaps here, there, and yonder. They fought that fight for maybe ten years and they lost that fight and... nothing we could do about it."
---
Watch: Seán Quinn speaks about the attacks on Kevin Lunney, and his reaction.
We need your consent to load this comcast-player contentWe use comcast-player to manage extra content that can set cookies on your device and collect data about your activity. Please review their details and accept them to load the content.Manage Preferences
---
Once Ireland's richest man, Mr Quinn went bankrupt during the implosion of the Quinn group and Anglo Irish Bank in the early 2010s. He had built up an enormous stake in the bank using a complex financial instrument known as contracts for difference.
When the share price of the bank collapsed, Mr Quinn lost his fortune, and eventually control of the Quinn Group.
Local business people and Mr Quinn's former management team, including Mr Lunney, were backed by American investors to purchase and retain several important manufacturing parts of the business, eventually forming Quinn Industrial Holdings.
Mr Quinn and one of his sons were initially retained as consultants by QIH, but parted company with the management team after a year, claiming they had been "stabbed in the back."
During a protracted legal process over control of the group, Mr Quinn was jailed for nine weeks for contempt of court. Mr Quinn told Prime Time the people who should take key responsibility for the collapse of the Quinn Group are not the Quinn family.
"I spent around €600million on shares and contracts for differences, which was stupid, but totally legal. The Irish government allowed Anglo to add €2.34 billion to support those shares."
"Everybody's wise in hindsight, including me, but I'm sure the government themselves, and I'm sure the Department of Finance and the regulator and that, I'm sure they were aware."
"But the funny thing about them is I paid the price... I paid the price by them taking my company off me to save their necks."
Quinn Insurance was put into administration in April 2010. To cover the costs to the public finances, a two percent levy on all insurance premiums was imposed and has been paid by all purchasers of insurance since.