It is fourteen months since a high profile press conference at which an international law enforcement plan was announced to target the Kinahan Organised Crime Gang (KOCG).
On Sunday, senior gang member Liam Byrne was arrested in Majorca.
What does it say about how the plan is progressing?
In Dublin City Hall last year, US, EU and UK law enforcement officials sat before a bank of reporters and photographers and announced a raft of sanctions designed to disrupt the activity of the KOCG.
Photographs of seven Irish men were displayed. Gardaí and others say they are the leaders of the Kinahan gang, which operates internationally.
They were Christy Kinahan and two of his sons - Daniel and Christy Junior - John Morrisey, Bernard Clancy, Seán McGovern and Ian Dixon.
Six of the seven remain at large.
Morrisey, an alleged money launderer also known as Johnny Cash, is currently in custody in Spain.
The others are thought to be variously in Dubai, Spain, and possibly even Iran.
Liam Byrne was not on that list, yet his arrest last weekend is potentially just as significant as the detention of some of the others.
Described by the Criminal Assets Bureau as a career criminal, Gardaí say he led the Irish 'franchise' of the Kinahan crime gang for years.
The High Court has been told Byrne was heavily involved in drug trafficking and violent crime and a "trusted lieutenant of Daniel Kinahan and the Kinahan Organised Crime Gang."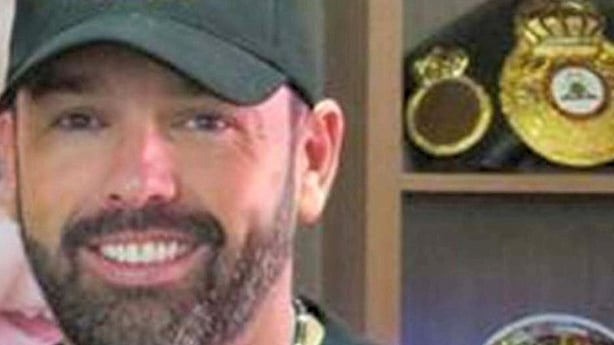 Byrne's brother David – also a member of the KOCG – was shot dead in Dublin's Regency Hotel in 2016.
Daniel Kinahan was the target of that murderous attack, which was carried out by the Hutch gang.
It triggered the infamous Kinahan-Hutch feud.
Eighteen people were killed as a result. Several were victims of mistaken identity – innocent bystanders with no links to crime.
That feud drew increased attention from Gardaí and ultimately the spotlight of international law enforcement agencies.
Among them, the UK's National Crime Agency (NCA), which sought Byrne's arrest on Sunday.
Its officers were on the ground when he was detained by Spanish police at a restaurant in the Majorcan resort of Alcudia.
The NCA is seeking Byrne's extradition to England to face serious firearms charges. Were he to be found guilty of the charges, it is likely he would receive a lengthy prison sentence.
He's not the only member of the gang currently behind bars. People at all levels are now in detention.
A second man, Jack Kavanagh from Tamworth in England, was also arrested in Spain this week as part of the NCA investigation.
The 22-year-old is not thought to be a senior figure, but is the son of Thomas Kavanagh who was previously identified as the leader of the Kinahan gang in the UK.
Thomas Kavanagh is serving a 21-year prison term in England.
He was sentenced in March 2022 for his role in a drugs operation which a court heard brought €36m worth of cocaine and cannabis into the UK in a twelve-month period.
Sentenced alongside him were two other senior figures in the Kinahan gang's UK operations, Gary Vickery and Daniel Canning.
Fourteen months on from the unprecedented press conference, the net appears to be closing on the Kinahan crime gang's most senior leaders.
In the years that followed the Regency attack, Gardaí arrested hitmen and dealers with known links to the gang.
Then, sanctions and investigations across the world clamped down on their financial activities and drug trafficking.
Now, people who for years oversaw the operations in Ireland and the UK are in custody.
The seven men in the photographs in City Hall are coming under pressure. Law enforcement officers are confident they will dismantle the Kinahan crime gang.
It seems Liam Byrne's arrest won't be the last.
---
An RTÉ Prime Time report on Liam Byrne, and the Kinahan Organised Crime Gang, broadcasts on Thursday, June 8 at 9.35pm.