A spokesperson for the company that operates Dublin Airport, daa, said he is confident passengers will not experience long queues as they pass through the airport over the forthcoming bank holiday weekend.
However, Communications Manager Graeme McQueen warned that car parking may be an issue for passengers.
"There is a squeeze at the moment, that's because one of the privately owned car parks with 6,000 spaces is out of action," Mr McQueen told Prime Time.
"That's heaping a lot of pressure on our own 23,000 spaces.
"The message to passengers is - if you haven't booked already for your holidays, get online and book. If you can't find a space, then you need to consider one of the alternative ways to get to the airport this summer."
Around 425,000 people are expected to pass through the airport over the four days from Friday 2 June through to Monday 5 June.
The 2022 June bank holiday weekend saw long queues at security and significant baggage delays for passengers.
Since then, the authority said it had increased staff numbers and upgraded the infrastructure used for processing passengers.
However, technology to prevent disruptions caused by drones is not yet in use. In recent months, the operation of the airport has been disrupted six times by drones.
"We have bought the technology. We were asked by the Government to do that. We did that very quickly, within a couple of weeks," said Mr McQueen.
"The requirement now is that we need ComReg to approve our use of that technology."
Travel commentator Eoghan Corry said he expected the weekend to test the processes put in place in recent months.
"There is a lot of work still to be done," he said, adding that if staffing or other issues impact other international airports, problems in the baggage hall were "quite liable to start happening again".
"This bank holiday weekend is a good time to take an assessment and see what's going to start going wrong for the rest of the summer," said Mr Corry.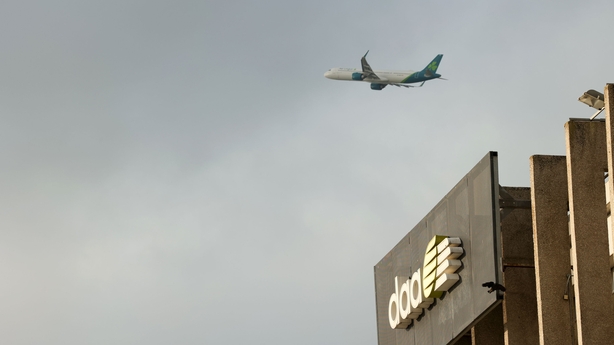 Approximately one fifth of the previously available car parking facilities close to the airport are currently unavailable due to the closure of a privately run long-term parking facility nearby.
The long-term car park formerly run by QuickPark can hold 6,000 vehicles, but it has been closed since the pandemic, when passenger numbers plummeted due to travel restrictions.
The daa has been trying to acquire the QuickPark site, which is owned by developer Gerry Gannon and was used to secure a Nama loan.
It reached an agreement to buy the site in February this year. On 23 March, the Competition & Consumer Protection Commission (CCPC) opened an investigation into the sale, and it told Prime Time that it is currently awaiting responses from the parties to requests for further information.
"We're working very closely with the Competition Authority to provide them with the reassurances that they need", Mr McQueen said.
"There's a significant amount of information required and the [daa] team are working very hard to deliver that to them.
"If we got the keys to that car park today, we could open that within one, two weeks. So hopefully we can make that happen and that will ease the pressure on the car parks over the end of the summer."
The CCPC told Prime Time that an investigation into the sale automatically arose because the parties involved have turnover of over €10 million. It said it had received 14 complaints about Daa's bid, many before it was formally notified by the parties involved in it.
Asked about reports in the Irish Times about the proposed sale of separate lands adjacent to the airport that could be used for a future third airport terminal, Mr Queen said: "We don't see a need for that at the moment.
"We think that's a number of years away, but when the time is right, we will look at those types of investment."
Mr Corry said the Daa plans for an extension to Terminal 1 and further additions to Terminal 2 currently at planning stage with Fingal County Council should solve capacity issues at the airport "in the medium term".
But he added that once Dublin Airport returns to pre-Covid passenger levels of 32 million per year, a decision on a future third terminal would be unavoidable.
"We're probably going to be looking at a long-term solution very soon because the planning permission for Dublin Airport requires an application for planning for a third terminal or one of those long-term solutions as soon as our passenger levels hit 32 million," he said.
Passenger levels last surpassed 32 million in 2019, but after the pandemic period, passenger numbers only returned to 27.8 million last year.
Mr Corry said that even if passenger levels do not surpass 32 million in 2023, "we'll surely make it in 2024".