On a dark and dirty side street, a man in his early 40s stood quietly, with his face and body pointed into a tight corner.
He was polite, wearing clean clothes, and carrying a bag from a well-known sports retailer. He was also high and smoking crack cocaine.
It was barely 9am on a Wednesday in September, and Dublin city centre was buzzing with drug users, many on their way to the GPO to collect social welfare payments before scoring off drug dealers dotted along O'Connell Street and the area around it.
"Do you want a shot of it?" the man asked, putting out his hand to offer his crack pipe.
"It's crack," he said. "You'd like it."
The tiny, white piece of crack cocaine – a "rock", as it's known in the dark and lonely world of drug addiction that now besets the capital – cost the man €20, he told Prime Time.
The lane is riddled with used needles, cigarette lighters and other waste generated by the people who use it to get high, in the shadows, mere metres from Ireland's most famous street.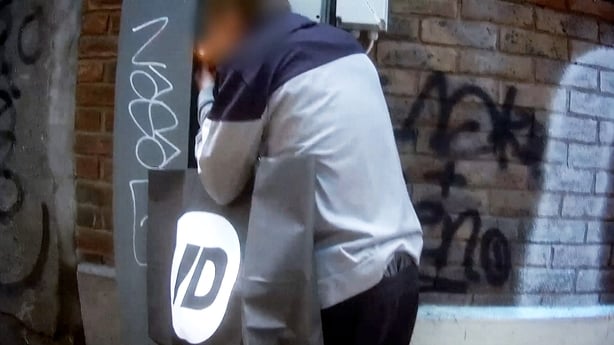 "Do you know what I'll do? I'll give you a rock now and wait until you see what it tastes like," the man said.
His proffer roundly rejected, the man lit up and sheltered from the breeze as the flames rose from his crack pipe.
O'Connell St is a beautiful thoroughfare. Long, wide and imposing, it's lined with the statues of iconic figures in history, and anchored by the iconic GPO.
It is here that the fight for Irish freedom was focused during the 1916 Rising.
Though the street is ostensibly Ireland's Champs-Élysées, it is a shadow of its former self. Due to a bitter planning row, several properties on one side lie idle. Vast sections of the street appear abandoned and derelict.
On the face of it, O'Connell St is a busy one. The Luas criss-crosses the street, and buses pour in and out. But, in many senses, it is a liminal space – somewhere people just pass through.
That is a symptom of the street's current predicament. But it is also, according to experts who have studied O'Connell St, part of the diagnosis.
"It's broken-window syndrome," Dawn Russell, of the Ana Liffey Drug Project, told Prime Time.
"If you create an area that doesn't have a diversity of business, that doesn't have urban artworks and nice places for people to sit and to socialise with one another, you effectively strip all of that away," she said.
Whatever the cause, the drug problem on O'Connell St feels far more prevalent here than in any other part of the city.
Ms Russell said that the people selling the drugs are often addicts themselves, and many of them are personally known to her.
The dealers, she said, are often feeding their own habits or paying off family debt. But, ultimately, the real linchpins give the area a wide berth.
"The people who are behind this are either not on this island or they're certainly not living in the north inner city," Ms Russell said.
On another day, mid morning, two men walked up O'Connell St. For a time, they shared the shelter of the GPO's portico with two gardaí, law enforcement and law breakers strolling side by side.
The men delayed their arrival at the top of Henry Street to avoid the glare of the gardaí.
But they soon approached three men perched against a large flower box at the top of Henry St. The drug deal was done within seconds, and the original pair quickly scarpered down a notorious alleyway that runs parallel to O'Connell St.
"There is always trouble and, to be honest, there are never any police around," said Paul Stanley, who sells flowers under the Spire.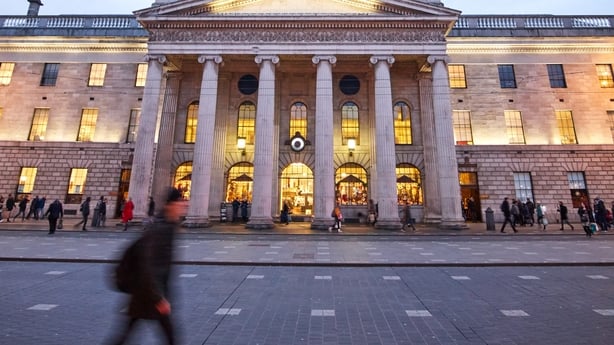 Five generations of his family have been flower sellers – many of them set up shop beneath Nelson's Pillar, the large granite column that loomed over what was then Sackville Street until it was destroyed in March 1966.
Mr Stanley said that some of his oldest and most loyal customers don't even come into town anymore.
"They don't feel safe, especially on O'Connell St," he said.
In his eyes, Dublin City Council should be held responsible. But so too should the gardaí, whose enforcement leaves a lot to be desired, he said.
As far as Mr Stanley is concerned, TDs only make flying visits to O'Connell St, visits he said that are akin to "drive-by shootings".
"They are are only going straight through it. That's it. That's how bad it has gone here," he said.
Not far from Mr Stanley's flower stand is The Happy Ring House, alternately known as McDowells jewellers. One of the street's oldest businesses, McDowells has felt the impact of what has unfolded on the street.
Founded in 1870, McDowells moved to its current perch on O'Connell St in 1902. Its doorman was killed during the 1916 Rising.
For Noel Kelly, who manages the jewellers, the current approach to policing is one of the street's big failings.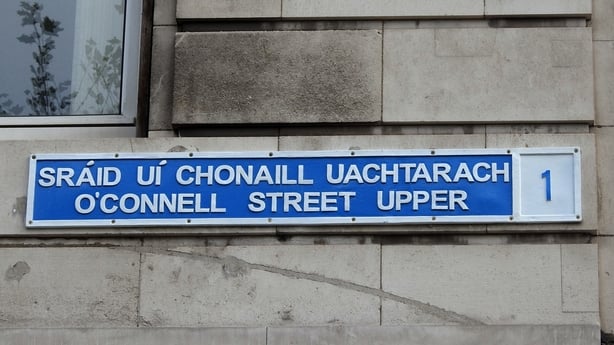 "The main issues are loitering, vagrancy, and begging. They go unabated on the street," Mr Kelly said.
The issues, he said, have multiplied since we have emerged from the Covid lockdowns.
"What we see is the lack of policing on the street."
Mr Kelly believes that Dublin City Council should set up a "proper" council for central Dublin, a kind of task force that could address the problems.
"If we don't see it from Government level or gardaí, we will see more vagrancy, more loitering and we will see the problem just continue. Those problems just won't go away – they have to be dealt with," he said.
Despite the widespread criticism of policing in the area, gardaí do have a consistent presence on the street. And An Garda Síochána insists it is doing all it can the address the issues.
As part of a special operation to deal with anti-social behaviour in the city centre, a spokesperson noted that gardaí have made 3,336 arrests, that 6,033 charges have been brought, and that €3.2 million worth of illicit drugs seized – all within the policing district that includes O'Connell St.
In an interview with Prime Time, Minister for Justice Helen McEntee said that the special operation, known as Operation Citizen, would be "relaunched" and "re-energised" within the next fortnight.
In a statement, Dublin City Council told Prime Time that it invests "significant manpower and finances" in the upkeep of the street.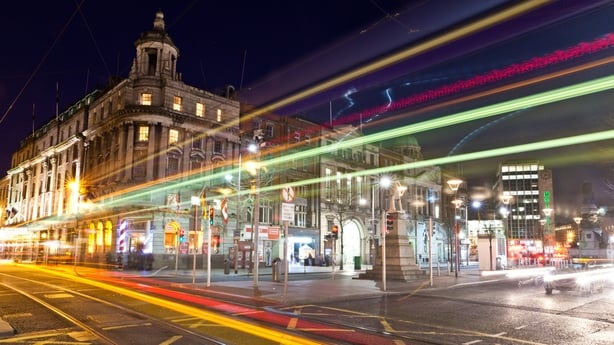 The council insisted that its cleaning and maintenance regime was "robust" and added that a "deep clean" of O'Connell Bridge was planned for this month.
It also said a scheme to reduce vacancy levels and improve the "vitality and character of the street" had been extended to 2028.
But it's hard to get away from the simple facts: Drink- and drug-fueled brawls are commonplace on O'Connell St. So too is open drug dealing.
Promises to open a police station on the street, meanwhile, appear to have suffered a setback.
In April, Ms Helen McEntee announced that a new Garda Station would be opened on the street within a few months.
Roll on six months and planning permission has just been granted to convert the derelict building for gardaí.
But the force has clarified to Prime Time that it will not actually be a Garda Station, but rather a Garda Liaison Office focusing on assisting tourists and giving advice to the public.
While An Garda Síochána said it was not clear when the office would be opened, the Office for Public Works told Prime Time that works on the building would not be completed until the first quarter of 2023, nearly a year after Ms McEntee first mooted the proposal.
Ms McEntee acknowledged to Prime Time that its opening had taken "a bit longer" than expected. But she said that Operation Citizen would be based at the new Garda office.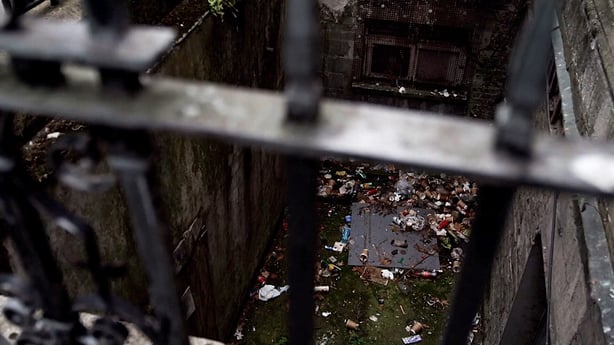 She also noted that new community safety wardens would be assigned to O'Connell St and the surrounding area.
"They'll be reporting back to Dublin City Council, and they will act as a go-between and trying to resolve issues, but also where they see criminality happening that they can alert it to the Gardaí," she said.
For Dawn Russell, the problems of O'Connell St are actually rooted elsewhere.
"What we see from an addiction treatment perspective and housing perspective is that people from all over the country flood to Dublin for support, because they don't feel welcomed in their own communities," she said.
"It's not right that everyone should have to congregate in the capital city for basic health support," Ms Russell said, noting that people with addiction issues should be supported in their own communities across the country.
The drug problem on O'Connell St feels more acute, she noted, because there is little else happening on the street at certain times of the day.
"It happens in Temple Bar, it happens on the quays on the south side of the city. It happens on Grafton St. But you don't see it as baldly as you do on O'Connell St because other life is happening around it as well," she said.
Without some renewal, Mr Stanley cannot imagine a sixth generation of his family selling flowers under the Spire.
"I don't see it myself. Unless things change or improve," he said. I'd like to think there will be, but God knows."