On a grey Tuesday afternoon in Dublin, a steady stream of tourists queued to have their photograph taken with the Molly Malone statue. Heavy rain had just cleared but the wind was howling down Suffolk Street.
In doing so, it blew three large dining umbrellas over outside a nearby pub. It's a reminder that, among the many reasons people come to Ireland on holiday, the weather is quite low on the list.
The tourism sector is now having to weather a storm of its own. Hotel prices have risen sharply and the cost of renting a car has soared. Eating and drinking out has become more expensive.
Add to that the chaos in Dublin Airport and a taxi shortage and there's a risk that Ireland could become a less attractive destination for holidaymakers.
Ireland has never been seen as a cheap destination, so comparisons to traditionally cheap and cheerful holiday spots like Greece and Spain may not be helpful or accurate.
Travel writer Fionn Davenport told Prime Time that countries like these are operating on a completely different economic model. Prices in Ireland, on the other hand, have usually been more in line with our northern European counterparts.
However, he said that there's no doubt this summer is more expensive than anything we've seen before.
There has been no shortage of stories of eye-watering prices for hotel rooms, particularly in Dublin.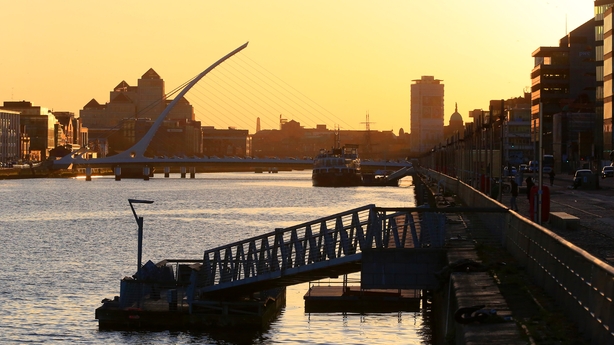 Mr Davenport said that, while price-gouging is certainly happening, for the most part it's a reflection of what's happening with hotels around the world at the moment.
"The idea that hoteliers in Ireland are all really savage, greedy people doesn't bear scrutiny," he said.
There are three major factors: the increase in energy costs, deferred bookings from 2020 and 2021, and staffing shortages. There's also the pent-up demand of people who haven't had a foreign holiday for three years.
For Dublin, there's a strange paradox. The Irish Hotels Federation said that demand for rooms in the capital is outstripping supply. Yet, new hotels are springing up at an extraordinary rate.
The argument has been made that these new builds are often coming at the expense of Dublin's culture.
By extension, some have noted that these hotels are replacing the very things people are visiting the city to experience.
Take the famous Cobblestone pub, an institution of traditional Irish music, whose backroom venue and outdoor area came close to being wiped off the map to make way for a hotel.
It's delicate balancing act.
"If the growth or the explosion of the tourism sector comes at the expense of the city dwellers and the people who inhabit the city, then I think we have a massive problem," Mr Davenport said.
The Cobblestone opens its doors at 4pm and, as the musicians tune up, the pub fills quickly.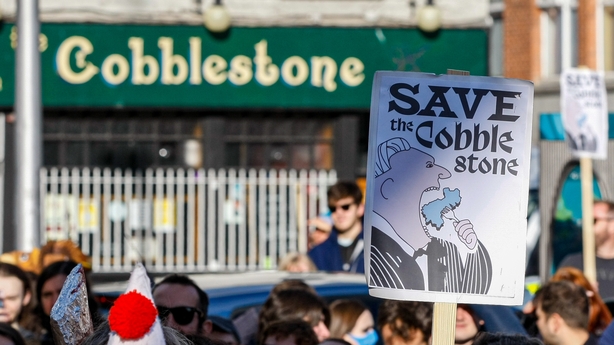 Tomás Mulligan, one of the pub's owners, told Prime Time that it's a testament to the culture that people come to Dublin to sample.
Like every other pub and restaurant, their costs are going up, but they don't want their customers leaving disappointed.
"If tourists are coming over here, it might be their one holiday for the foreseeable future anyway, so we aim to give them a good time," Mr Mulligan said.
For several American tourists at the Molly Malone statue, the price increases were of small concern.
They told Prime Time that the dollar is strong against the euro at the moment, and that food and drink prices are much the same as back in the States. Hotel prices are seen as expensive, but nobody is complaining.
While it's not much of a problem for the tourists staying in Dublin city, the cost of renting a car is adding a hefty sum to many people's holidays this year – particularly those who want to experience some of Ireland's more remote locations.
For business owners who rely on tourism trade, it's a major concern.
Michael Vaughan, who runs the Vaughan Lodge Hotel in Lahinch, Co Clare, told Prime Time that he's already had customers cancel their bookings because the cost of renting a car made the trip prohibitively expensive.
Small businesses like this rely on what are referred to as free, independent travellers, or FITS – tourists who are moving around under their own steam, not operating to the tight schedule of a tour group.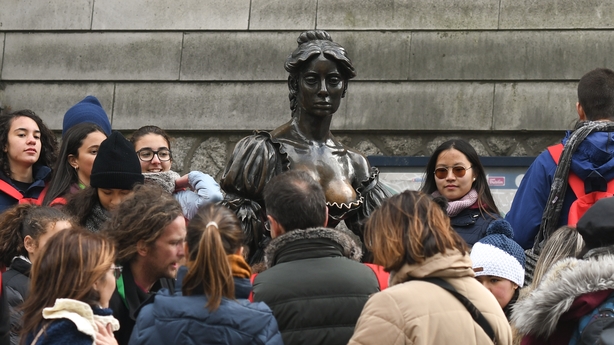 The FITs will book their own hotel rooms and restaurants and are the holy grail of tourists for business owners like Mr Vaughan.
In the west of Ireland, he said, they're particularly important.
"You try and organise a rail trip to Ireland for a week, and you won't get to too many towns," Mr Vaughan said.
On the main street in Lahinch, Rosie Kenny runs Kenny's Woolen Mills and the Lahinch Art Gallery on the main street.
She too relies on customers with money in their pockets who have time to browse.
Ms Kenny said that, while they're feeling the impact now, she is more concerned about the reputational damage to Irish tourism if people go home with stories of sky-high prices.
Outside the shop, a young couple from Pittsburgh, Pennsylvania, told Prime Time that they had fallen in love with Ireland.
Though they've found transportation tough, the cost of food and drink has compared very favourably to the European cities they visited in recent weeks.
A man from Edinburgh told Prime Time that he needed to rent a car to get to the many west of Ireland golf courses he wanted to visit this summer, finding the cost far higher than he expected.
He's offset this by staying in more moderately priced hotels. Nevertheless, he said he was here to enjoy himself and cheerfully said he can afford the higher costs.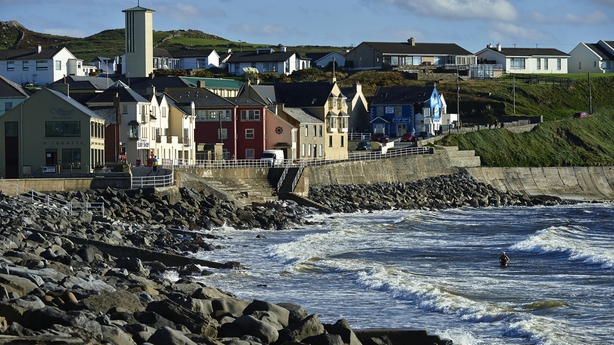 Not everybody is as cheerful though. A couple from Melbourne, originally from Co Kerry and Switzerland, told Prime Time that what they paid to hire a car would have covered the full cost of a holiday in Thailand.
In Ireland for a holiday and a wedding, they've also suffered from the airport chaos: the airline lost their luggage and they're still without it three weeks later.
"It's probably the most stressful holiday I've ever been on," Viv, from Switzerland, said.
They won't be recommending Ireland as a holiday destination to anybody – noting that the cost of hotels, car rentals and food can't be justified.
So, is this the future for Irish tourism? Is it just a spike in inflation or will Ireland come to be seen as a destination that doesn't provide value for money?
Mr Davenport believes that hotel prices will most likely return to 2019 levels next year and that the shortage of semiconductor chips that has caused a lack of supply of cars will abate, in turn bringing down the cost of vehicle rental.
"There's a difference between expensive and value for money," he said.
"I think our reputation as being a value for money destination will be protected long term."