Peter Hynes, a dairy farmer from Cork, is worried about a looming famine. He has friends working in agriculture in Kenya. He watches prices of agricultural commodities being traded on the international markets. They've all surged since the Russian invasion of Ukraine.
It means farmers like him in Ireland are suddenly dealing with a new degree of financial uncertainty.
"Our fertiliser bill has gone up over 300%," he told Prime Time.
"Our dairy ration has probably gone up about 30% to 40%, and I would expect that to increase further. Our electricity bill – same as every household in the country – has dramatically gone up."
While Peter is worried about the trajectory that the price of farm inputs could take, he is also fearful that the same price surge will mean farmers in poorer countries can't buy seeds, can't afford animal feed, or can't source fertiliser.
"The bigger picture around the world is the potential for severe famines across Africa and across African countries," he said.
We need your consent to load this comcast-player contentWe use comcast-player to manage extra content that can set cookies on your device and collect data about your activity. Please review their details and accept them to load the content.Manage Preferences
Watch: Peter Hynes, a dairy farmer from Cork, discusses the rising price of farm inputs
The United Nations Food and Agriculture Organization (FAO) has similar concerns. It tracks the price of food across the world.
Prior to the invasion in February, prices were already high – largely due to supply disruption caused by the Covid-19 pandemic and prior climate change-linked droughts in key food production regions.
Since then, the prices have skyrocketed.
Compared to this time last year, the FAO food price index is up 22% overall. Wheat prices are up 56% and the prices of vegetable oils have risen by more than 30% – both spikes that can be almost wholly traced back to the war in Ukraine.
Though food exports are exempt from western sanctions, Russia says that sanctions on its ships and banks, which were adopted in response to the invasion, make it impossible to deliver its grain to global markets.
We need your consent to load this Datawrapper contentWe use Datawrapper to manage extra content that can set cookies on your device and collect data about your activity. Please review their details and accept them to load the content.Manage Preferences
Ukraine is unable to export its produce through its key Black Sea ports, which have been blockaded by Russian warships and mined to prevent attack from the sea.
About 90% of Ukraine's grain exports went through the Black Sea prior to the war.
On the ground, since February, farmers in Ukraine have been left struggling to find other export routes. Logistical issues mean major delays.
"There are enormous queues on the border to get trucks out, and the same problem with railway wagons," Jonathan Clibborn, an Irish farmer based outside the western city of Lviv, told Prime Time.
"The rail gauge in Ukraine is wider than that in Europe. So there's reports of wagons standing on the Polish border for anywhere between four and twelve weeks waiting to get unloaded."
We need your consent to load this comcast-player contentWe use comcast-player to manage extra content that can set cookies on your device and collect data about your activity. Please review their details and accept them to load the content.Manage Preferences
Watch: Farmers from Ukraine discuss the export and logistical problems from the war
"It is very urgent," said Max Dyminskyy, a manager of a Ukrainian company providing specialist equipment and logistics services to ports and farmers.
"Countries and governments will have to think what to do with the border. The ports will not be unblocked quickly, so we need to think of options."
Prior to February, Russia and Ukraine produced about 30% of globally traded wheat exports. They also produced some 20% of barley, which is used in animal feed and breads, plus a remarkable 75% of the world's supply of sunflower seed oil.
"I'm in this business for 40 years. I've never, ever seen anything like this before," said Dermot Walsh, a third-generation baker at Walsh's Bakehouse in Co Waterford.
Dermot's bakery supplies supermarkets, restaurants and other businesses across the country. He has had to increase prices four times in the past year, primarily because the cost of flour, which is linked to the price of wheat on global markets, has jumped by almost 60%.
Dermot fears that the price increases could make the operation of some food production businesses in Ireland untenable. Firms in other developed economies are similarly concerned.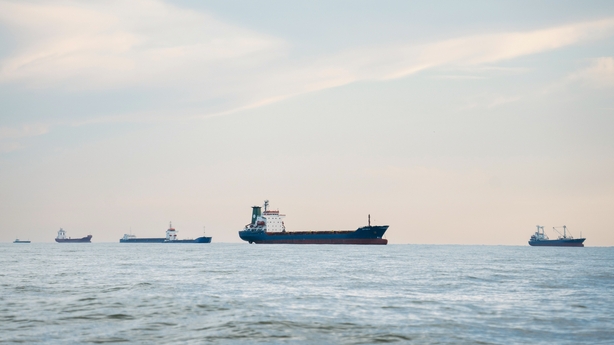 The situation is a matter of life and death in some poorer countries that depend on food imports.
Eritrea and Somalia have relied on Ukraine and Russia for more than 95% of their wheat imports. Egypt, Lebanon and Turkey sourced more than 75% of wheat from the two countries.
These are all countries with physical proximity to the Black Sea or linked maritime shipping routes.
Sunflower seed oil, meanwhile, is used widely across the developing world, since it's one of the most affordable types of cooking oil.
Sourcing supplies from elsewhere will mean additional costs associated with longer transport routes. Importers will also be buying in a market with added competition.
Meanwhile, the cost of transport itself has risen due to the increase in gas and oil prices. And then there are specific products that have seen their market prices surge.
If that wasn't bad enough, on top of all that, much of the world also relies on Russia and Ukraine for significant imports of fertiliser.
Farmers across the world are telling a story similar to that of Peter Hynes in Cork.
Experts are warning some farmers simply won't be able to afford it, resulting in a reduction in domestic production, as import demands grow.
Countries as geographically diverse as Honduras, Cameroon, Guatemala, Sierra Leone, and Kenya depend on Russia and Ukraine for between 10% and 50% of their fertiliser imports.
"Reduced access to fertilisers will likely significantly reduce crop production," a World Food Programme report concluded.
"Especially in arid areas, such as the Sahel, where poor soil quality necessitates the use of chemical fertilisers to facilitate food production."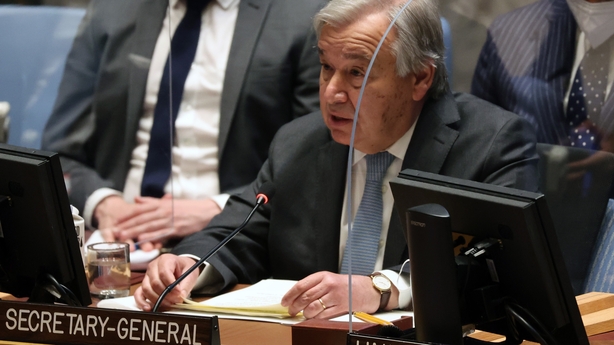 The fear is this could create longer-term food security problems, even if the war ended tomorrow.
All in all, it means the world is facing the "spectre of global food shortages in the coming months", according to António Guterres, the United Nations Secretary General.
Last month, he called for Russia to "permit the safe and secure export of grain from in Ukrainian ports", and for "unrestricted access to world markets" for Russian food and fertiliser.
Since then, little has changed.
Turkey has attempted to broker a deal to get the ports reopened and grain leaving Ukraine, without success.
The European Union has pledged hundreds of millions of additional funding to poorer nations to help them handle the food crisis. It is reportedly split over a plan to assist African nations with developing fertiliser plants.
The current chair of the African Union, Senegalian president Mackay Sall, has called for changes to western sanctions on Russia's banking system to allow African nations to pay for grain.
Russia continues to blame western nations for causing the problem. Its forces have since attacked numerous Ukrainian grain storage facilities, and have been accused of stealing grain from occupied areas of Ukraine.
Ukraine's ports remain blockaded by Russia warships. Millions of tonnes of food remains stuck in Ukraine, and millions of people are growing hungry.
The situation is growing increasingly urgent – and the whole world is now caught up in a war that increasingly threatens its food supply.