On a recent Saturday night, Wayne Canavan walked for around 90 minutes from Dublin's Harcourt Street in search of a taxi home to Finglas.
He eventually flagged one down near Ballsbridge.
"Every single corner we walked to, there was someone sticking their arm out," Mr Canavan told Prime Time.
"Before lockdown, you'd get a taxi somewhere. But, since lockdown, it's nearly impossible."
For some, a dearth of cabs is more than an inconvenience.
"Walking home is just not an option. As a girl, you feel unsafe walking home," said Kate Atkinson, from Ranelagh.
She said that, in recent weeks, she has spent hours waiting for taxis outside pubs and nightclubs.
It's not the first time that Dublin has experienced a taxi shortage.
In the 1990s, due to a tightly regulated taxi market, there were simply too few taxis on the roads. The price of taxi licence plates surged to more than €100,000.
Deregulation has since made it far easier, and far cheaper, to enter the industry. In just seven years, the number of taxis in Ireland doubled from around 13,500 in 2000, to more than 27,000 in 2007.
But new standards for taxis, including the introduction of a rule restricting the age of taxi vehicles to under 10 years, saw the size of the fleet fall to under 22,000 by 2019.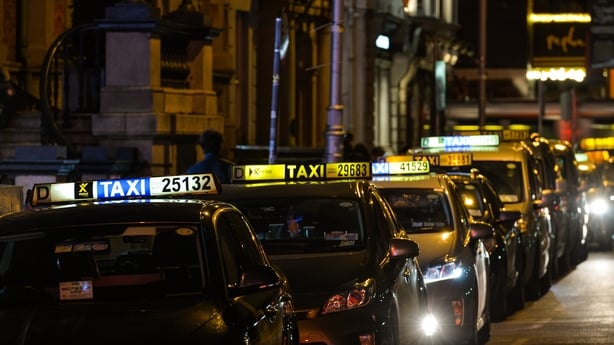 For obvious reasons, the Covid-19 pandemic also has not helped. By the end of 2020, there were just 19,350 taxis in Ireland.
And the latest figures, up to the end of May, show continued attrition. There are just under 19,000 cabs on the country's roads, around 2,500 fewer than prior to the pandemic.
It gets worse. During the pandemic, there was a stay put on the ten-year rule, allowing drivers to continue driving older vehicles.
But the National Transport Authority has signaled that the stay will soon come to an end, meaning that around 5,300 taxi vehicles will be too old to be on the roads by next year.
That figure includes 1,206 inactive licences, or drivers who have already stopped working.
Many of the taxi drivers who wish to continue working will struggle to find finance to purchase a newer vehicle.
Taxi driver Keith Reddy said that he was contemplating leaving the industry. Instead, he sold his 2013 Mercedes car and took out a €52,000 loan to buy a newer car.
Mr Reddy does not think there is a taxi shortage. Rather, the problems stem from revelers spilling out onto the streets at the same time on Friday and Saturday nights, when nightclubs and late bars close.
"It's like ants coming out of a hive or a nest. It is just impossible for us," he said.
He said that some drivers simply do not want the hassle of working the graveyard shift. At taxi ranks, potential customers bicker with one another and jostle to get into position at the top of the queue.
Camden Street, the epicentre of Dublin's nighttime economy, is a no-go area, he said.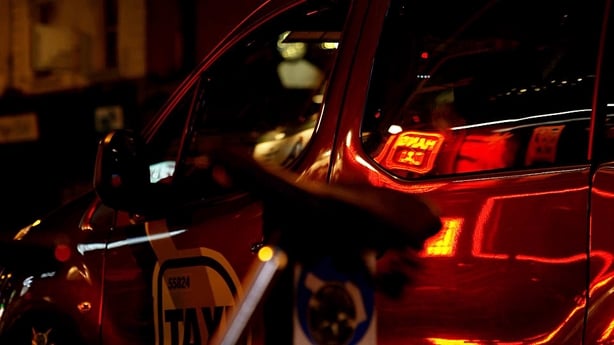 "People would walk right in front of you – they'd jump up on the car. I've had to put €2,500 worth of cameras in that car especially for that reason. It is just unbelievable," he said.
Taxi apps such as Free Now were once hailed as a 21st-century solution to these kinds of woes. But several drivers told Prime Time that they turn off the apps when it gets busy, because they can get work from people on the street, without giving the apps their cut.
Customers have noticed.
"You could be on it for half an hour," said Saoirse O'Connor. "I feel most of the time you will end up just trying to stick your hand out and get somebody."
For my part, I was unable to book a taxi using Free Now at midnight on Saturday night. Each time the app told me that it was unable to find a driver.
In a statement, Free Now said that it had 110,000 late-night requests on Saturday, almost double the number for the corresponding Saturday in 2019.
"We didn't experience any operational or technical issues on the app last weekend, but due to high trip demand and limited driver availability at peak times unfortunately not all passenger bookings can be fulfilled late at night," said Niall Carson, the firm's general manager.
Mr Carson pointed to the declining number of taxi drivers, "significant growth" in demand for late-night transport, and a lack of alternative public transport options.
Noting that it was "easier to get a car ride" outside Ireland, Tánaiste Leo Varadkar recently floated the idea of a further relaxation of regulations.
In the UK, for instance, you do not have to be a licenced taxi driver to operate on various ride-hailing apps, such as Uber.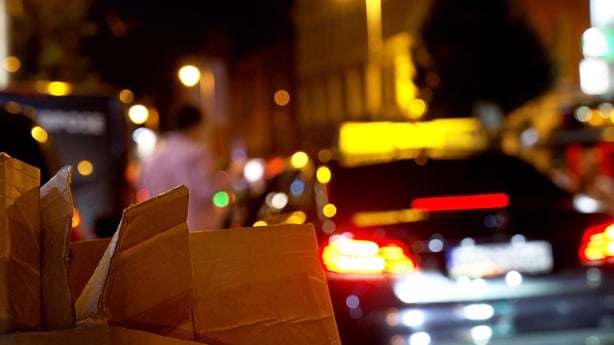 "What I find is that, when you go to other countries, you have other options than a taxi – whether that's public transport, or you also have things like Uber and things like Lyft and they are just not available in Ireland in the same way," Mr Varadkar said last week.
"Maybe we need to look at that again and see if we can liberalise that."
But Anne Graham, the chief executive of the National Transport Authority, said she would not be in favour of such a move, suggesting it would "undermine the regulated market".
Noting that Uber operates in Ireland with "licenced vehicles and licenced drivers", Ms Graham said that the country would lose both drivers and vehicles from the regulated taxi market.
"It would impact as well on customers and the service that customers would get," she said.
Instead, Ms Graham said that the authority will be undertaking a taxi driver recruitment campaign and examining how taxi drivers can be incentivised to operate more at nighttime.
"We are ensuring that in our taxi maximum fares audit, that we just completed, that drivers will be paid more for operating in those hours, they get more of an increase," she said.
At the same time, she said the authority was considering whether the number of public transport services operating on a 24-hour basis could be increased.
She said that it was also examining whether the Luas, which does not currently operate between the hours of 1am and 5am, could run later into the night.
In the meantime, Ms Graham encouraged people to plan their journeys and to see if they could use existing public transport options to get home.
"We're still pushing to get as many taxi drivers and vehicles back into the system as possible and we will continue to do that," she said.