Ahead of Thursday's Stormont election, Northern Ireland's political parties have emphasised kitchen table issues such as the cost of living and fixing the health service.
The Northern Ireland Protocol, abortion provision and the stability of Stormont have also featured in the public consciousness.
But one issue is concentrating minds more than anything else: which party will occupy the First Minister portfolio.
Polls suggest that Sinn Féin, for the first time, could emerge as the largest party in the Northern Ireland Assembly.
While the posts of First and Deputy First Minister are nominally equivalent – together, they are the joint heads of government and share equal powers – the distinction between the two is symbolically and psychologically significant.
"It would be hard to overestimate how important that First Minister portfolio has turned out to be", Póilín Ní Chiaráin, a veteran broadcast journalist in Northern Ireland, told Prime Time.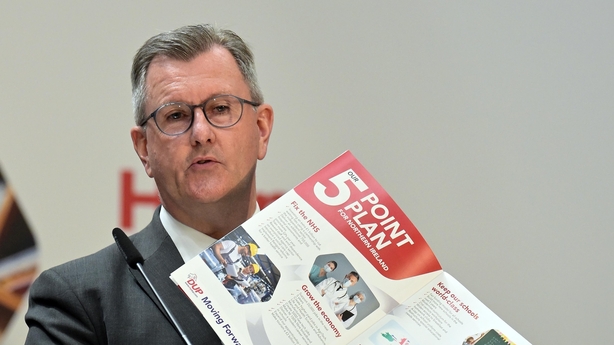 "People who you'd have thought would just say, 'well, they're equal, so it doesn't matter' are saying it's important."
Ms Ní Chiaráin said she had detected a sense on the nationalist side that the Democratic Unionist Party needs to be taught a lesson – that it cannot "rule the roost" and exclude others.
That could see those who would traditionally vote for the SDLP voting for Sinn Féin this time, she said, and transfers between the two parties could also rise.
For its part, the DUP has campaigned on the basis that only a vote for it can stop Sinn Féin. And that could serve as a powerful incentive for unionists to come out and support the party.
The resignation of Paul Givan, the DUP's First Minister, serves as a backdrop to this election.
He stood down in February amid the party's opposition to the post-Brexit Northern Ireland protocol, which it claims imperils Northern Ireland's place in the UK internal market.
DUP leader Jeffrey Donaldson is standing in Lagan Valley with Mr Givan.
Mr Donaldson is intimating that it is First Minister or nothing for him. While both men are expected to be comfortably elected, Mr Donaldson has seven days to decide whether or not he will resign as a Westminster MP.
"There is huge interest in what Jeffrey Donaldson will do after the election", Ms Ní Chiaráin said.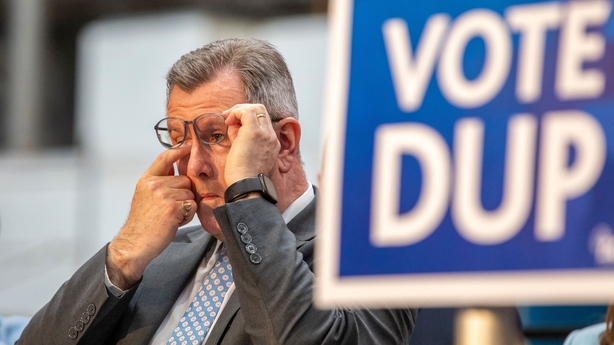 "He can very simply take the road out of Westminster and take his Assembly seat, or he can nominate somebody to take his Stormont seat – and that would send a message that he hasn't much hope for a quick resolution in Stormont."
Given the high stakes, Sinn Féin has been anxious to avoid any gaffes.
"Extraordinarily, for a very exciting election, it has been a very dull campaign," Ms Ní Chiaráin said.
And despite what the polls would suggest, there is no guarantee that Sinn Féin will succeed in becoming the largest party.
"It's still plausible that Sinn Féin will actually lose some support since the last Assembly elections", said Jamie Pow, a political scientist at Queen's University Belfast.
"And basically, it's likely to emerge on top this time because of fragmentation within unionism rather than necessarily Sinn Féin rising in support."
Ms Ní Chiaráin agrees that Sinn Féin is "having to work extremely hard" to shore up its vote and transfers, noting that it faces tough contests for the final seats in West Belfast, North Belfast, Foyle, Fermanagh-South Tyrone and West Tyrone.
Opinion polls show a decline in DUP first preferences, and the talk is of "consolidation" of its vote. It is vulnerable in North Down, where Alex Easton left the party last year. Mr Easton is expected to take a seat as an independent unionist.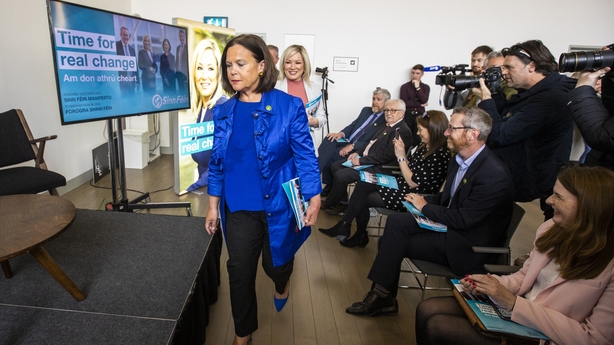 In Strangford, where the DUP is running three candidates, its third candidate is under pressure from both the Alliance Party and the SDLP, although observers are saying it is also possible that the Alliance Party and SDLP could cancel each other out there.
In Foyle, Ms Ní Chiaráin said that a good Ulster Unionist Party candidate is canvassing well, raising questions about how well the DUP will do there. People Before Profit is also said to have a good chance of a final seat there.
Despite its hardline opposition to the Northern Ireland Protocol, and even possibly in part because of it and its alignment with loyalist anti-protocol elements in the run-up to the vote, the DUP, shored up with transfers from Jim Allister's Traditional Unionist Voice (TUV), could also see its vote share fall.
The Ulster Unionist Party, under its leader of almost a year, Doug Beattie, is expected to hold its ground, while the SDLP should see mixed fortunes.
But if the rise of Sinn Féin and the decline of the DUP is one outcome of Thursday's election, there is expected to a second, equally important shift.
The middle ground may again be squeezed, but it is expanding, and it is expected to have one clear breakthrough winner: the Alliance Party.
Its vote share is likely to significantly rise compared with the 2017 elections.
"I think this election probably will be different mainly because it could show the most significant breakthrough for the middle ground that we have seen in an Assembly election", Jamie Pow told Prime Time.
This will call in to question the design of the institutions at Stormont, he said.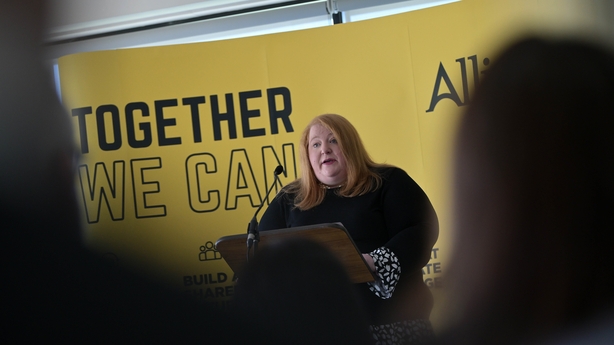 "They were built to accommodate unionists and nationalists in a power-sharing government, but they didn't really pay much attention to the 'Others', or the possibility that another party could be the third-biggest party and one of the main parties in an election."
If they emerge as the third-largest vote share bloc after the poll, the "Others", typified by the Alliance Party, the Green Party and People Before Profit, will have a right to insist that their 'Other' mandate is respected, Ms Ní Chiráin said.
She said they appeared determined to resist attempts that they designate as unionist or nationalist when they take their seats.
To change the designation requirements would require amending legislation.
"But it wouldn't substantially change the Good Friday Agreement, and certainly not as much as was changed when the DUP and Sinn Fein decided that they would divvy up how the First and Deputy First ministries were shared", she said.
"So, it has been done already, and it should be easily done again."
Voters know that, when it comes to Stormont, nothing is easily done though. They can expect delay. Six months is allowed under existing legislation, and a protracted negotiation process is most likely.
But on Thursday, the bottom line, from veteran observer Ní Chairáin, is that in this election, "certainly, it's Sinn Féin's to lose."