In 2018, Oleg Deripaska, the billionaire Russian oligarch, was forced to surrender control of the firm that ultimately controls Aughinish Alumina.
The reduction of Mr Deripaska's holding to a minority stake, the result of a deal with the Trump administration, is part of why the Limerick-based refinery has thus far avoided being hit by sanctions designed to penalise Russia for its war in Ukraine.
But a combination of Kremlin-connected businesses and banks control Rusal, the company that owns Aughinish, according to financial documents reviewed by Prime Time.
Aughinish Alumina refines bauxite ore into alumina, the base compound for aluminium. It is the largest alumina refinery in Europe.
Rusal's stakeholders include a second Russian oligarch, Victor Vekselberg, and Russian state development bank VEB.
Mr Vekselberg and his associates, together with Mr Deripaska and the bank, own a majority of the company's shares.
Mr Deripaska and Mr Vekselberg have both been sanctioned by the US and the UK, but so far, not by the EU.
In a post on the messaging platform Telegram about the situation in Ukraine, Mr Deripaska called for peace talks to begin "as fast as possible". "Peace is very important," he wrote.
But Prime Time has also established that Mr Deripaska is a beneficiary of the war efforts. The Russian military is the top client of a number of his companies, and he owns a military hardware firm that makes armoured vehicles used by Russian forces in Ukraine.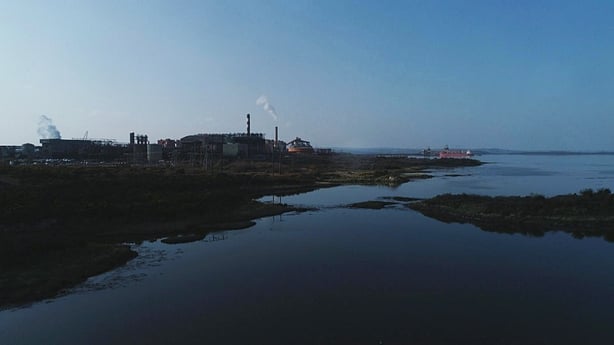 In November 2011, Mr Deripaska demonstrated the BTR-82A, one of the company's armoured personnel carriers, to Mr Putin on a visit to a plant operated by Gaz Group, a sister company also controlled by the oligarch.
Footage reviewed by Yohann Michel, a military equipment expert at the International Institute for Strategic Studies (IISS), shows the BTR-82A vehicle firing with a 30mm canon on the streets of the besieged Ukrainian city of Mariupol in recent weeks.
Mr Michel also identified the BTR-82A in other footage from Ukraine, as well as another armoured vehicle, the Tigr, which is also manufactured by one of Mr Deripaska's companies.
The vehicle can be mounted with missile launchers, machine guns and grenade launchers, and is primarily used by Russian special forces.
"We've also seen this vehicle used in Syria by the military police and by special forces", Mr Michel said.
In a statement received late Thursday night, a spokesperson for Oleg Deripaska said claims he owns arms companies manufacturing weapons being used in Ukraine are "false and baseless".
The spokesperson said Mr Deripaska had consistently called for peace in Ukraine and for military spending to be reduced globally and referred to his social media posts in that regard.
She said he did not own any arms companies "and does not benefit from this or any other military conflict".
Mr Deripaska's spokesperson also said he is a non-controlling minority shareholder at Rusal and as such has no say over the company's operations.
Prior to 2018, Mr Deripaska, through his investments firm Basic Element, controlled a conglomerate, EN+, which controlled Aughinish-owner Rusal.
In a deal to end the 2018 corporate sanctions, he agreed to reduce his personal stake and voting rights in EN+.
The deal came just prior to Christmas 2018, through then-US Treasury Secretary Steven Mnuchin. He made clear that Rusal and EN+ were not the target of the sanctions. Rather, they were sanctioned because of their entanglement with Deripaska.
It followed months of question marks about the sanctioning of the companies, with lobbying from Ireland and the EU, who argued that sanctions should hurt Russia, not Europe.
Rusal's Aughinish refinery supplies up to 30% of the bloc's alumina.
In a January 2019 letter to Senate Democratic leader Chuck Schumer, the then-EU Ambassador to the US, David O'Sullivan, and the ambassadors of seven member states, including Ireland, wrote that "the livelihoods of 75,000 workers across the European Union" depended on EN+ and Rusal.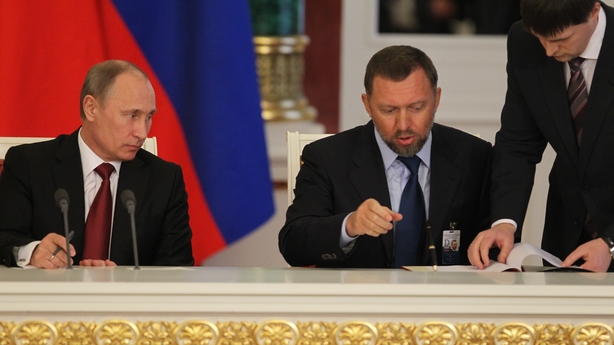 But, as early as May 2018, Mr Mnuchin was being careful to say that the aim of the sanctions was not to put Rusal out of business.
Following the deal, Mr Deripaska remained personally sanctioned by the US, as did another of his companies, industrial conglomerate Russian Machines.
Mr Deripaska had agreed to reduce his shareholding in EN+ to 44.95%, and his voting rights to 35%, as well as to restrictions to dividends from the companies.
Questions have since focused on his exact control of the aluminium companies, given his reduced shareholding in EN+.
But in the context of the war in Ukraine, that question may be moot, considering the extent to which other Russian interests exert control over Rusal.
Mr Vekselberg, the second Russian oligarch with an interest in the company, and his associates hold a 25.52% stake in Rusal through an investment vehicle known as SUAL Partners. That compares to EN+'s 56.88% stake.
VEB, a Russian state development bank, holds a 3.15% stake, meaning that Kremlin-connected businesses and banks own a majority of Rusal shares.
The chair of VEB's supervisory board is Dmitry Grigorenko, the deputy prime minister of Russia.
Up to 2020, it was Dmitry Medvedev, then-Russian prime minister. Before that, it was Vladimir Putin himself. Mr Putin chairs the state's Security Council, while Mr Medvedev is its Deputy Chair.
This week, Mr Medvedev wrote that the Bucha atrocities and Ukrainian nationhood are fake and that Russia's goal is "to finally build an open Eurasia — from Lisbon to Vladivostok".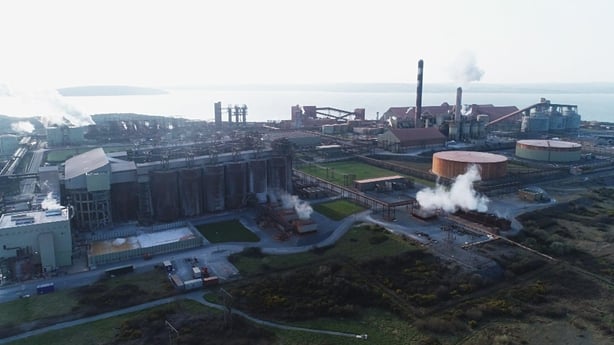 VEB is sanctioned by the US, EU and the UK. Other Kremlin banks have substantial links to Rusal.
For example, in March 2021, the company announced it was commencing drawdown of a syndicated loan of up to 45 billion rubles with VTB and Gazprombank.
And, in 2020, EN+ reported that it had financed a buyout of a 21.37% VTB stake in it through a 100.8 billion ruble loan from Sberbank, in which the Russian government has a majority stake.
Mr Deripaska was accused of interfering in the 2016 US presidential election, as was Mr Vekselberg.
After he was sanctioned by the US Treasury in 2018, Mr Deripaska sued. He lost, with the District of Columbia court judgment finding that Treasury evidence established that Putin was directing Mr Deripaska to take actions on his behalf, that Mr Deripaska complied, and that it had shown Mr Deripaska "acted as Putin's agent".
Mr Deripaska appealed. Last month, he lost again. The Federal Courts of Appeals upheld the lower court judgment and found that the Treasury had cited "substantial evidence… that Deripaska laundered money on behalf of President Putin".
Mr Deripaska's response was to post a derogatory description of current US Treasury Secretary Janet Yellen on his social media Telegram channel and to call the evidence "lies".
Last October, the FBI raided houses linked to him in New York and Washington DC.
Assets-tracking researchers at OCCRP recently identified Mr Deripaska as having three superyachts, villas in Cyprus and Sardinia, and houses and office buildings in New York, Washington, London, Paris and Vienna.
Mr Vekselberg is known as the Russian oil, energy and gas magnate who bought 9 Faberge eggs back into Russian hands. This week, on behalf of US authorities, Spain seized his superyacht. The US accuses him of bank fraud.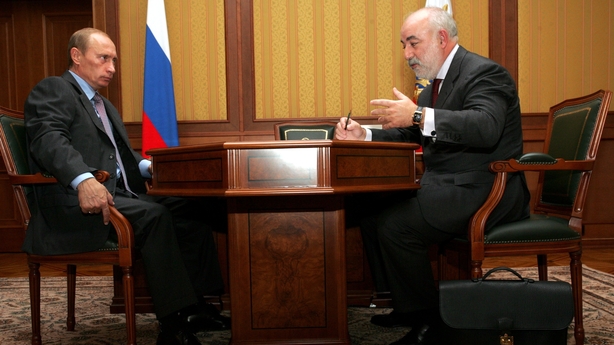 Mr Deripaska's overall corporate investment group, Basic Element, has over 100 companies, and, in 2018, claimed that 15% of Russia's population depended on its business activities.
However, in 2017, one of his firms, Military Industrial Company (VPK LLC) recorded that "currently, VPK LLC is managed independently of Russian Machines and reports directly to the Board of Directors of VPK LLC and its major participant, O.V. Deripaska".
Military Industrial Company employs around 6,000 people.
Worldwide, aluminium giant Rusal employs 60,000, most in Russia. In Aughinish, Co Limerick, Rusal employs 500 at most. But though of minnow status in terms of employment, Aughinish is no minnow in the Rusal's fortunes.
It is also a significant regional employer, as Limerick Chamber's chief economist Séan Golden told Prime Time.
"Aughinish has a very significant presence in the Limerick region and indeed the North Kerry region", he said. "Overall, it produces €140 million gross value added per year to the local economy here".
He said it employed around 500 people directly, and "probably 2,000 overall" in contract and downstream jobs.
"Those people have mortgages to pay, bills to pay, schools for kids, food to put on the table", he pointed out.
And its significance is more than local. It supplies up to 30% of the EU's alumina, and product from Aughinish is used in mobile phones, cars and many household items, he said.
Aughinish is important to Ireland and to the EU. But yesterday, addressing the Oireachtas, Ukrainian president Volodymr Zelensky pleaded with Ireland to show more leadership on sanctions.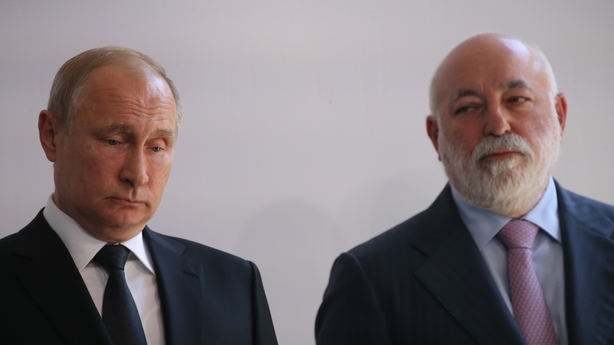 "I would like to ask you to convince EU partners to introduce more rigid sanctions against Russia to make sure the Russian war machine will stop", he said.
Responding to news that the EU was discussing sanctions against Deripaska and his company links to Russian armed forces, junior minister and Limerick County TD Patrick O'Donovan told Prime Time that there were "no no hiding places in relation to those who have any associations with a Russian war machine".
However, he would not be drawn on whether he would now support EU sanctions. He said Aughinish has a local management company running the company since 1978 and, in that time, its ownership has transferred from Canadian to Swiss to Russian ownership.
"There may very well be other ownerships into the future, whether they're British or Irish or others", he said.
But, he said, Europe's aluminium industry "cannot function without Aughinish" and that meant it would be integral to any discussions.
He said the Irish government would consider the issue along with its partners in Europe and the US Treasury.
Mr O'Donovan also pointed out that Aughinish generates electricity, and that "200,000 homes are dependent on the electricity that comes out of Aughinish, the equivalent of probably Kerry, Cork and Waterford put together."
"This is not an insignificant plant in terms of its aluminum", he said, "but it's also not insignificant in terms of its electricity output. So Ireland Inc cannot do without Aughinish."