The idea that Russia would invade Ukraine is "insane", according to the Russian Ambassador to Ireland.
In an interview with Prime Time, Ambassador Yury Filatov denied that Russia's decision to station troops around the Ukrainian border was an act of aggression by Russia, or that his country harboured plans to invade its neighbour.
"We do not have any plans to invade anybody, least of all Ukraine," Mr Filatov said.
"We do not have any political, economic, military or [any] other reason to do that. The whole idea is insane. If you knew something about the Russian and Ukrainian people you would never ask such a question."
Following the announcement earlier today that Russia plans to withdraw troops from the Ukrainian border, Mr Filatov said that the forces would return to their normal activities within three to four weeks.
The announcement by President Vladamir Putin has been greeted with some caution and scepticism by the EU, UK and the US, while NATO has called for evidence of such withdrawals.
Asked how many of the 130,000 troops currently stationed around the Ukrainian border would be withdrawn, Mr Filatov told Prime Time that he was not a spokesman for the Russian Defense Ministry.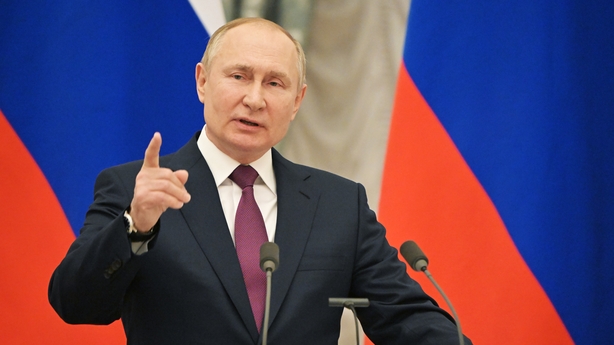 "I can provide that detail [at a later time]. I certainly cannot give you any figures because I don't have them," he said.
"What I can tell [you] is, within maybe three to four weeks, the configuration of the forces in the Western region of Russia will resume its normal standard posture. We are conducting planned exercises with Belarusian military forces. They will be over by 20 February and these troops will be withdrawn. You can check on that next week."
Asked for the locations from which the troops will leave, and how far they will move from the Ukranian border, Mr Filatov said it was "nobody's business".
"They will go exactly where they need to go. They are going in the Russian territory, he said. "This is nobody's business at all."
"We do not have any plans of invading anybody."

The Russian Ambassador to Ireland, Yury Filatov, tells @SarahAMcInerney that his country's military forces will resume normal posture within the next three to four weeks | #rtept | Read more: https://t.co/bFX4c1vOil pic.twitter.com/lFrLAToiHp

— RTÉ Prime Time (@RTE_PrimeTime) February 15, 2022
---
Ukraine looking for 'peaceful resolution' - Ukrainian Ambassador
---
Earlier today, the EU and NATO condemned a controversial recommendation from Russia's lower house of parliament, or Duma, to recognise two separatist regions in Ukraine, Donetsk and Luhansk, as independent states.
Mr Filatov said that he believed Mr Putin was not inclined "at this time" to accept the recommendation.
Josep Borrell, the EU's foreign policy chief, said that it would be a "clear violation of the Minsk agreements" for Mr Putin to do so.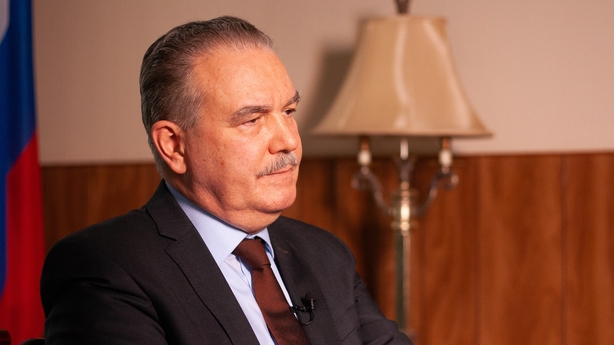 NATO chief Jens Stoltenberg said the move would be a "blatant violation of Ukraine's territorial integrity and sovereignty".
The Russian Ambassador said that he did not think there was "any inclination now to move on that proposal".
"It's just a recommendation of the parliament. I don't have a crystal ball, but as far as I can understand, some statements today from Mr Peskov, who is press secretary to the president… he is saying exactly just that – that that is the sense of the parliament and will stay that at this time."
Mr Filatov said that the Duma was simply "reflecting the overall opinion of Russians in the country that not enough is being done to safeguard the people of Donetsk and Luhansk against daily shelling and aggression by Ukrainian military forces".
Mr Filatov insisted that Russia recognised Ukraine as an independent, sovereign state, but said a decision by its neighbouring country to join NATO would cause unacceptable problems for Russia.
"It's about the threat to Russia's national security," he said. "The situation on our Western border is not limited to Ukraine and has been deteriorating over years. Right now, it's plainly unacceptable to us. The persistent expansion of NATO, taking up more and more countries, makes it strategically difficult for Russia."
"We can envisage a scenario when Ukraine is militarised from bottom up, there are plenty of NATO forces there, missile systems – which by the way will have only five minutes flying time to Moscow. Would it be acceptable to Russia? Would it secure security for Russia? I don't think so."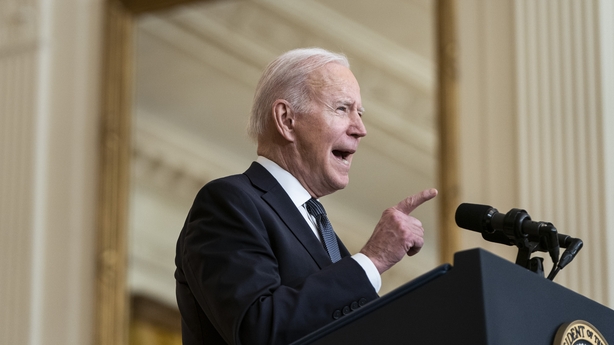 When it was put to him that Russia had done exactly this in reverse – by deploying missile launchers to Belarus, within striking distance of Kyiv – Ambassador Filatov disagreed.
"It's not true. We are conducting planned exercised with Belarusian military forces."
Appearing before the Oireachtas Committee on Foreign Affairs and Defence today, Ukrainian Ambassador Larysa Gerasko claimed that Russia's plan is to "seriously destabilise Europe".
Ms Gerasko said Russia uses gas as a weapon to aggravate the energy crisis in Europe, and that it used migrants as a weapon to escalate tensions on the Belarusian border with Lithuania and Poland. Asked to respond to these allegations, Ambassador Filatov called them "propaganda clichés".
"Of course there is no plan sinister plan in Moscow to destabilise Europe, because we all live in Europe and we want a stable Europe. We have pretty good relations with European countries, including Ireland – and it is just ridiculous to suggest such a thing," he said.
"As far as gas is concerned, over this winter we have been increasing gas supply to Europe over our contractual obligations. I don't think you can describe that as using gas as a weapon."