Ruadhán Furlong is a brave businessman. He opened a restaurant in the middle of the Covid-19 pandemic.
Now open – and occasionally closed due to Government restrictions – for the last 18 months, Ruadhán runs Blue Seafood & Bistro in Wicklow town.
He and seven employees work at the restaurant, but Ruadhán said that the current uncertainty amid the second December living with Covid is having an impact.
"One part of the Government might tell you one thing, and another might tell you another, and then there's the WHO and NPHET – everyone is very confused about the situation," he told Prime Time.
This time last year, Wicklow butcher Derek Dunne was keeping an optimistic air.
On Thursday, he told Prime Time that, despite the uncertainty, he could see people making plans for Christmas.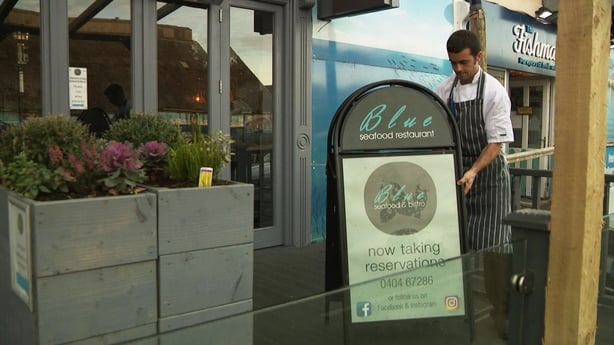 "My orders are coming in and they are for people buying turkeys and hams. They expect family coming around for Christmas," Derek said.
"It's just this social distancing thing that is a problem, but I'm sure families will have their grandchildren, their children around maybe for short periods, or meet outside for a few minutes," he said.
What would Christmas be without toys?
At Hopkins Toymaster shop on the town's main street, cousins Lauren Devereaux and Heather Hodgins are the seventh generation of the Hopkins family to work in the store.
Lauren told Prime Time that they are keeping busy, and keeping the Christmas cheer going.
But she said that the chats with customers often turn to the pandemic.
"There are obstacles at the moment with everything going on, but we work to overcome those," Lauren said.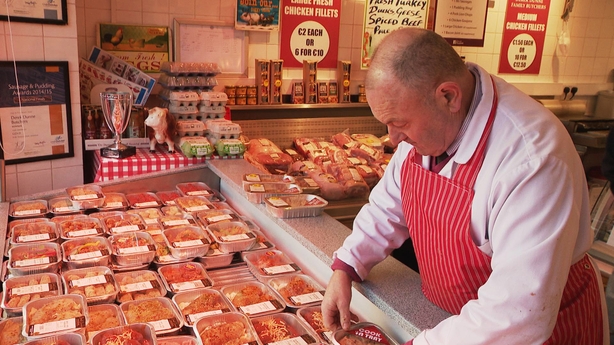 Heather says the store is working full-time to keep orders moving.
"We're working closely with our suppliers and keeping in touch with our customers – we are working seven days a week and will be working right up to the evening of Christmas Eve."
This time last year, hair salons were about to reopen across the country after a long period of closure, and gyms were also planning to reopen.
This year, it is the hospitality sector that is currently feeling the pinch most.
Despite the challenges, Ruadhán said he's keeping it in perspective.
"A meaningful Christmas for me is being at home with my wife and kids, and my grandparents and parents, that is the most meaningful thing to me," he said.
"As long as the kids are happy and healthy, I couldn't ask for more. Work is a second thing for me now."