About one million people are currently eligible for a booster vaccine dose, according to a Prime Time analysis of HSE vaccine data.
According to Government data made available for the first time on Wednesday, 389,000 booster doses had been administered to eligible people as of Tuesday.
On Tuesday, Minister for Health Stephen Donnelly extended the rollout of boosters to include people aged 50 to 59.
People over the age of 16 with an underlying health condition, and all residents in long-term care facilities, are also now eligible.
Minister Donnelly said he was announcing the decision based on advice from the National Immunisation Advisory Committee (NIAC).
NIAC advice says boosters should be given to people "six months (or at least five months)" after the last dose they received.
Approximately one million people are currently five months or more on from their more recent vaccination and thus fall within the eligible categories.
A HSE spokesperson told Prime Time that they are following NIAC advice, and said that boosters are currently being rolled-out to people who were last vaccinated six months ago.
Separately, two officials close to the booster plan said it's likely the use of shorter intervals will be considered in December.
A breakdown of 350,000 of the 389,000 seen by Prime Time covers information of vaccine administered to Sunday, 14 November.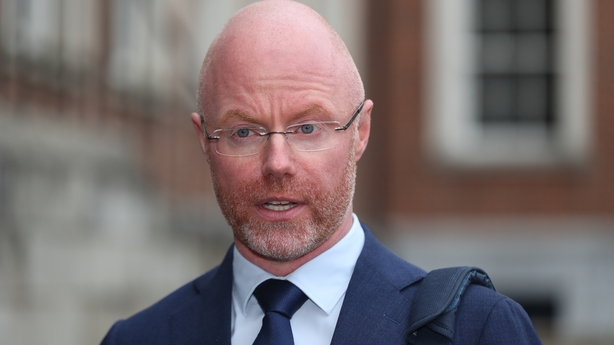 It shows 145,000 doses had been administered to people over 80 years old. NIAC recommended booster shots for that age cohort on 7 September. Some 83% of people over the age of 80 had received one.
Further, 100,000 boosters had been administered to people aged 70 to 79. That amounts to about 35% of the age cohort.
The HSE said that people in this age category are currently being contacted for appointments. By the end of this week, some 250,000 people in this age category will be six months from their previous dose.
NIAC extended booster eligibility to people aged 60 to 79 on 18 October.
---
---
Approximately 35,000 60-69 year olds had received boosters by 14 November. This is about 7% of the age cohort, and some of them are healthcare workers.
On 1 November, NIAC recommended health workers be considered eligible for a booster dose.
Some 22,000 doses have so far been administered to people age 50-59. About 50,000 doses have been administered to people under 50.
In total, 90,000 healthcare workers have received a booster dose.
Under the current NIAC eligibility criteria, 1.5 million people will be offered booster doses in total.
About 1.3m of these will have reached the minimum five months from their most recent dose by the second week of December.
If a person has experienced a breakthrough case of Covid-19 while fully vaccinated, they will not be eligible for a booster dose until six months after the infection.
Minister Heather Humphreys told a Fine Gael party meeting on Wednesday night that the country was currently capable of administering 220,000 booster vaccines per week.
She said work was underway to progress this to between 260,000 and 270,000 doses per week.
Additional reporting Micheál Lehane