Right around now, we were supposed to be seeing a dip in case numbers. The modelling on which NPHET and the Government decided to proceed with the reopening of nightclubs less than four weeks ago indicated as much.
The thinking was that the collective impact of small individual changes in behaviour, people taking so-called "personal responsibility", would cause the downturn. Hospitalisations and ICU admissions would then follow.
But there is, to put it mildly, no sign of the dip.
Cases have surged in recent days, and the number of hospitalisations and ICU admissions are on a similar upwards trajectory.
You don't need to look at a calendar to determine that we are six weeks out from Christmas. So what happens now?
Since mid-October, NPHET and the Government have been asking people to change what they're doing – to wear masks more often, to more regularly wash their hands, to check and use Covid passes, and to avoid crowded indoor meetings.
Public behaviour data provided to the Department of Health by Amárach Research and the ESRI shows almost no increase in people wearing masks, no reduction in social contacts, and no increase in businesses checking Covid certs.
The messaging, it seems, has been largely ignored.
We need your consent to load this Datawrapper contentWe use Datawrapper to manage extra content that can set cookies on your device and collect data about your activity. Please review their details and accept them to load the content.Manage Preferences
During earlier phases of the pandemic, NPHET and the Government recognised a pattern of consistent collective public responses to concerns they expressed about case increases. It was labelled "anticipatory behaviour".
In September, they began to rely on it. They shifted away from trying to control the virus through the sledgehammer of imposed societal restrictions, and instead hoped to appeal to people's sense of personal responsibility.
They hoped – if cases rose – that people would heed their warnings and change their behaviour. Yet, it seems that, with 90% of adults fully vaccinated, people are assessing their level of risk differently now.
You can understand why: The signals from official sources in recent months had suggested that the pandemic was coming to an end. Society has been essentially fully open for almost a month.
Neither the growth in case numbers nor the associated warnings have caused a collective change in behaviour. In the meantime, hospitalisations have been growing too. In the past week, they have shot up from around 500 to above 600. The number of ICU patients with Covid-19 has risen from 75 to 115.
Both numbers have heightened concern in political and medical circles. The next update on public opinion in relation to the pandemic will be published on Friday. It will indicate if the public's concern has risen to the same extent.
We need your consent to load this Datawrapper contentWe use Datawrapper to manage extra content that can set cookies on your device and collect data about your activity. Please review their details and accept them to load the content.Manage Preferences
In comparison to the peaks seen in January, the current numbers are small. Then, there were 2,000 Covid-19 patients in hospitals, and about 400 people requiring ICU care – half of them in ICU beds and the rest being treated in wards.
One key difference, however, is that the hospital system was all but closed to non-Covid patients in January. Now they're trying to provide a whole range of other health services too.
Across the airwaves, ICU doctors and health officials are warning that the increase in the number of patients with Covid-19 is forcing them to make difficult decisions.
That, in turn, is forcing the Government to consider difficult decisions of their own. Do they resort to restrictions over appeals to responsibility, to try to cut cases down quickly? Or try to find a way to change collective behaviour in the hope it'll be enough to gradually shift the trends without significantly curtailing economic and social activity?
That seems to be the policy dilemma, and the Government appears to be opting for the latter option.
Late bars and nightclubs will close earlier, cinemas and theatres will require Covid passes, and people will be asked to restrict their movements if they live with a contact of a confirmed case. At the same time, boosters will be rolled out to people over 50, and others who are six months on from their most recent dose.
The Government hopes those decisions will sufficiently shift public behaviour and cause cases to fall. To inform that decision-making process, NPHET's modelling team provided updated scenarios to the Cabinet sub-committee on Covid-19 on Monday.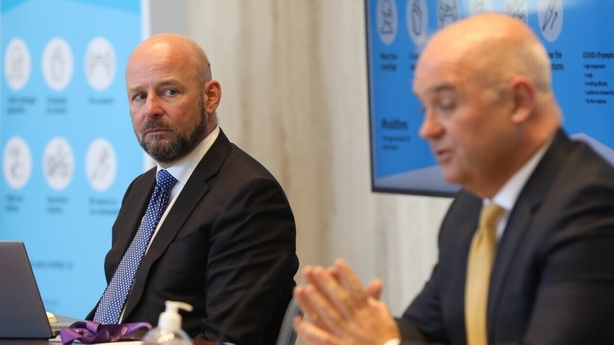 That modelling included two sets of scenarios for cases, hospitalisations, and ICU admissions up to the end of December – one "optimistic" scenario and another "pessimistic" scenario.
For the first time, the modelling attempted to account for a rate of waning immunity among people who have been vaccinated. Data around waning immunity is still emerging internationally. For that reason and others, the modelling was flagged as particularly uncertain.
The difference between the two scenarios presented is enormous. They range from a peak of 5,000 daily cases on the most optimistic end, to 12,000 to 15,000 on the pessimistic side.
The only difference in the inputs entered into the modelling for each scenario relates to the assumed level of natural immunity in the population.
In the optimistic scenario, it's assumed four in ten infections have been detected and confirmed by testing across the whole pandemic. In the pessimistic scenario, six in ten infections have been picked up. Paradoxically, better testing would mean there's a lower undetected level of immunity in the population, so more people would be vulnerable to infection.
The scale of difference based on a single change in input is indicative of the wider scale of uncertainty in relation to the modelling. No one knows what's going to happen – just that it's going in the wrong direction. The Government hopes its decisions will change that.
It'll take some time for today's measures to impact cases and hospitalisations. The question appears to be, with trend lines so steep, how long will they wait for evidence of a change?