This week and next, political leaders are meeting on the world stage to save our planet from ourselves.
Even small countries are part of the act. Worldwide and in Ireland, though, delivery lags the rhetoric.
As Taoiseach Micheál Martin spoke today, telling COP26 that "Ireland is ready to play its part", Prime Time asked campaigning environmental blogger and journalist John Gibbons and Roscommon-Galway independent TD Michael Fitzmaurice to watch the speech and give their response.
The Taoiseach told the United Nations climate change conference that Ireland has enacted legislation to put a legally binding target of reducing our emissions by 2030 to 51% below 2018 levels.
John Gibbons said he admired the Taoiseach's ambition. But the public has heard political ambition before, he said, "and it hasn't come to pass".
"And it's a shame, because had we started that 5, 10 years ago, I think the pathway ahead would look a lot less onerous," he said.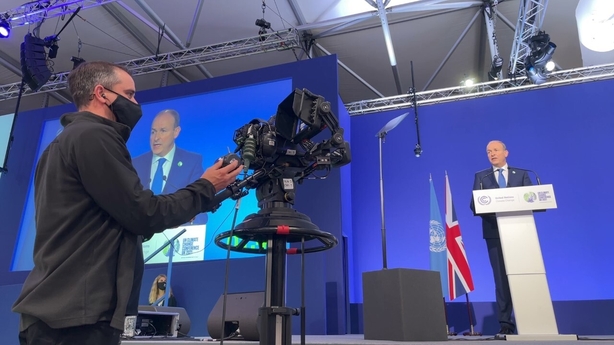 "So I think my take home from that is that we just can't afford any more delays."
Michael Fitzmaurice likened Ireland's situation to a GAA team getting ready for an All-Ireland – but still in training.
He believes that, by 2030, technologies will have moved on to improve wind power, hydrogen power and solar panels, and that Ireland will only then be ready for a big shift between 2030 and 2040 "to start transitioning and do it in a proper way".
To Micheál Martin's acknowledgment that workers worry that their jobs will disappear and that consumers feel that the transition will be too costly for them to bear, Michael Fitzmaurice cautioned that change must be by carrot, not stick.
"We need to do it in a just transitionable way, and we need to bring people with us – not beat them up and make them feel bad," he said.
John Gibbons believed it will take both carrot and stick. "If you're just offering carrots, then I don't think you get the movement, the shift, that we're looking towards here", he said.
There has to be positive incentives – but penalties also for people and sectors who are not prepared to act, he said.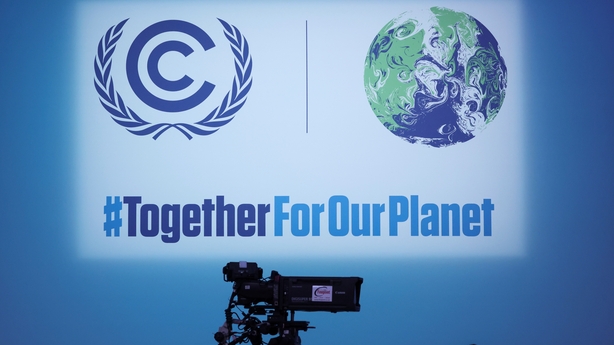 Saying that change was a project for the 2030s, "kind of gets the 2020s off the hook", he said, "but unfortunately, we're out of time, Michael."
To the Taoiseach's pledge that Ireland is implementing a statutory system of carbon budgeting and emissions ceilings for each sector of the economy – including confirmation earlier today that Ireland is signing up to a reduction of 30% in methane emissions – Mr Gibbons said that the state needs to rethink its agricultural policy and "get it in line with the science".
"At the moment, it's riding roughshod over the science", he said, pointing to a steady downward trajectory of emissions in agriculture between 2000 and 2010, that changed when policy changed, between 2010 and 2020, when total agriculture emissions have gone up by 12%.
"That's one eighth in a decade. That is totally unsustainable", said Mr Gibbons.
He said what was needed in Ireland was a dramatic diversification away from an over-reliance on beef and dairy, giving farmers options and better prices for their products. For example, he said, organic agriculture represents less than 2% of Ireland's agri-system, while the EU wants the country to achieve 25%.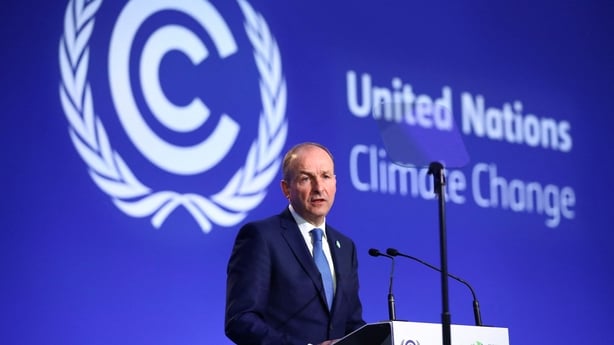 But Mr Fitzmaurice said the current move to what is hoped to be a 7-8% organic sector was costing some €250m, and if Ireland was to reach 25% organic, it would take "a billion".
"The one thing that the EU must realise and the Irish government must realise: Micheál Martin and this Government has to cough up if they're going to go down the road of 25%; they would need probably €1 billion over a five-year period", he said.
He felt that Ireland was selling itself "that little bit too much" at COP26.
"If I was a gambler, I would say 2032 to 2040, we are going to see the biggest move in things that will make the biggest difference, but I cannot see us achieving the targets that we are aiming at in the next eight years."
Mr Gibbons too felt that it would be a real stretch for Ireland to meet the targets the Taoiseach spoke of.
"Can we achieve it? I think we'll come up short, but I'm hopeful that we won't come up too short. Up until this we've missed by a mile, so I'm hoping we might miss by a few yards", he said.