In late 2015 and early 2016, 35-year-old Naoufal Fassih spent several months in Dublin. He stayed in a luxury rental apartment on Baggot Street, a base that made it easy to explore the city's sights. On one occasion, the Dutch-Moroccan man visited Dublin Zoo.
Many things about Fassih and his trip, such as how he came to be staying in the apartment and how he got into Ireland, are still not known.
But two things are clear: Fassih is an international assassin, and the apartment was rented by a third party on behalf of the leadership of the Kinahan organised crime group.
The rental apartment served as a command centre of sorts: using five encrypted devices to keep in touch with criminal associates, he sought to organise the murders of people in Holland.
From within a stone's throw of Government Buildings, Fassih used an email account to make plans for the shooting of a criminal figure in the town of Diemen, close to Amsterdam.
The man survived the attack when he drove his car into a canal to avoid the spray of bullets.
But another man living in Almere, a small Dutch city, suffered a different fate.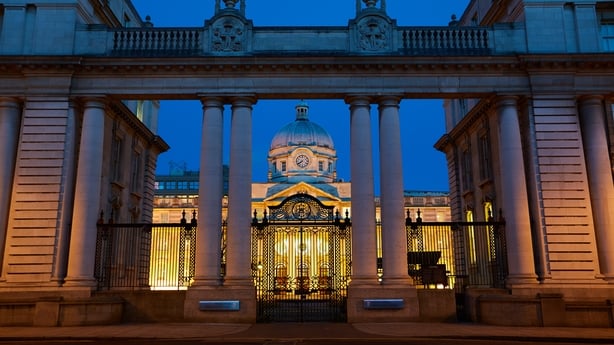 Ali Motamed, by many accounts an ordinary hard-working man, was well regarded in his locality, where he lived with his wife and teenage son and worked as an electrician.
As he went about his life in November 2015, he had no idea that, some 900km away, Naoufal Fassih was plotting his assassination.
It was only after Motamed was shot dead outside his home that his true identity became known.
Ali Motamed was actually Mohammed Reza Kolahi Samadi, an Iranian dissident who was sentenced to death in his absence after fleeing Iran in 1981, accused of planting a bomb that killed 73 people at the Islamic Republican Party's headquarters.
Fassih did not know who Motamed really was, or why someone wanted him dead. But it was his job to help make it happen.
"Got nice job for you," he wrote in an email from Dublin to one of the hit-team in Holland on 15 November 2015. Fassih's emails, which were decrypted by Dutch police, showed that he was receiving information from someone else and relaying it to the would-be gunman.
"Seven o'clock in the morning he goes to work," Fassih informed the gunman.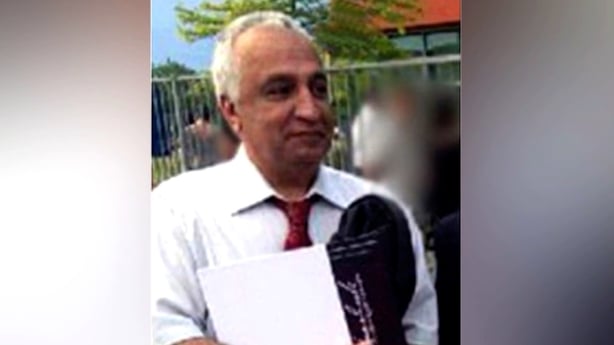 Another email provided the detail that helped pinpoint which vehicle Motamed would be walking towards. It was white and had the word "Eneco" on it.
He told the would-be killer in a third email that he had no interest in the motive: "Why he has to sleep I don't know and I don't even want to know."
The reference to "sleep" was accepted by a Dutch court as being gangland slang for "killed".
Ali Motamed did indeed drive a van for the Eneco company and it was at seven o'clock on a December morning in 2015 – one month after Fassih began sub-contracting the hit – that a gunman struck, shooting Ali Motamed once in the head.
The gunman and getaway driver were later caught and convicted. As part of their investigation, Dutch police cracked into an encrypted server run by Ennetcom, a now-defunct provider of secure messaging services.
A stream of emails found on the server would lead to Fassih being convicted of one count of attempted murder and one count of murder. The emails revealed that €130,000 was on offer for the murder of Motamed. The paymaster's identity has never been established.
"The idea is that, probably, the Iranian government was involved in the murder," Saskia Belleman, a court reporter with De Telegraaf in Holland, told Prime Time.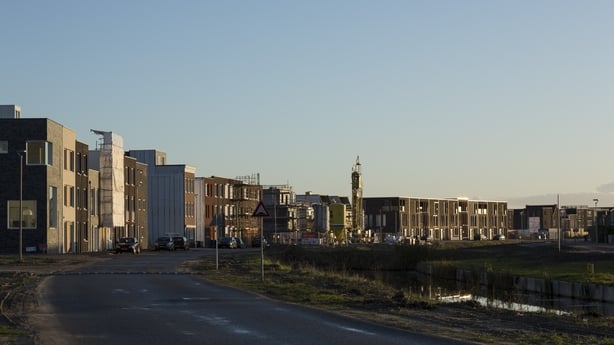 "But they've never been able to prove that the Iranian government was behind it."
It was old-fashioned detective work that led to the discovery of the Baggot Street rental apartment.
In early 2016, gardaí in the south inner city were tackling low to mid-ranking members of the Kinahan organised crime gang. While the leaders of the gang lived abroad, these were the people who kept the drugs moving and the cash coming in.
"Operation Thistle led to 19 people being arrested, and significant amounts of cash being seized during searches of various properties," Chief Superintendent Paul Cleary told Prime Time.
"We found €50,000 in one search, and in another we found €17,000 in cash under a mattress. Our intelligence led us to search another property in Dublin 2, a rented apartment in Baggot Street."
The decision to conduct a search of that property in April 2016 was well-founded. Garda intelligence suggested that the rented apartment was used by the two top leaders of the Kinahan gang when they visited Ireland.
Neither were present when gardaí obtained a warrant to search the apartment. But they did discover a man with two fake identities who spoke broken English.
Detective Chief Superintendent Paul Cleary was the first on the scene. He told Prime Time that €13,000 in cash was strewn about the apartment. In one room, gardaí discovered two Rolex watches with a combined value of €35,000.
Most significantly, they discovered personal documentation relating to the the two gang leaders.
The man with the broken English identified himself as Omar Ghazouani, and he produced a Dutch passport in this name.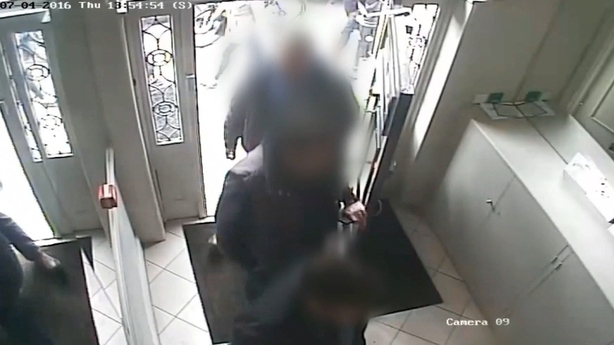 Though he told gardaí he was only visiting Dublin for two days, a souvenir photograph from Dublin Zoo, dated a couple of months earlier, suggested it was a longer stay.
"He was wearing a very exclusive Audemars Piguet watch later valued at €45,000. And he had €800 designer trainers on," Detective Chief Superintendent Cleary said.
When he was searched by gardaí, they found a Belgian ID card with the name of Zaoui Fouad.
The man did not put up any struggle as gardaí led him out of the apartment building. He was taken to Kevin Street Garda Station, fingerprinted and photographed.
Detectives circulated his details through Interpol and Europol. Soon, it became clear that the man in custody was not Omar Ghazouani or Zaoui Fouad.
Rather, Dutch police said, he was Naoufal Fassih, one of Holland's most-wanted men.
Fassih was later extradited to Holland under tight security and convicted of crimes that were detected when the five phones he was using while in the Baggot Street rental apartment were decrypted by experts.
The crimes included the sourcing of hitmen and planning the murder of Ali Motamed. Fassih is now serving a life sentence for murder.
He denied the crimes but was convicted at a high-security courthouse outside Amsterdam known as "The Bunker".
Only Fassih can say who asked him to arrange the murder of Ali Motamed. He hasn't said a word.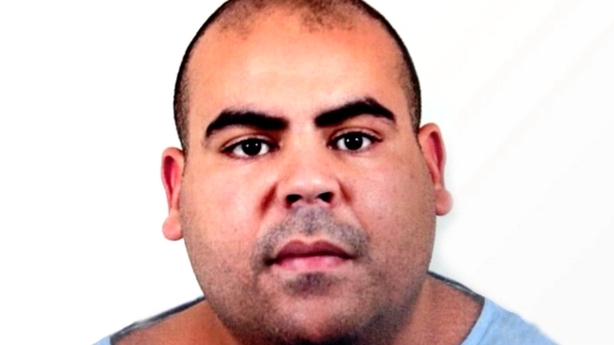 Fassih's motive for organising murders was purely financial, according to Dutch crime reporter Paul Vugts, who writes for Het Parool newspaper.
"Fassih was seen as a broker for the assassinations. He was in the middle, he had his soldiers and then he was their boss. It's very cold and clinical and it's just business they do," he said.
How and why Fassih came to be staying in the rented apartment is not yet known. But Dutch police did learn that, while in the Dublin apartment in late 2015, he arranged for two people to visit him separately.
One came with a valuable watch he wanted to wear, and the other with a replacement encrypted phone. He has locked himself out of the device by entering the wrong code too many times.
Fassih wasn't the only foreign hitman linked to the Kinahan gang to come to Dublin.
Estonian hitman Imre Arakas also came to Dublin. But, thanks to international police links through Europol, gardaí knew Arakas was en route from Spain before the flight from Alicante had even touched down in 2017.
Detectives monitored Arakas as he got a bus into Dublin city, bought a wig on Moore Street and then waited to be picked up by a Kinahan gang associate that evening.
He was taken to a house in west Dublin where gardaí swooped in on him the next morning. The sophisticated nature of some gang's communications became evident when a detective was examining a Blackberry device Arakas had in his possession.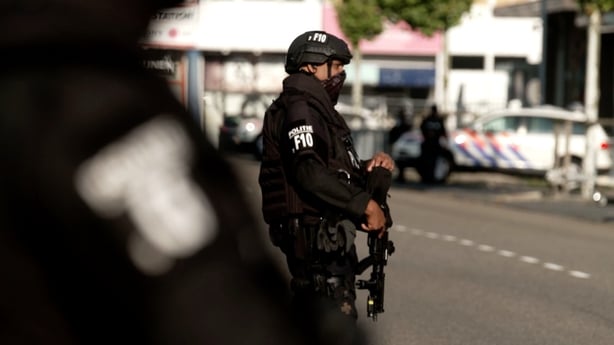 After a garda took screenshots of the messages on screen, the messages suddenly began deleting themselves before his eyes.
Less than 24 hours after he arrived on Irish soil, Arakas was in custody. He later pleaded guilty to conspiracy to murder James Gately, who was targeted as part of an ongoing gangland feud.
Four people, including Arakas, have now pleaded guilty to their parts in the plot to murder Mr Gately.
In a significant development, one of those convicted was Peader Keating, who pleaded guilty to directing the activities of the Kinahan gang – both within and outside the State.
Keating is the second person to plead guilty to directing the activities of the Kinahan gang in Ireland. A number of others have been convicted of murder.
Dozens more have been jailed for their roles in the Kinahan gang. A number of people who were not previously known to gardaí have been convicted of laundering the criminal cash of the Kinahan gang.
The cracking of phones by police forces has been hugely successful, and has led to the arrests of members and associates of the Kinahan gang in the UK.
Irishman Thomas Maher, who organised shipments of drugs into Ireland, is now serving 14 years in jail in England.
Phones have partly been the undoing of the Kinahan gang's leader in the UK, Thomas 'Bomber' Kavanagh.
He is currently awaiting sentencing in England after admitting his role in the importation of drugs.
He was caught by a mixture of new technology and good old-fashioned policing, which saw An Garda Síochana work closely with other police forces.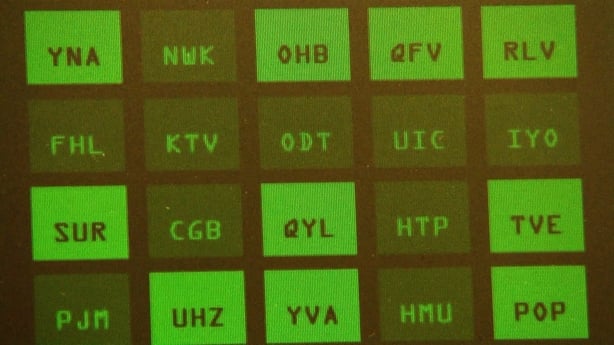 Gardaí take a multi-pronged approach to stopping these kinds of criminals in their tracks. There are criminal investigations, but there is also the work of the Criminal Assets Bureau, which asks the High Court to freeze and seize the proceeds of criminal activity.
Such cases are civil cases rather than criminal cases, and, crucially, the standard of proof required is on a "balance of probabilities" model rather than the "beyond reasonable doubt" standard required by criminal courts.
In 2019, the Criminal Assets Bureau took a successful case against Dubliners Liam Byrne and Sean McGovern and nine others.
All in all, they seized two houses, 30 cars and other property, all thought to be the proceeds of crime.
During the case, the High Court heard Garda evidence that Dublin man Daniel Kinahan was a leader of the Kinahan organised crime gang, an organisation which smuggles guns and drugs and has associations that facilitate criminal activity in Europe, Asia, the Middle East and south America.
The 44-year-old has issued statements denying he is the leader of a gang, and disavowing any links with criminality. He is currently based in Dubai.
Watch Barry Cummins and producer Sallyanne Godson's report on the ongoing efforts to deal with the Kinahan Organised Crime Gang tonight on Prime Time at 9:35pm on RTÉ One and RTÉ Player.