Though the vessel was travelling a familiar route across the Atlantic from South America to Europe, its 11-man crew never intended to reach port with its two-and-a-half tonnes of precious cargo.
The shipments were instead set to be dispatched by zip-line to smaller boats, which would have travelled to meet the larger vessel on the open sea, away from prying eyes.
But the meticulously planned voyage was rumbled some 600 nautical miles off the coast of Portugal, when members of the Portuguese navy boarded the vessel.
Acting on intelligence from the Maritime Analysis and Operations Centre (MAOC), the naval officers found cocaine worth €180m, a haul almost unimaginable to land-based law enforcement.
"The drugs weren't concealed. They were on view all around here if you got close enough, but the idea was nobody was ever going to get close enough on the high seas," Michael O'Sullivan, the chief executive of MAOC, told Prime Time.
Mr O'Sullivan, a former Assistant Commissioner in An Garda Síochána, was the man who arrested Christy Kinahan Snr in 1986.
As an undercover drugs squad officer, he caught Kinahan Snr red-handed with £100,000 worth of heroin in an apartment in Fairview in north Dublin.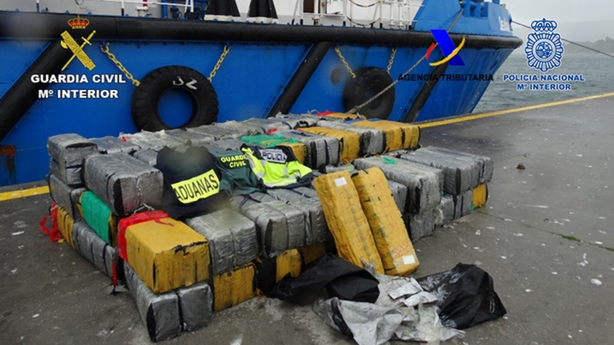 More than three decades later, Mr O'Sullivan is now involved in intercepting the kinds of international drugs shipments that the Special Criminal Court has accepted the Kinahan Organised Crime Gang are involved in.
He was one of the first to examine the vessel's cargo when it was brought to a port near Lisbon.
"We could barely get into the storeroom, the drugs were packed so high," he said.
Walking this vessel is an education in how drugs gangs, including Irish criminals, have joined forces to fund massive cocaine shipments.
The cocaine market in Europe is estimated to be around €13bn or €14bn. While MAOC, which counts seven countries including Ireland, and police forces have seized a quarter of that figure, the drug shipments keep coming.
It is a highly organised affair, with the drugs individually packaged for criminal gangs across Europe.
"Each of the various sections of the load would have different markings," Mr O'Sullivan said.
"And the purpose of that is to know which criminal group it's going to. Everyone knew who was getting what."
Catching such large shipments at sea is a huge element of European policing.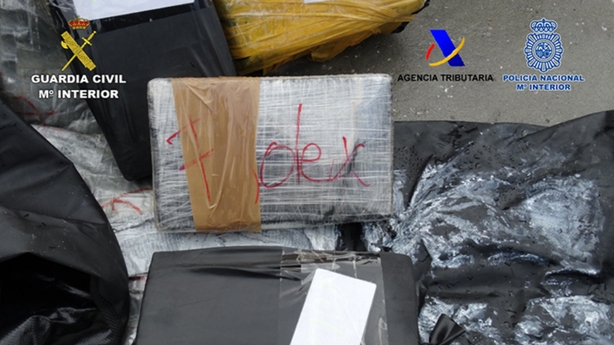 "Once the drugs hit land, and are dispatched and cut up and sent to various countries, it is impossible to get – for want of a better term – 'a motherload'. We're now into industrial-type levels of seizures at sea," Mr O'Sullivan said.
Some €3.3bn worth of drugs destined for the European market has been seized by MAOC in the first 10 months of 2021, a record haul for EU countries working together to police the Atlantic Ocean.
The MAOC takes input from police forces, naval services and customs agencies across its seven member countries.
Mr O'Sullivan told Prime Time in Lisbon that the agency has never been busier, in part because drugs gangs across Europe have come together to fund massive shipments of cocaine from South America.
The crew of eleven on the seized vessel who transported the drugs from South America would have been at sea for more than a week before being intercepted by the Portuguese navy.
The crew on board such vessels are unlikely to be paid well for their criminal work.
Instead, the people making the money are the cartels and gangs, who are never, or rarely, found near the drug consignments.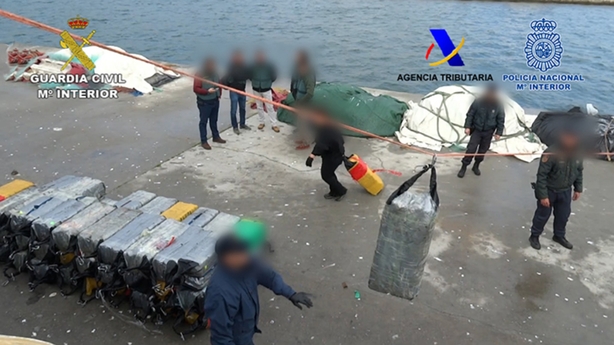 Mr O'Sullivan told Prime Time that he believes Irish criminal gangs have gone international, and now interlink with other criminal groups.
"That's the way the cocaine business is – it's a multi-national conglomerate," he said.
There are around 7,000km between the Portuguese coast and South America, leaving vast expanses of open sea in between for law enforcement to police.
Part of the ocean has become known in law enforcement as "the cocaine highway".
Ireland has responsibility for around one million sq km of the Atlantic ocean, or 12% of the waters policed by MAOC.
Intelligence from the Irish Naval Service, Irish customs officials and Gardaí has led to massive seizures by other countries.
Only this year, Spanish police seized €250m worth of cannabis when a vessel was detained near the Canary Islands.
The vessel had been on MAOC's radar since 2019 after intelligence from Ireland suggested it was one to watch.
But it was another two years before the massive drugs seizure was made.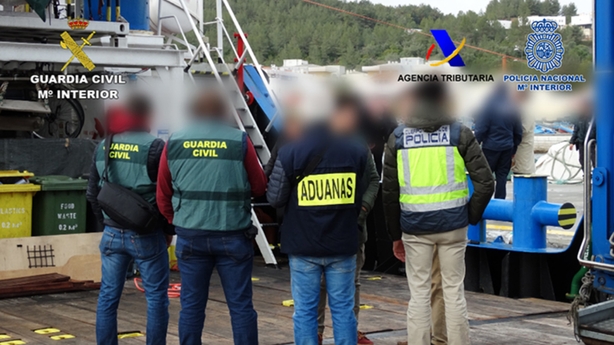 Irish intelligence also led to another vessel being boarded by Spanish authorities in August, when €400m worth of cannabis was seized.
Mr O'Sullivan was full of praise for the work of Irish authorities and wants them to be involved in more interceptions of suspect vessels further out in the Atlantic.
Last year, just short of €2bn worth of drugs was seized by MAOC and the seven participating countries.
MAOC cooperates with America's Drug Enforcement Agency, which also has a presence in Lisbon.
But it's thought that more drugs are consumed in Europe now than in the US, and criminal gangs increased their shipments of drugs to Europe during the pandemic.
"Cocaine is the lifeblood of criminal organisations," said Mr O'Sullivan. "It is the market and the drug of choice, and the market is good."
It is one horrifying explanation for the feuds and shootings that seem to consume Ireland's criminal gangs, all of whom are determined to maintain the wealth and power they have amassed.
"It is vital," he said, "that the cocaine market be restricted, closed down, disrupted."
Watch Barry Cummins and producer Sallyanne Godson's report on the ongoing efforts to deal with the Kinahan Organised Crime Gang tonight on Prime Time at 9:35pm on RTÉ One and RTÉ Player.