Around a small lake in Co Roscommon, six families are waiting in dread. Lough Funshinagh has flooded every year for the last five. Since January, two families have been forced out. Now others fear they will be next.
In times of crisis, it falls to the Government to protect communities.
Patrick O'Donovan TD, the Minister of State with responsibility for the Office of Public Works, may have the position, the resources, and a budget of €1bn. And his party may have been in power for 10 years. But he says he is powerless.
Unless Ireland changes tack, cities and towns will be in precarious position from increased rainfall and climate change, without the defences to protect them, he warned.
He says he too lies awake in dread at what the weather will bring. "I can't get their faces out of my head," he told Prime Time of the Lough Funshinagh dwellers.
"Bear in mind, it might be six houses in south Roscommon today; it could be 600 houses in Dublin tomorrow", he said.
The minister says that it is taking up to 20 years to install urgent flood defences, with most of the time spent on design and planning and, as he sees it, crossing every 'i' and dotting every 't' in planning and environmental law.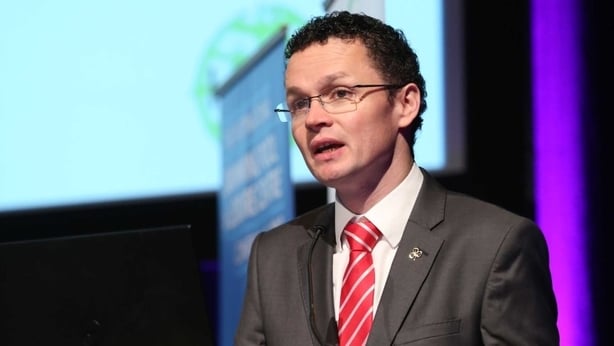 "If we don't get everything right, somebody pops up to take us into court, and unfortunately, we're in a space at the moment where there's just people waiting to catch us out", he said.
He says Cork city is his biggest worry, but places like Enniscorthy, where, 19 years later, not one block has been laid, typify the problem.
"As minister, I want to be really honest with people. We are in serious trouble in terms of delivering that level of defences to that volume of people over that period of time. It is just not a sustainable process", he told Prime Time.
As Lough Funshinagh waits for winter, water levels there are already over half a metre higher than this time last year – and the rains are coming.
Tom Carney lives by the lough. He can trace his family's roots there back to the 1700s.
"I honestly don't think my mind could cope with another winter of this", he said, describing the dire situation his family found themselves in between late January and the end of July as water overspilled from the lough onto his road, blocking access to his house and farm.
With two large pumps provided by Roscommon County Council, it was a constant struggle to keep the water out.
On a number of occasions, when the wind blew towards his home, the water overpowered the pumps and the level rose to just below the windows of his house.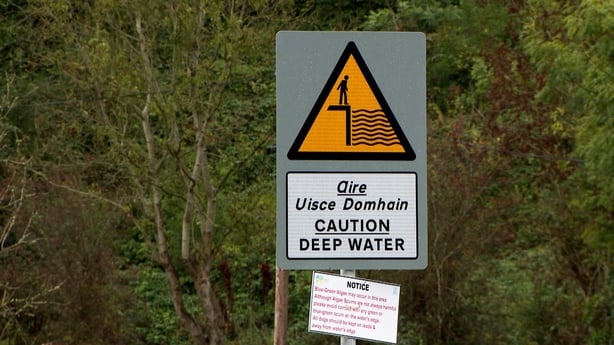 Lough Funshinagh is a "disappearing lake" – like turloughs, these loughs are virtually unique to Ireland in Europe.
In the past, occasionally the lough has emptied quickly in dry season. The last time that happened was in 1996.
Usually, though, it drains slowly, through swallow holes. But since 2016, while Geological Survey of Ireland data shows outflow rates have remained consistent, it also shows there has been a build-up of water.
The cause is not a change to natural drainage or a blockage of drainage outlets. Rather, extra rainfall has simply overburdened the lough, with nowhere to go but over its sides.
This is climate change.
The lough, a wildfowl sanctuary and a natural habitat under EU law, is now largely under water. Hundreds of acres of land are submerged.
Roscommon County Council thought it had a simple engineering solution: to install a pipe to take the excess water into a tributary and on to nearby Lough Ree.
Over the years, calls to install an overflow pipe grew, but reports for Roscommon County Council and the OPW had advised that it would not be cost effective.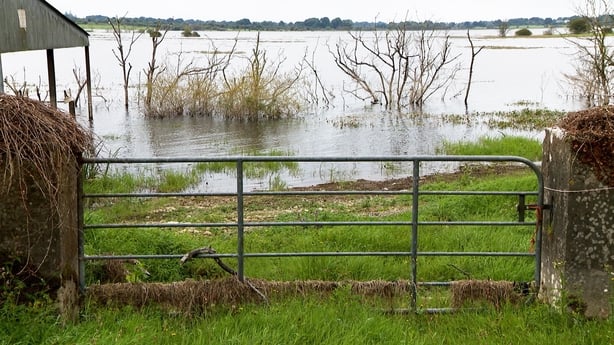 However, in January this year, Minister O'Donovan approved the funding. The council began the process, knowing it would take at least two years in environmental assessment and planning and would also be subject to An Bord Pleanála approval.
Eugene Cummins, the council's chief executive, said they were prepared to engage with the full planning process.
But events changed in April, when the water level in the lough hit 69m, the highest ever recorded.
"I knew I was in an emergency situation and something had to be done," Mr Cummins told Prime Time.
For one thing, the council's senior engineer advised that a road that had been raised in urgency to block flood waters was in danger of collapsing.
In mid-May, the senior engineer and the director of services asked for urgent and immediate intervention to prevent a "code Red" risk to life.
"I had to do something and that something was to take the level of the lake down, by putting in a simple pipe. It's nothing more than a simple pipe that would decant a small volume of water and keep these people safe in their homes", Mr Cummins said.
The chief executive invoked emergency powers under the 1949 Local Authority Works Act. Work on the pipe began. Minister Donovan rowed in and funded it.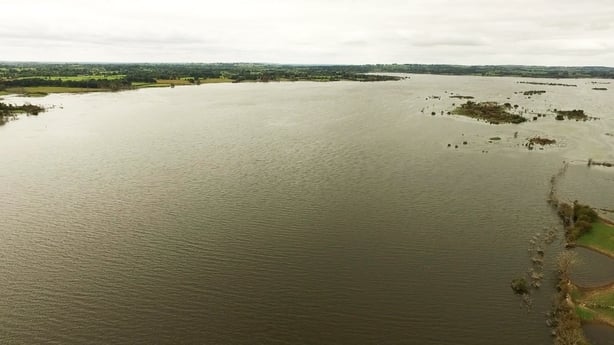 To date, the Council has over the last five years spent €450,000 of taxpayer's money on road raising, detours, and pumps to try to keep the people of Lough Funshinagh protected. Mr Cummins said it would have cost €1.5m to put the overflow pipe into the ground.
But in August, Friends of the Irish Environment, a campaign group, secured a High Court injunction, arguing that an environmental impact assessment required under EU law had to be completed first. The works came to a halt.
The Friends of the Irish Environment case was grounded in an affidavit from Judy Osbourne, one of its trustees.
"We are the watchdogs that actually check that the law is properly implemented", Ms Osbourne told Prime Time.
She said the group took the case because somebody – who does not live in Roscommon but is very familiar with the site – saw the work going on and was immediately very anxious and concerned about it.
The group's concern was that environmental requirements were being disregarded by the council. The council says its works were environmentally monitored and that, because it was acting in an emergency, screening to see if the works reached the threshold for an environmental impact assessment was not required.
However, since the campaign group's application was ex parte, the council never got a chance to argue its case in court. The council's case folded when it received advice from the Attorney General's office that it would not fight the case.
Mr Cummins said that defending the case would have taken too long – and the houses would have been flooded anyway.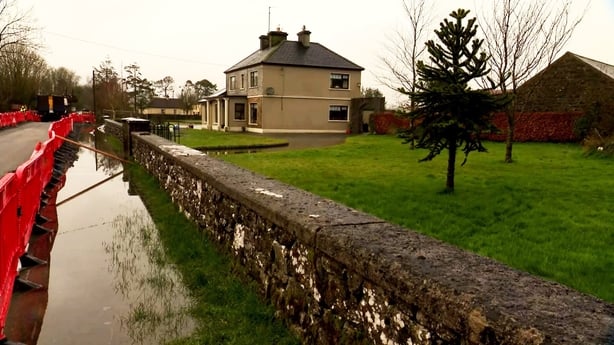 He also conceded that he was "technically wrong", and acknowledges that the EU law takes precedence over the 1949 emergency powers.
But to the families facing the floods, the news that work had halted was devastating.
"I think it almost broke my spirit," said Mr Carney.
"I'm 70 now, I've raised a family, I've gone through life, I've had my share of adversity as everybody else who lives life has, and we had sudden death, we had accidents in the family, we had tragedies, but I can genuinely hand on heart say that I never encountered anything like that news."
At present, the site of the works remains as it was in August. A swathe of top soil and clay dug where the pipe was to start now remains, some 150m from the lake.
At Ballagh Cross, the floods forced Edward John and Teresa Beattie out of their home in February.
When the works began, they had hoped to be back in for Christmas. Now, 83-year-old Edward John is reduced to driving his tractor twice daily to visit his home.
"It's hard, that they can just knock up and close down a village. It's very sad, very sad", he said.
Edward John's son, Anthony, built a house around the corner. His land is no floodplain – his house is built on an elevated site. He and his wife Ruth moved into the house in 2020. Last November, Ruth gave birth to a baby girl. Now, they feel their new home will go under water.
Over last winter, Anthony's livelihood suffered and his animals had to be moved from encroaching floodwaters in distress. Sheep close to lambing were moved, many sold.
His fields were flooded. Soon after Ruth gave birth to their baby, water reached their garden gate. Six weeks later, she rescued their dogs from the farm shed, where water was rising from beneath the ground.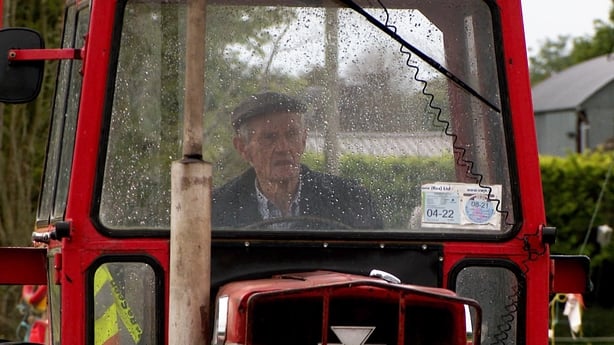 "It's one nightmare after another, and after reliving it last year we've to relive it again then this year coming", Anthony told Prime Time.
"There seems to be nothing in sight. There seems to be no future here at the minute for me or my wife or family or anything."
Ms Osborne acknowledged that families like the Beatties are in an awful situation, but she said that, in the very near future, many people's lives are going to be devastated by climate change.
"These people are not the only people that are going to lose their homes, that are going to have their lives completely destroyed", she said.
"There are some things that you cannot stop in nature, unfortunately."
Ms Osbourne said there was no point in talking to local people before the campaign group lodged its injunction, because it was too late: the Council's work was underway and was "a very risky project" that they had to stop immediately.
"There was nothing for us to discuss with locals", she said. She has not been down to the lough, either, she confirmed, though another representative of the group has been.
Previously, a representative of the group suggested relocation was the solution for affected people, but Minister O'Donovan rejects the suggestion.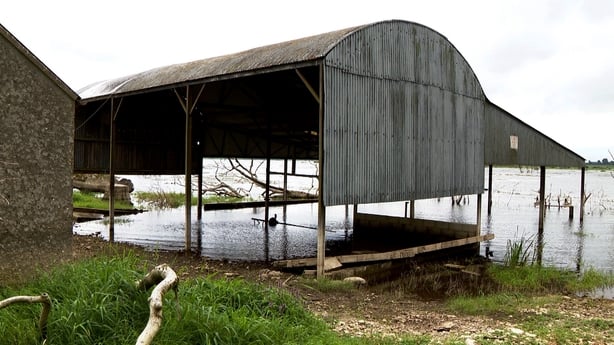 Humans in situations like the residents of Lough Funshinagh should not simply give way to nature, he said, particularly when engineered solutions are available.
"You can't just relocate a community – that's just not possible, urban or rural. You can't just uproot people and say, you know, really, tough luck, sorry now, your houses are flooding," he said.
On the margins of the lough, there are many dead or dying trees, where water has encroached on land. Yet on the lough itself, herons and wildlife abound.
Locals like Tom Carney take great pride in their care of the lough over many years – with light grazing only close to the shore and no intensive farming.
As the injunction hearing was pending, 89-year-old Barry Martin's daughter, Marie Carney Martin, wrote to the Friends of the Irish Environment, noting that they too were "friends of the earth".
A response to one such email was promised, but never came.
Friends of the Irish Environment say there are local people who had concerns about the pipework, but they were unable to put Prime Time in contact with any of them.
Separately, they told the High Court that, in a phone conversation after their case was lodged, another, retired councillor had warned them that they could be under threat from people he claimed had paramilitary connections. The campaign group has stayed away from the area since.
Minister O'Donovan thinks Lough Funshinagh is a microcosm of a bigger problem.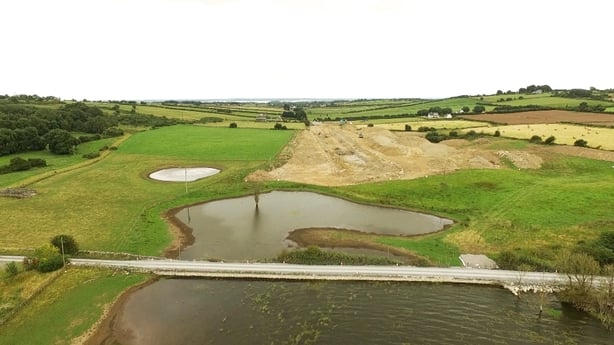 "It is torturous to go into somebody's house and stand there powerless, with your hands hanging, in a pair of wellingtons," he said. "And they say, 'Minister, what about us?' and you literally can say nothing to them."
The minister says the current system is not fit for the purpose of protecting Irish towns and cities at high risk of flooding. He faults the planning system, and the use of EU Habitats and Birds directives by environmental activists.
Because it comes back to EU law, he says Ireland cannot act unilaterally. If the floods over the summer in Germany serve as a wake-up call there, he hopes the plight of Lough Funshinagh is one here.
He wants Ireland to go to bat in Brussels, arguing that these people deserve better than what they are getting.
"We need to go back to the roots. And the roots are legislative roots at a national and EU-wide level. And that means dialogue with our EU partners, and it means dialogue at home to see how we can do things faster."
He said Ireland also needs to start to think about how climate change is impacting on communities, warning that it cannot just be about emissions reduction.
In implicit criticism of his ministerial colleagues and the official discourse, the Fine Gael TD talked of the "over focus" on emissions, with "not a mention of flood defences".
Meanwhile, in Lough Funshinagh, the chief executive of Roscommon County Council said that Friends of the Irish Environment have made a bad situation worse.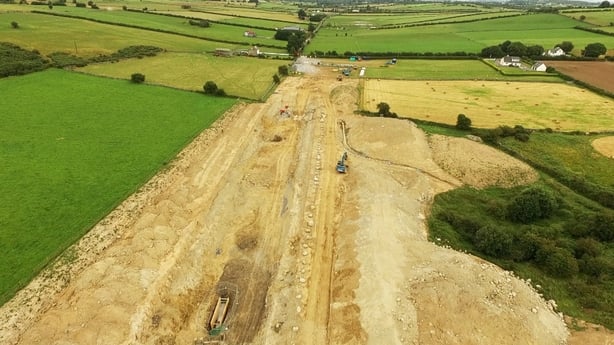 "They have created a situation that is untenable," Mr Cummins said.
"And I have to ask, who is going to be responsible if that road collapses? Is it me? Who is going to be responsible if those houses are flooded and there is a loss of life? Is it me?"
No court has adjudicated on whether the use of the 1949 Act was unlawful or not, but the Friends of the Irish Environment are adamant that it was.
"The way they chose to do it is illegal – and there's no doubt about that", Ms Osbourne told Prime Time.
Whilst conceding the Council's action was technically wrong, Mr Cummins does not accept that what he did was unlawful. He pointed out that the High Court did not hear that the situation was an emergency.
The chief executive said he intends to act – in a "lawful and appropriate" manner.
"I am not finished", he said, "because I don't have any choice to be finished. I have a community to protect. The risks are still there. They have been identified. I have not given up."
For Tom Carney and the five other families around the lake at most risk this winter, the clock is ticking.
"It's our lives. It's our wellbeing. It occupies every waking moment – and you have a lot of waking moments during the night when you shouldn't be having them", Mr Carney said.
For now, the pumps stand silent around the lough, like tanks on ceasefire. Waiting.