Since the pandemic began, every expert who has expressed an opinion in a television debate, a radio discussion, or on a news website has agreed on one thing: reaching herd immunity is the goal.
There has been much argument about the best way to achieve it, but herd immunity is one of the primary ambitions of every 'lockdown' or 'let it rip' plan - and every proposed pandemic strategy in between.
It would mean reaching a turning point. Enough people would have acquired immunity that each newly infectious person would be more likely to infect no one than they would be to infect another person.
At that point, the disease would begin to gradually die out.
That's the theory. As more pandemic restrictions are lifted this week, and we enter our second pandemic summer, how far away from herd immunity are we in Ireland?
If it can be achieved, when and how are we likely to achieve it?
Estimating the population benefits of the vaccine roll-out
The vast majority of immunity acquired so far in the Irish population has come through the vaccine roll-out. The rest has been obtained through people who've contracted Covid-19 and recovered from it.
With cases falling, and vaccine rates climbing, the short-term aim is to maintain low infection numbers.
"It's really important to get the level of vaccination as high as is possible in the community," said Professor Emer Shelley, Dean of Public Health in the Royal College of Physicians Ireland.
We need your consent to load this rte-player contentWe use rte-player to manage extra content that can set cookies on your device and collect data about your activity. Please review their details and accept them to load the content.Manage Preferences
Currently, 4 in 10 people in the Republic of Ireland have received one dose of a vaccine, while 2 in 10 are fully vaccinated.
Each dose increases an individual's level of protection, and hugely reduces their chance of hospitalisation or death.
However, even people who are fully vaccinated are not 100% protected against being infected.
Depending on the vaccine they received, they are somewhere between 67% and 96% less likely to get a simple Covid-19 infection.
Those percentages represent how efficacious the vaccines are against infection. Many scientists are using them to estimate the level of immunity in the population, and the proportion of people that need to be vaccinated to reach herd immunity.
"For a theoretical disease, if the herd immunity threshold was 95%, you'd have to have a perfect vaccine and vaccinate 95% of people to reach it," said Dr John Ferguson, a Research Fellow in Biostatistics in NUI Galway who focuses on population health.
Dr Ferguson provided advice to Prime Time on the calculations used in this article.
"If a vaccine was only 95% effective, then you'd have to vaccinate everybody with that vaccine to get that 95% immunity."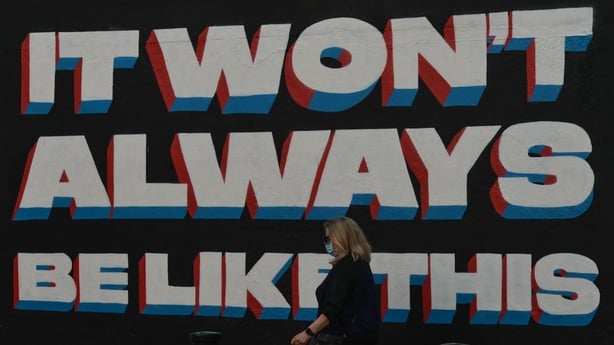 "The different vaccines have a different level of protection," said Dr John Griffin, an epidemiologist in UCD. "So, because of the incomplete protection from the vaccines, you have to take that into account."
Using official data from the vaccine roll-out, and published data on the efficacy of each vaccine dose, Prime Time calculated the typical level of protection against infection acquired by each individual who has been vaccinated so far in Ireland.
Currently, the average vaccinated person is estimated to have 82% protection.
Combining that with the total number of people vaccinated, it's possible to estimate the level of population immunity in Ireland gained through vaccination at 34%.
Estimating the level of natural immunity
Many other people will have gained immunity through being infected with Covid-19.
Without testing the whole population for antibodies, it's impossible to know precisely how many people have recovered from the virus.
"Natural immunity for some people seemed to work really well in the beginning. They didn't get reinfections," said Dr Akke Vellinga, an epidemiologist in NUI Galway's School of Medicine.
"But other people, within three months, got another infection. It's thought, in general, it lasts up to a year, but it likely diminishes over that period as well. So, there's a lot of [unknown] factors involved with it."
Official data shows there have been 260,000 confirmed cases of Covid-19 since March 2020.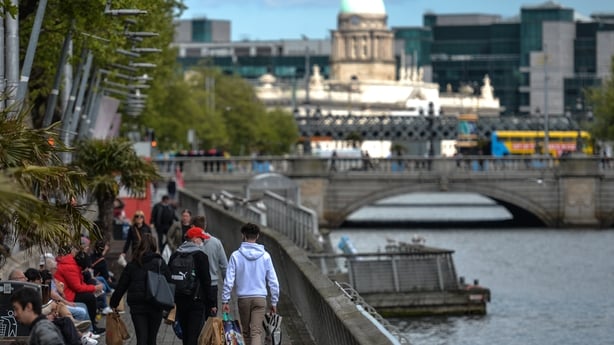 Last year, researchers in Maynooth University determined confirmed cases underestimated the true number of infections in the country until at least July 2020.
At that point, there were 25,000 cases confirmed, but they say there were likely to have been more than 250,000 infections. Since August, the testing regime has more accurately reflected the scale of the epidemic.
The Maynooth research suggests the current official total of confirmed cases represents somewhere between 30% and 50% of the actual infections that have occurred.
Using those percentages, this would mean between 500,000 and 875,000 people in Ireland gained immunity through infection.
However, it's certain many of these people have since been vaccinated.
It's also impossible to be precise about the level of immunity they would have acquired.
---
---
"There's no definitive information on that," said Dr Griffin. "Recent studies suggest that, actually, the level of protection from vaccines may be greater than the level of protection from actual infection, particularly in the case of the Pfizer and Moderna vaccines."
To calculate a basic approximation of how far along the road to herd immunity the country has travelled, Prime Time made two assumptions in relation to the estimated population with natural immunity in Ireland.
Firstly, that the same proportion of them have been vaccinated as the proportion of people vaccinated in the overall population.
Secondly, that the level of natural immunity obtained is equal to a vaccine dose that is 81% efficacious - the mid-point of the efficacy of the doses available for use.
While there remains a lot of uncertainty, that produces a final estimate for current population immunity of between 39% and 43%.
What level of immunity do we need to get to, to reach herd immunity?
Estimating the herd immunity threshold
Ever since it began to emerge from Wuhan 16 months ago, epidemiologists and mathematicians have been trying to understand the SARS-CoV-2 virus and the disease it causes, Covid-19.
Across the world, they've been assessing reports about cases and strains of the virus that allow them to refine the inputs for their mathematical models.
They are trying to get better answers to questions like: How infectious will a person with Covid-19 be, and for how many days? How long will it take before they infect the first further case? How many hours is there typically between infection and the emergence of any symptoms?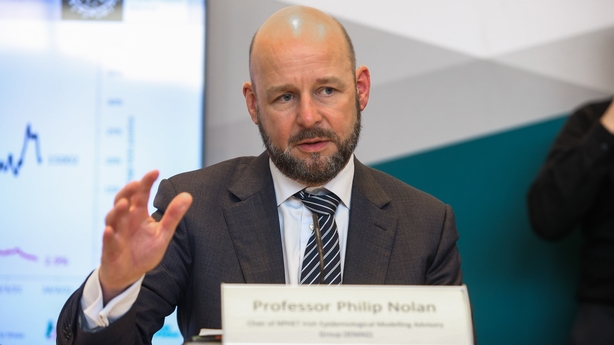 Those answers take the form of numbers, which in turn are inputted into models used to calculate a key value, which is known as the basic reproduction number, or R0 (R-nought).
The R0 is the estimate for how many new cases of the disease one infectious person would cause if no one had immunity - and everyone behaved as they did before the pandemic began.
It is used to calculate the level of population immunity needed for herd immunity.
"The higher the basic reproduction number, the greater the population [immunity] threshold," said Dr Griffin.
Getting a definitive number for the R0 for any infectious disease isn't simple. With Covid-19, it's been even more tricky than usual.
Scientists are trying – during a once-in-a-century pandemic – to understand how the disease would spread if people behaved as they would normally.
"We're predicting human behaviour. And that's the most difficult part of what's a fairly simple equation," said Dr John Ferguson.
For that reason and others, across the world, estimates vary for the R0 of SARS-CoV-2.
Dr Griffin was part of an Irish team that last July examined studies on the R0 from China, Iran, South Korea, France, the UK and elsewhere. Conclusions ranged from 1.9 to 7. Most landed somewhere between 3 and 5.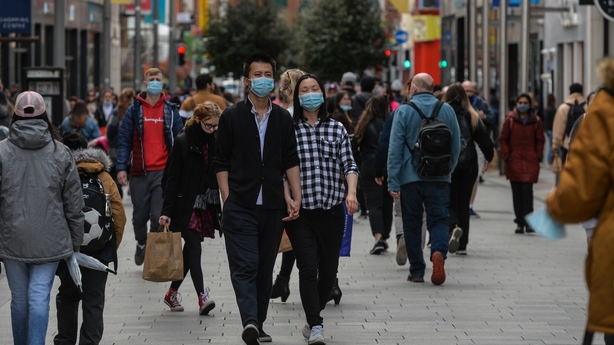 NPHET's epidemiological modelling group use a range when modelling the virus, but estimated the R0 to be 3.7 in May last year.
That was before the Alpha (UK) variant became dominant here, and nearly a year before the Indian or 'Delta' variant emerged.
Both variants have characteristics that would be likely to push up the R0, in turn pushing up the herd immunity threshold. They are each considered to be more transmissible than earlier variants.
Experts examining initial data on outbreaks of the Delta variant have estimated the R0 could be around six.
"What we have are estimates for the R0 from Spring 2020, right?" said Dr Ferguson. "The appropriate number to plug into these calculations now, it's probably going to be larger, but we don't know definitively."
Whatever estimate you choose, you can use it in a basic maths formula to estimate the herd immunity threshold. If you use 3.7 for R0, the threshold is 73%. If you choose 6, it's 83%.
Using four - an R0 some experts would consider to be on the optimistic side of realistic at this stage of the pandemic –-it's 75%.
That's something like the level of protection we need to get to for herd immunity.
Fast forward to the end of the vaccine roll-out
Allowing for the fact that many assumptions have been made in the calculations completed, clearly the current level of population immunity leaves us some way off even a 75% estimated threshold for herd immunity.
However, the vaccine roll-out is only really getting moving. Most vaccinated people have only received a single dose. By September, every adult who wants a vaccine should be fully vaccinated.
Will that bring us to 75%?
To understand the efficacy likely to be achieved from those vaccinations, Prime Time spoke to sources on NPHET and in the HSE.
On completion of the adult roll-out, the mix of vaccines used should result in a collective 91% efficacy against infection. That assumes the advice from the National Immunisation Advisory Committee against combining doses from different manufacturers remains in place.
Using that mix of vaccines, if every adult in the country took up the offer, the total population immunity achieved would be around 75%.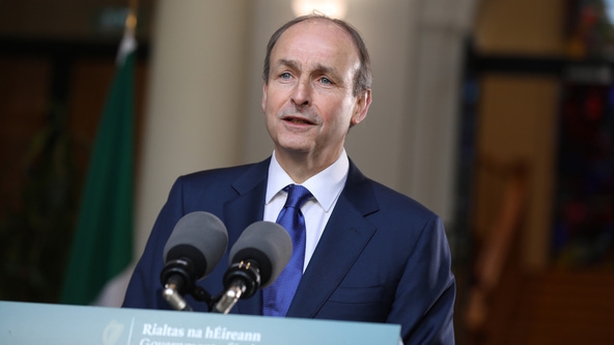 So far there's been about 90% take-up of vaccines among eligible adult age groups. That is a remarkably high level of take-up. The HSE's Chief Clinical Officer, Dr Colm Henry, said it makes Ireland "the envy of Europe".
In countries including the US and France, take-up has been lower.
Assuming a 90% take-up rate among adults continues until the end of the roll-out, we would end up with a population immunity of between 63% and 67%.
If 80% of adults take up the offer, it would be between 56% and 63%.
The Pfizer vaccine has been approved by the European Medicines Agency for people over 12 years old. NIAC is considering whether to issue such advice for Ireland. The World Health Organization has said it should not be a priority to vaccinate children while there is a global vaccine shortage.
In the event that 90% of everyone over 12 was fully vaccinated, total population immunity would be around 72%.
These are simplified estimates, but indicative of the scale of the take-up likely to be required to reach even a herd immunity threshold of 75%.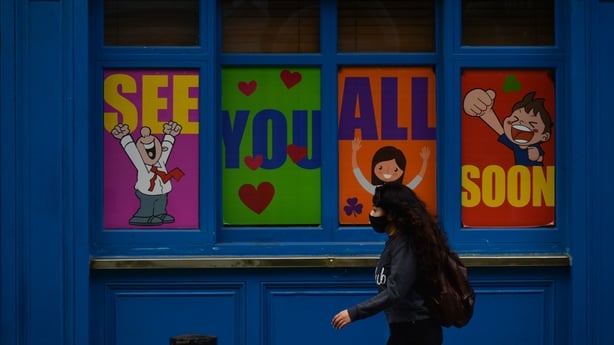 Significant uncertainty surrounds the role of children, particularly younger children, in spreading the virus.
It's still unclear at what rate a typical infectious child will spread Covid-19 in comparison to a typical adult. The calculations used so far do not distinguish between adults and children.
Some studies have found children are less likely to transmit the virus. If that was the case, fewer people in the overall population would need to be protected to reach the herd immunity threshold.
If children transmit the virus at half the rate of adults, a 90% take-up of vaccination among adults would result in almost 80% population immunity. And we would currently have closer to 47% population immunity.
"I know people have been saying numbers like 70% or 80% [for herd immunity]. We really don't know what level of protection would be required to reach immunity for this virus," said Professor Emer Shelley.
"I think everybody from public health would be saying just get it as high as we possibly can."
The post roll-out picture in Ireland
If the herd immunity threshold were not reached through vaccination, the theory is that there would be ongoing outbreaks until anyone not immune had obtained immunity through infection and recovery - or passed away.
With the emergence of more transmissible variants, this outcome is becoming more likely. If the R0 was close to six - 91% of the overall population would need to be vaccinated to reach herd immunity.
That's unlikely even in Ireland - "the envy of Europe" - and highly unlikely in countries with lower take-up rates, or where less efficacious vaccines are being used.
Getting close to the threshold would mean outbreaks would be slowed, and easier to minimise with testing and tracing.
"The hope would be that because of the high level of vaccination it would be possible to stamp on outbreaks and put them out as soon as they were identified," said Prof Shelley.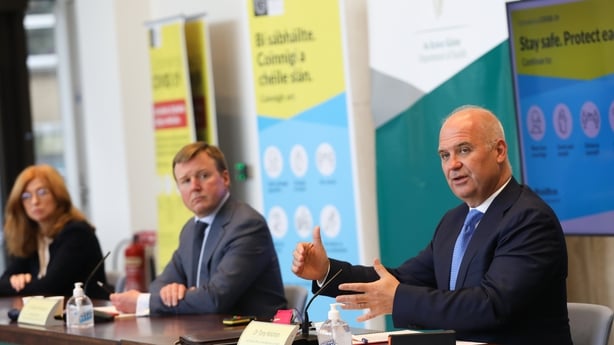 It would mean life would largely return to a pre-pandemic normality, but with some continuing level of Covid-19 cases and hospitalisations. The health system would need to manage the currently unpredictable impact of people who are experiencing 'Long Covid' following viral infection.
"With the vaccines, if we keep going as we're going, by the end of the year, we should have a pretty normal situation," said Dr Vellinga from NUIG.
"You could still get Covid, and still get sick from it, but the severity of the cases will be a lot less and it will become more like a common virus infection."
At a population level, behavioural changes - increased attention to indoor ventilation, staying home if you've symptoms and the likes - could result in cases dwindling out.
However, that situation would be fragile.
"Our public health and contact tracing will need to remain vigilant for some years to come," said Prof Shelley. "The vaccination programme coming to an end is not going to be the end of Covid-19 for us."
Once the vaccine roll-out has been largely completed, for countries like Ireland, a key priority will be protecting the level of population immunity achieved.
The European Commission has signed contracts for booster vaccines in case immunity is found to wane over time.
It could also be undermined by the introduction of variants that cause reinfections.
Therefore, international travel is likely to be very different to what we've become familiar with over recent decades. Most experts believe proof of non-infection with Covid-19 is likely to be a necessity before boarding a plane for years to come.
Some say evidence of vaccination may be required.
"Anyone who's travelled in East Asia will know you need to show you're not carrying yellow fever," said Professor Cathal Walsh, Chair of Statistics at University of Limerick. "I think it'll be something similar with this."
In countries where the vaccine roll-out has been slower, the ongoing emergence of new variants is already a concern.
The near-term global picture
Just 12% of people globally have received one dose of a Covid-19 vaccine. The vast majority of countries with more than 30% of people even partially vaccinated are high-income nations in Europe, Asia and North America.
Yet in wealthy countries like New Zealand or Japan, less than 10% of people have received a first dose. In Australia it's still just 15%.
The situation in poor parts of the world is far worse. Most African nations have not yet vaccinated 0.5% of people with one dose.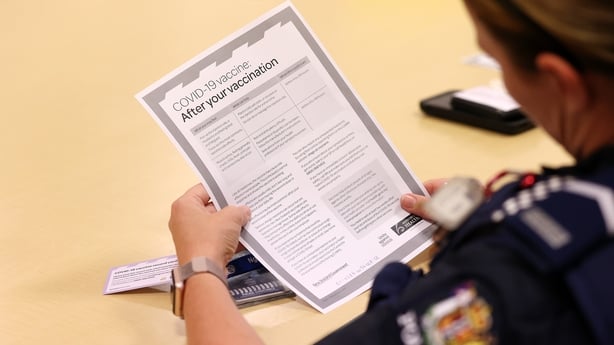 Two billion vaccine doses have been administered worldwide, but just 1.6% of them have been administered on the continent of Africa.
Across the world, as wealthy nations vaccinate younger age groups, millions of people in their 60s and 70s are still unprotected. International organisations estimate it will take a year to reach most older and vulnerable people in low-income countries.
With increasingly transmissible variants emerging, and much of the world still susceptible, there may be more deaths from Covid-19 in the next stage of the pandemic than the one that has just passed.
More cases resulting from a more transmissible virus would mean a greater chance of variants that could cause reinfection emerging. That, in turn, poses a danger to the immunity acquired in wealthy nations.
For epidemiologists like Dr Vellinga, this underscores the need to accelerate vaccine production internationally. For countries like Ireland, she said, it's in their self-interest.
"I would advocate that the vaccine process needs to go worldwide to stop dangerous mutations emerging," said Dr Vellinga. "Then reassess where we are at that point."
Religious and humanitarian leaders have put it another way: "No-one is safe until everyone is safe."