Staff at Finnegan's Lakelands Crematorium were working from 6am until midnight. It is usually a 9-to-5 workplace.
They didn't know it back then, but some of the communities they serve in Cavan and Monaghan were being hit hardest by the first wave of the Covid-19 pandemic.
In a typical April, around 60 people are cremated at Lakelands. In April 2020, staff faced the brutal reality of Covid-19 while helping 120 families say goodbye to their loved ones.
"We've never even done the colour of that before, you know?" owner Declan Finnegan told Prime Time.
The impact at Lakelands is reflected in a major statistical examination of death notices during the pandemic – not just in Cavan and Monaghan, but across the country.
Analysis of RIP.ie data by researchers at Maynooth University and the University of Limerick indicates that around 3,200 more people died in the Republic of Ireland between 1 March 2020 and 28 February 2021 than would have died in a typical 12-month period.
The figure, which has been adjusted for duplication and overseas deaths notified on the website, gives a strong indication of what statisticians refer to as "excess mortality".
It represents a 10% increase on the norm, with most of the increase occurring during two major spikes of the virus.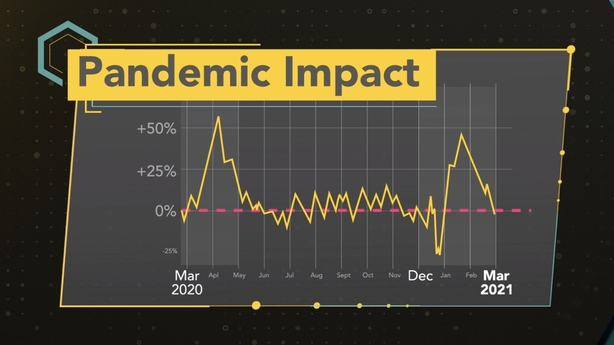 "Last April was very bad" said Dr Padraig MacCarron, a mathematician based in UL. "The excess deaths then were three times worse than the worst [recent] flu season, and that was with a lockdown."
During the first wave, the analysis indicates that about 1,300 more people than expected died.
Excess deaths in themselves are not unusual: a bad flu season could result in a significant number of them.
What shocked the researchers was that very many of them occurred in such a short period of time.
"Covid was unprecedented," said Dr Gerard McCarthy, who led the research.
The sharp incline is clear evidence that a lockdown was needed to get things back under control, he said.
"We didn't necessarily lock down because people were dying, but to stop [more] people from dying."
Nationally, the first wave peaked during a few days in the middle of April 2020, when the death toll was around 60% above the normal rate.
At the same time, death notices in north Cavan were being published on RIP.ie at twice the normal rate. In swathes of Monaghan, there were three times as many death notices posted than usual.
For Declan Finnegan and his staff, the priority was to handle these deaths respectfully, even if they were forced to do so on a mass scale.
"The funerals were happening quicker. They were happening the next day. But they were held with dignity and respect at all times," he told Prime Time.
"It wasn't like Italy – they were not let build up over days."
The first wave of Covid-19 didn't wash evenly across the country, nor did the pandemic as a whole.
While many areas that Mr Finnegan serves saw significant spikes that April, other areas like Ballina and Enniscorthy saw no discernible increase in death notices.
Places like Loughrea and west Mayo even saw fewer than would be expected.
Another major spike in Covid cases began in late December 2020, moving into January 2021. A further increase in activity on RIP.ie followed, beginning in January and ending in mid-February.
Few parts of the country were left untouched during what's become known as the third wave, said Dr Gerard McCarthy.
The researchers believe the link between a surge in cases and an increased number of deaths is undeniable.
"It's clear there was a substantial amount of people who died who would not have died otherwise," said Rebecca Dempsey, a research assistant on the project.
While is not possible to definitively link spikes in mortality to increased Covid case numbers – death notices on RIP.ie do not usually contain information about the cause of death – the research serves as a valuable early indicator.
Official statistics are unlikely to emerge for up to two years.
While the data suggests that 3,200 more people died than usual between March 2020 and March 2021, the Department of Health said there were 4,319 Covid-related deaths in the same period.
We need your consent to load this Datawrapper contentWe use Datawrapper to manage extra content that can set cookies on your device and collect data about your activity. Please review their details and accept them to load the content.Manage Preferences
While we should be cautious about comparisons between the two numbers, Dr McCarthy said it could suggest that around one in four people who died with Covid-19 would have died during the time period anyway.
Statistically speaking, the remaining people would have lived longer. In other words, they were not people who were going to die anyway, as some have argued.
"That idea doesn't hold up to scrutiny, actually," Dr McCarthy said.
Looking at county-level data, 10 counties experienced excess mortality of 10% or more.
Monaghan and Cavan were the worst affected, with deaths 30% higher than the previous 12-month period.
Every county bar Donegal shows an increase. (RIP.ie is the exclusive site for death notices in every county except Donegal, making results there less reliable.)
But percentages only tell part of the story, obscuring the real-life impact and the lives lost. In absolute numbers, Dublin and Cork were hardest hit. Some 1,100 more people would still be alive in the capital were it not for Covid-19. In Cork, that number is 500.
We don't know who exactly, we don't know where, and we don't even know what exactly caused their deaths, this early analysis makes one fact clear: if the pandemic had not happened, there would be thousands more people alive today.