Seána Glennon is a lawyer. Her partner, Jonathan Forde, works in financial services. Seána is pregnant.
A property with value? They own it. Mortgage approval? Painless, they say. Proof of funds? They have it. A professional couple in their 30s looking to trade up. And yet, in Dublin, Ireland, they cannot.
"It's a real milestone in our lives as young adults to be able to turn the key in our own house", Seána told Prime Time.
Yet, on the cusp of doing it, they feel shut out of the opportunities that were afforded their parents' generation.
"It feels like a grown-up thing to do – to move into a house. And I'm in my mid-30s and I haven't done that yet", Jonathan said.
Early last year, Seána and Jonathan returned to Ireland after two years working in Canada.
They had moved with Jonathan's job. Seána had stopped practicing as a solicitor and completed a master's at the University of Toronto, followed by research work there.
Coming back home, their aim was to settle down and have children, with a PhD project on the side for Seána. They arrived just in time for the Covid-19 pandemic.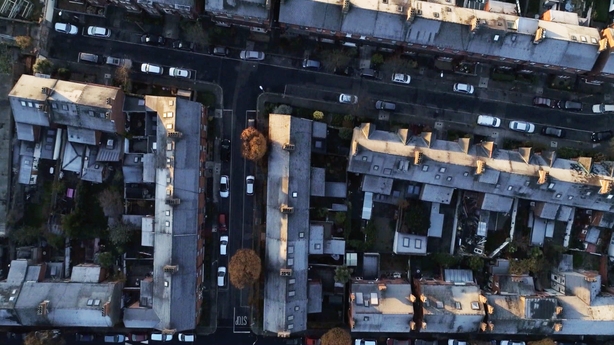 "We were looking forward to coming home and starting a family, and we're expecting our first baby at the moment so we thought it would be a perfect time to purchase a home", Seána said.
But they have found there are few homes to be bought.
Jonathan grew up in Dublin 6 and Seána has lived most of her adult life there. They expected to return to live there, but tight supply has forced their house hunting far beyond it.
Looking in north and south Dublin, they found what Seána said are mainly probate sales and houses in very poor condition. The prices do not reflect the condition they're in.
Jonathan can't help comparing Dublin with Toronto. He gets online notifications of nice, turnkey homes, well within their budget, in places they would want to live.
He thinks the prices don't seem to make sense in Ireland, and that the pandemic has "shone a spotlight on it".
At the beginning of 2020, the sales market was roughly in equilibrium, in that prices were not really rising or falling, according to housing market analyst Ronan Lyons, an associate professor in economics at Trinity College Dublin.
---
Watch on RTÉ Player:
RTÉ Investigates: Land of Hope and Homeless
---
But Covid-19 has upended all of that.
"The number of homes coming onto the market has fallen by about 40% in some parts of the country," Dr Lyons said.
"As a result, with perhaps surprisingly strong demand and very weak supply, prices have gone up quite a bit". On average, his research suggests, prices have risen across the country by between 7% and 8%. In some areas, prices have increased by between 15% and 20%.
Because few sales have occurred during the pandemic, the increase is not reflected in official data.
New figures released by the Central Statistics Office on Thursday suggest that prices in Dublin rose by just 1.2% in the year to February.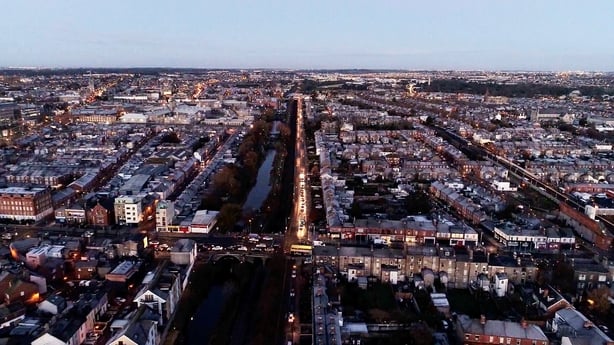 Though Dr Lyons' research indicates that prices have risen more substantially, it is not a sign of a credit bubble. Rather, it is a shortage of supply that has led to high prices.
But the high prices are not Seána and Jonathan's most immediate problem. Due to public health restrictions, properties can only be viewed once a sale is agreed and contracts drafted.
As such, Seána said it appears that people are making offers for homes that they have only ever seen photographs and videos of.
"I don't want to put an offer on a house that I haven't been able to set foot in and that I haven't seen in the flesh," she said.
For Jonathan, it brings back memories of the Celtic Tiger crash.
"This idea of putting an offer on a house that you haven't set foot in – it reminded me of the kind of old ads on the radio, of buying apartments off the plans in Bulgaria", he said.
"It's not logical. If you take a step back and look at it, it doesn't make sense that the market's behaving like this."
The couple know they are lucky compared to most. Their apartment may be small, but they own it. For now, they have pressed pause on their ambitions, but it rankles.
"At the same time, our lives are happening now. We're expecting our baby. We don't want to put things on pause for a year or two years or five years; we want to get on with things", Seána said.
Dr Lyons told Prime Time that demand is pushing prices up in cities like Dublin, Cork, Galway, Limerick and Waterford – but also in commuter belt areas. That puts paid to the early notion that the work-from-home revolution might persuade people to move away from urban centres.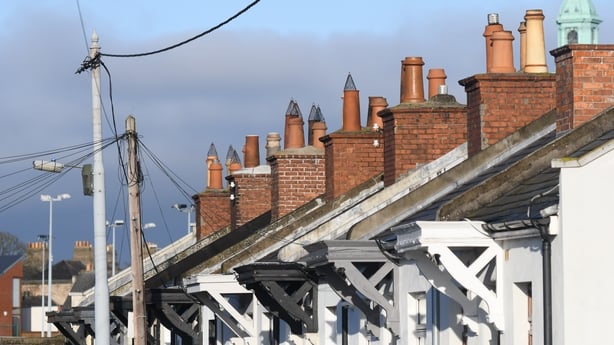 People have realised that, while they may be able to work from home, they still need to be close to their offices.
One family prepared to bid in this market are Louise Goulding and Mark Spain. They have two children.
Louise works for the HSE; Mark is a Garda. You can't get more typical trader-uppers.
They too feel lucky in that they work in the public sector and have secure jobs, with little problems accessing a mortgage. They have experienced the past year as both sellers and buyers.
Twice, sales of their small home in Carpenterstown fell through.
It was only when restrictions lifted in December and viewings resumed that they completed a sale.
They've stayed at Louise's parents' home in Clonee, Co Meath since. So far this year, they've put in offers on three houses, including one this week.
But in the first 24 hours of bidding, the price of bids rose sharply, with the estate agent telling them that there are three or four other parties interested and that the house will go "significantly over asking price".
Their children were back in school this week in Castleknock. Their son has autism and his special needs defines theirs: more space, for four people, within the school catchment area – and close to a supportive community.
But they are caught.
"It's absolutely a seller's market at the moment", Louise said. "Buyers in particular are panicked, very despondent and trying absolutely everything they can think of to secure a property."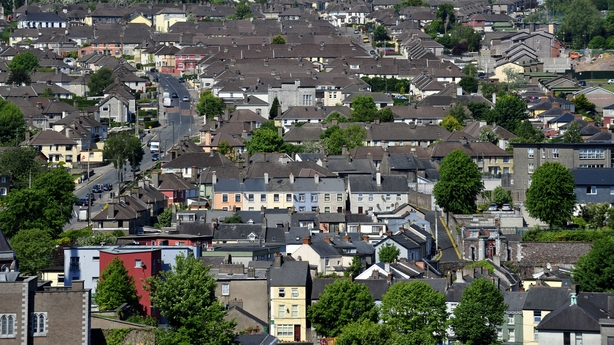 She feels pressured to bid on everything in the hopes that something sticks, but they can't walk through houses and "feel the vibe" of the properties that could become their home.
"It's driving the price up for everybody", Louise said.
Dr Lyons' advice is that if people can hold, they should. But he readily admits it's easy for him to say. He believes that supply will increase when restrictions ease.
Though the risk of price spikes will still be there in 6 to 12 months, buyers will at least be able to view houses then.
"Once we get out of Level 5, especially if we get down to anything like a Level 2 or 3, with more normality, I would expect the supply to improve quite a bit."
But people who feel they need to buy now due to their circumstances are in a double bind.
Do they wait to bid later, at the risk that post-pandemic demand and a glut of household savings will push up prices, or bid now without seeing the house?
Louise knows it "seems ludicrous" to make such a life-changing decision in those circumstances. But in her parents' house, six people are living in close quarters, and she is conscious of the risk of bringing Covid home to them.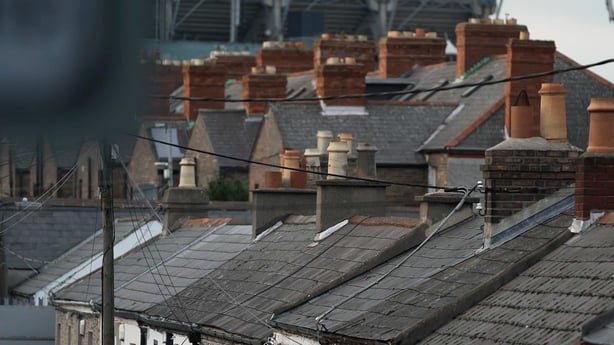 And, like Seána Glennon, she talks of a sense of panic about the potential for prices to surge.
It is also costly, she said, to get a solicitor to draft a contract for the sale of a property that you may pull out of – once you've actually viewed it.
Dr Lyons believes that those conditions mean that effectively, "the Government is saying, we want everyone to stop transacting homes if you can".
He said that, where people cannot hold off on buying, the Government should change that rule.
Louise wants the Government to provide a clear guideline about viewing that means buyers can view properties in a safe way. She is worried that the current situation is giving rise to artificial bids that are in turn pushing up prices.
Both couples are well aware that they are speaking from one end of the market, and both are aware of a housing shortage that will continue to show up deeper problems, with or without Covid-19.
"We took a walk through Dublin city centre on Saturday", said Seána Glennon, "and we saw luxury hotels that are lying empty and people lying in tents outside those hotels, living there".
That is "the extreme end of the spectrum" and something she believes people are becoming desensitised to, she said.
"We're certainly in more privileged circumstances than most", she said, "but it all relates to the same thing: this dysfunctional housing market that we have."