The reputation of Ireland's valuable agri-food sector could be under threat due to a failure to enforce regulations around the sale of animal medicines, according to a leading international expert on food safety.
Prof Chris Elliott, who heads up the Institute for Global Food Security at Queens University in Belfast, issued the warning after close to a dozen veterinary practices in the North said that a number of outlets were selling strong and controlled medicines over the counter without any clinical supervision of the animals they are being supplied for.
In one instance, secretly recorded footage secured by Prime Time shows two men buying veterinary medication over the counter even though their farms or their animals were not known to the practice that was selling the drugs.
One of the products sold was a "High Priority Critically Important Antibiotic", described as a "last resort" medication by veterinary experts.
Such a transaction is a breach of the regulations of the Royal College of Veterinary Surgeons, or RCVS.
The RCVS says a vet "must first carry out a clinical assessment of the animal under his or her care" and should conduct "appropriate site visits at regular intervals."
Prof Elliott told Prime Time that the footage was "totally shocking" and "totally inappropriate".
He warned that, if the drugs were administered by farmers who don't understand the implications of the use of these antibiotics, there was a much higher likelihood of residues entering the food chain.
"Whenever livestock are given antibiotics, there has to be a period of time where it enters their system, does the job, and then is cleared from the system," he told Prime Time.
"We call it the withdrawal period. Veterinary practitioners will be very, very clear about that withdrawal period."
Authorities have been working hard to reduce antibiotic use in animals, since antimicrobial resistance has become one of the most difficult challenges facing human and animal health in recent years.
There is a concern that, if animal antibiotics are used inappropriately, residues could end up in the food chain.
While food producers actively monitor animal products for traces, there is growing concern that medicines from outside the jurisdiction are being used on Irish farms.
The head of Veterinary Ireland has said certain cohorts of farmers are bypassing vets here to acquire animal medicines.
"There is obviously a supply coming, especially to larger industrial-type farms, and some of our colleagues would have complained to us about that over the years," said Conor Geraghty, a Galway-based vet.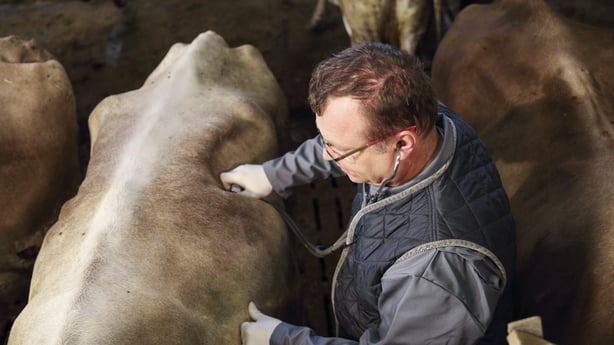 "Our role as vets means all we can do is highlight it to the regulators and try to manage it that way," he said.
He says it comes down to money: "If you are buying animal remedies on a large scale and you can source them cheaper in another jurisdiction, then the temptation is to do that."
"And if you have practices that are not abiding by the rules and are willing to do that, then that creates an economic advantage for them to source their inputs at a cheaper rate."
Mr Geraghty said the true scale of the issue is not known.
While he said that the Department of Agriculture aims to detect the issue, the practice is a concern for Ireland's reputation ad an exporter.
"We export 90% of our food. We are very proud of the agri-food industry and as vets anything that has the potential to damage that reputationally is not good," he said.
Ireland's agri-food sector is valued at more than €14bn. It employs over 164,000 people, often in locations outside the main urban centres, and so is a vital sector in the economy.
Some 90% of the food produced here is exported. As an industry, safe food standards are vital for confidence in the sector.
Prof Chris Elliott is warning that a failure from authorities north and south to tackle the issue could be very damaging to the agri-food sector.
"We sell the food produced on our Island based on its quality, based on its safety. That is our reputation," he said.
"Reputations are very, very hard won and very easily lost. And that's what we are in danger of now, because these reports will be going across the world into those markets where we're trying to sell our projects."
The issue is a huge point of concern to vets north and south, the vast majority of whom run their businesses properly and adhere to the strict regulations around antibiotics.
Andy Mayne, who runs a veterinary practice in Newtownards, said a lack of enforcement is a big issue.
"The reason it's happening is because the regulators that should be controlling us aren't enforcing the regulations," he said.
"I mean, the regulations are very clear, you know, that should only be prescribing medicines to animals that are under your care. It's the regulators who should regulate them."
Everyone expressing concern about what has been uncovered says the same thing: the bulk of farmers and vets are above board, and take their responsibilities seriously.
But Prof Elliott is alive to the concerns that both consumers and international buyers of Irish food might have.
"The worry is that, is this just the tip of the iceberg? Or, are there other people up to this as well? And it will leave doubts in a lot of people's minds and that's why we need a full and thorough investigation," he said.
Prime Time has confirmed that an investigation has been established by the Department of Health in Northern Ireland. In a statement, the Department said it does not comment on investigations.