At Dublin Airport today, around 900 people left the country, while close to 1,000 passengers came through arrivals.
The majority of people were travelling for essential purposes. But, though passenger numbers overall are down 95% on this time last year, some people were travelling in breach of Covid-19 guidelines.
One Dublin man was told that he was liable for a €500 fine if his story – that he was travelling to Tenerife for work purposes – did not check out.
A garda took note of the man's details and determined the man's work was actually based in Dublin. He simply intended to relocate to Tenerife to "work from home". 
The garda told him that the journey did not seem to qualify as essential travel. The passenger continued on his journey in the knowledge that a hefty fine could follow.
An Garda Síochana told Prime Time that around 150 fines have been issued to people with respect to non-essential international travel.
Travel for medical necessities is currently allowed, and a number of Irish people presented gardaí with documentation showing they had medical or dental appointments in places like Tenerife and Istanbul.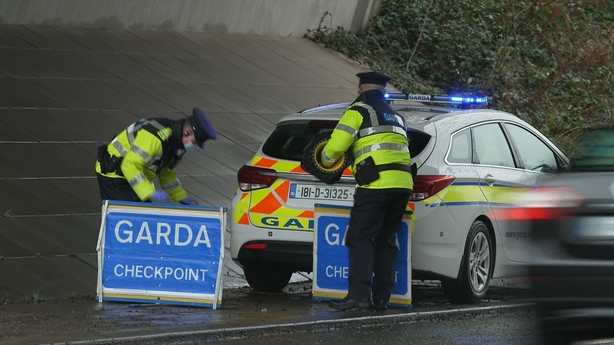 One man said he had a dentist's appointment tomorrow morning in Tenerife. He showed gardaí an email to prove the appointment – and was allowed to continue his journey. He was accompanied by a woman as a person is entitled to accompany you when travelling for medical necessity.
While many of those travelling may indeed have scheduled dental and medical appointments, gardaí at the National Immigration Bureau have noticed that on some flights to sunnier climes, between 30% and 40% of people travelling have dental appointments awaiting them.
It is a statistic that underscores the difficulty gardaí face in enforcing Covid-19 guidelines. 
At checkpoints across the country, An Garda Síochana find that the vast majority of people are obeying the rules. But from shebeens to motorists far from home, there are some who are knowingly and intentionally breaking the rules.
At a recent night-time checkpoint near Heuston Station in Dublin, three men were pulled over. The motorist was from Clondalkin, his two passengers from Lucan. None of them were wearing masks, and all of them were beyond their 5km.
The driver told the garda that he was on his way to pick up his girlfriend, who was due to visit her grandmother. Using his discretion, the garda chose not to fine the driver. 
The two passengers, however, had no excuse for being where they were and told the garda that they had come along "for the spin".
They were given €100 fines and a short but important lecture, not only about unnecessary travel, but also about masks and social distancing.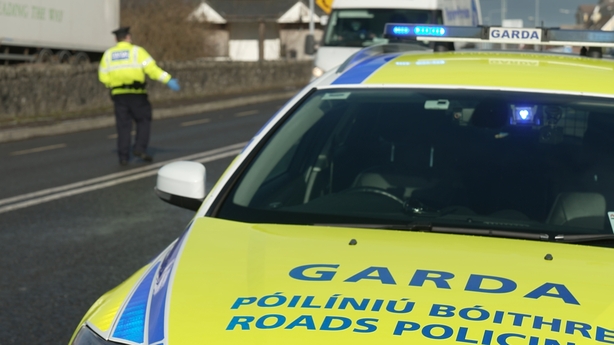 "What's the nature of your journey? Where are you coming from or going to?" On one day, Sgt Ambrose Duggan uttered these words dozens of times. He was one of four officers stopping traffic on the N52 outside Mullingar.
Alongside Sgt Keenan and Garda Barrett and Garda O'Brien, Ambrose said his focus was on what they call the 'four Es'. "We engage with the public, we explain, we encourage, and, lastly, we enforce", Ambrose told Prime Time.
But none of the motorists who passed through the checkpoint over the course of one hour were found to be in breach of the guidelines.  
Several people were travelling for the purpose of getting a Covid test. In one particularly poignant moment, a motorist told Sgt Duggan that he was driving to the local cemetery to visit his wife's grave. She died from Covid-19 last year.
At its core, the enforcement of Covid-19 restrictions often involves community policing. At the local shopping centre, Garda Mackin and Garda Feery spent some time chatting to locals. 
They are conscious that, for some people, one of the only conversations they might have during the course of a day could be with a garda.
Over at the Gardaí's Command and Control Centre at Dublin's Harcourt Square, Sgt Tom Murray told Prime Time that, because of the current restrictions, the overall number of emergency calls has fallen sharply. But many of the calls they do receive are Covid related.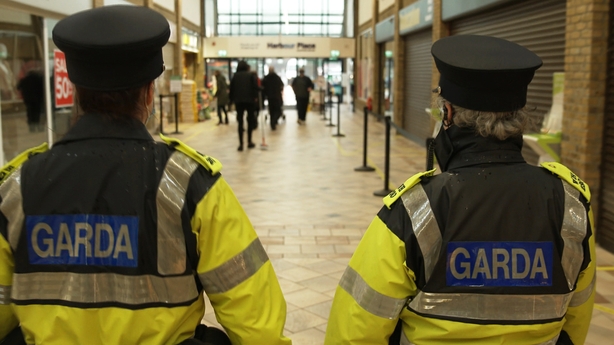 "There's a good flavour tonight. I've noticed people reporting people coming in from outside the jurisdiction – maybe from Britain or mainland Europe – and not isolating for the required period of time," Sgt Murray said.
"And there was one call tonight where someone reported there was a sheebeen in a house and there's alcohol being served illegally."
Shebeens – covert and illegal premises selling intoxicating liquor –  are the kind of places we might laugh about in normal times. Perhaps we'd even marvel at the ingenuity: one shebeen in Co Kerry even had its own Space Invaders game. But, in the middle of a pandemic, they are a disconcerting phenomenon. 
At dozens of locations, gardaí have found large groups of people – not from the same household, not wearing masks, not social distancing – drinking alcohol.  The beer kegs and paraphernalia have been seized, and everyone found at a shebeen is liable to be fined.
On another day up near the border between counties Louth and Down, gardaí were operating a series of checkpoints following the introduction of new powers that can result in motorists from Northern Ireland being fined for unnecessary journeys down south.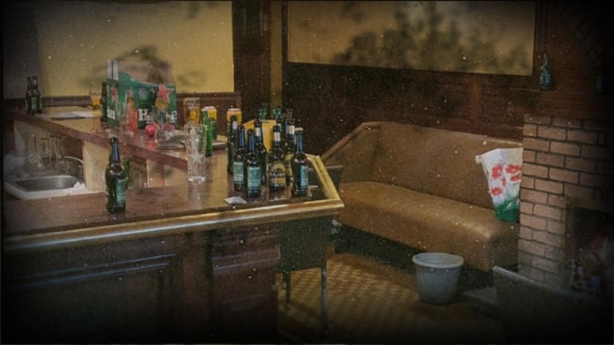 Gardaí told Prime Time that they operate the normal "random and static" checkpoints. There are no extra checkpoints, and they do not camp out on the border.
But the new powers do mean that the same rules can be applied to motorists from all 32 counties if they are driving unnecessarily in the 26 counties.
A number of fines have been issued to Northern Irish motorists since the regulations were introduced last Monday. 
The fines will be posted to the offending motorists, but following up on any non-payment of such fines may present another logistical headache for gardaí.
The government is considering the introduction of harsher penalties for unnecessary foreign travel, increasing each individual fine from €500 to €2,000.
But there will always be one – or perhaps a number – of people who will still travel unnecessarily, and gardaí will continue to have their work cut out for them.
Watch Barry Cummins and producer Angela Ryan's report on the enforcement of Covid-19 restrictions on Prime Time on the RTÉ Player.