Two contrasting videos of George Nkencho help tell a story of a man who changed right before his family's eyes in recent years.
One is of Mr Nkencho speaking at his mother's 45th birthday in 2018, where he thanked people for attending the happy event.  
The other video, from last week, is of Mr Nkencho walking in west Dublin as he is followed by Gardaí in marked and unmarked vehicles. RTÉ's Prime Time understands that Gardaí were asking the 27-year-old to stop. But Mr Nkencho does not stop. He keeps walking.  
The tragic events that unfolded on 30 December occurred over the space of 20 minutes.
It was shortly after midday that Gardaí were alerted to an assault on a member of staff at a Eurospar in Hartstown Shopping Centre.
The unarmed officers who arrived on the scene observed George Nkencho holding a knife. He refused to drop the weapon and began walking away.
There are a number of videos of Mr Nkencho's journey towards his home at Manorfields Drive, a 10-minute walk from the shopping centre.
Gardaí had no idea where Mr Nkencho was going. They were trying to establish who he was, and, awaiting further support, they kept back.
Mr Nkencho arrived at his front garden. Garda sources told RTÉ's Prime Time that gardaí at the scene did not know that Mr Nkencho lived at the property. They were still trying to establish exactly what was going on, and they wanted him to put down the knife.
Mr Nkencho's sister, Gloria, had come to the front door and opened it mere minutes before her brother was shot by gardaí.
"I opened the door when I saw my brother, and I said to the guards, 'he's sick; move' – and I wasn't allowed past the entrance and I was pushed back into my house," she told Prime Time in an interview from the front room of her house.
Because Ms Nkencho is currently self-isolating during the Covid-19 pandemic, she spoke to Prime Time from behind a window that looks out onto the front garden where her brother was shot just over a week ago.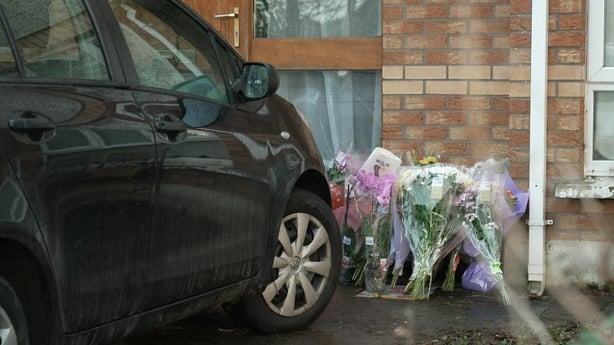 "I didn't fear for my own safety – but what made me afraid was when the shots came in to the house when me and my two siblings were standing right behind the door," she said.
Damage to a lower window pane consistent with at least one bullet was visible at the Nkencho family home this week. There is a bullet hole in one part of the window, and possibly another bullet hole or a foot a short distance off the ground. 
Some of the five shots fired by Gardaí during the incident did not strike Mr Nkencho. Gardaí were being threatened with the knife, and officers had used pepper spray and a taser in previous moments, hoping to subdue him. But those devices were not effective.  
As in other cases involving a person who is armed and considered to be a threat, Gardaí were intent on ensuring that Mr Nkencho could not enter a building, fearing that the situation would escalate and that others would be put in harm's way.
Gardaí were seeking to contain the situation to the front garden. Members of the Gardaí's Armed Support Unit were forced to make decisions in a matter of minutes and seconds.
The law does not currently allow Gardaí to wear body cameras. But footage recorded by a passerby on a shaky mobile phone from a distance shows around nine Gardaí close to Mr Nkencho's house, with at least one Garda standing in close proximity to him. Five shots are heard on the video.
The Garda Síochána Ombudsman Commission (GSOC) is now investigating all matters surrounding the fatal discharge of a Garda firearm. The solicitor representing the family, Phelim O'Neill, told Prime Time that the family members who were present in the house when Mr Nkencho was shot have yet to be invited to make formal statements to GSOC.
Mr Nkencho's family are grieving. They are also seeking answers about the last moments of his life. 
Mr Nkencho came to live in Ireland 20 years ago when he was seven years old, with his family settling in west Dublin. As well as doing an interview from her living room, Gloria Nkencho also recorded a video for Prime Time in which she spoke proudly of her big brother, and also about the mental health difficulties he began to suffer in recent years.
"George was charismatic, he was sociable, he was popular. He was intelligent. He was caring. He was a protector. He was the first born, he was my brother," she said. 
"All he ever cared about was playing football. And music – he used to love music. He made us who we are because he looked after us, and we looked up to him."
Ms Nkencho spoke of the "deep depression" that affected her brother in recent years.
"It could be one thing here and another thing there and, before you know it, that person that was so bubbly and was so sociable, that everybody loved, you just see them suffer," she told Prime Time.
"I've never known a place, I've never known a world, I've never known an environment where I didn't have my brother, and now here it is. This is my reality now: the person that I knew, the person that I loved, has been taken away from me," she said.
George Nkencho did not have any criminal convictions. It's now believed that he was in the midst of a mental health crisis when he refused to drop the knife that he was carrying during those 20 minutes.  
Dr Vicky Conway, a policing expert, told Prime Time that having mental health crisis intervention teams working alongside Gardaí has long been mooted. 
While Dr Conway was not commenting on the incident involving Mr Nkencho, she noted that "very significant numbers" of people who interact with police have mental illnesses or are experiencing a mental crisis.
"Often, we phone the police because they are the only 24/7 response," she said.  
In 2009, a joint working group on policing and mental health called for a pilot of crisis intervention teams. That did not happen.  
And in 2018, the Commission on the Future of Policing in Ireland found that the recommendation had not been implemented.
Following a review of international evidence, it concluded that the Gardaí should establish crisis intervention teams in every division. 
The idea would be to have psychiatric staff in police stations who can respond to difficult situation in tandem with an armed response unit.
In the UK, some police divisions bring psychiatric staff on call outs. But underdeveloped mental health services in Ireland have impeded the country from taking a similar approach, she said.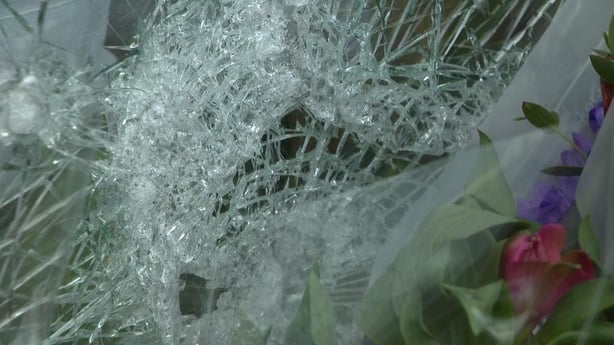 "This is not a criticism of the Gardaí in any way, shape or form. It was not their job to do this," she said. 
But, she notes plainly, "Gardaí don't want to be utilising lethal force."
Fatal shootings by armed Gardaí are rare. In the last 20 years, there have been six fatalities where Garda firearms have been used.
Security consultant Sheelagh Brady, a former Garda, said that gardaí use a range of non-lethal options before the use of firearms is considered.
"Speaking in general terms, we often hear of a graduated policing response. What that is, is them making a dynamic risk assessment at whatever incident it is, trying to work out a range or a continuum of interventions that they may take on based on what's happening, she said.
"But there is a lot in that – and yet it can happen over split seconds."
Ms Brady noted that Gardaí are trained to target someone in the torso, since it is the largest target – rather than in a limb, like is sometimes seen in movies.
"Shooting somebody in the limb is much harder – especially if they are moving and, like using the taser, sometimes if you do wound somebody you might not mitigate the risk."
"I think the nature of these incidents is that they happen so infrequently, our recollection or relationship is often informed by Hollywood," she said.
Amid their profound grief, the Nkencho family have received racist, hate-filled material that is now being investigated by Gardaí.
Mr Nkencho has not yet been laid to rest. Prime Time understands that the family may seek a second post-mortem examination as they seek answers about the precise circumstances in which their son and brother lost his life in the front garden of his own home. 
Mr Nkencho was the eldest of three brothers and two sisters.  
Gloria Nkencho said her family are shocked, devastated, disappointed, sad and anxious. 
"I could go on – but those are the feelings that my family are currently going through at the moment," she said.