Christmas shopping starts earlier every year, but for Irish retailers in 2020, it can't start soon enough. 
At what is normally the busiest time of year, gone are the packed streets and the queues. In their place? Click-and-collect and home delivery. 
Though recent vaccine developments may have lifted spirits, a return to normality still feels like a distant prospect for retailers. 
And while many have adapted, what that new normal will look like for the retailers is an open question. Is the sector witnessing the end of shopping as we know it? 
"Once your habits change, you become accustomed to shopping or spending in a certain way. It's very difficult to just go back to spending in the way that you previously did," consumer journalist Conor Pope told Prime Time. 
Old habits may die hard – but the pandemic has not ushered in a whole new way of shopping. Rather, it has accelerated trends that were already taking place in the sector, with the shift to online shopping and the decline of department stores being two that were already happening apace.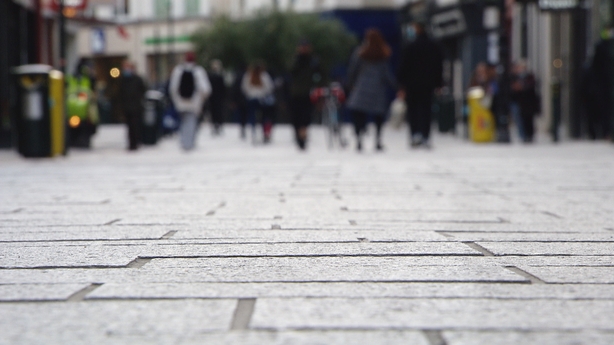 Internationally, people in recent years have also been spending more on leisure experiences, such as eating out in restaurants – and, consequently, less on retail. 
"I think Covid is accelerating those trends quite considerably," said Richard Guiney, the chief executive of lobby group DublinTown, which serves as a collective voice for businesses in Dublin city centre. 
"We were anticipating some of those changes over 7 to 10 years. We're seeing them over 7 to 10 months," Richard said. 
That acceleration has compounded the kinds of problems that Irish retailers had been facing long before any of us had heard of Covid-19. 
"It has become increasingly clear that it's incredibly difficult for the retailers to survive in the 21st century, because they simply can't compete with the cheap operators who are doing business from outside of this country – because those people can fly huge volumes and sell it all over the world," Conor said. 
In the face of these kinds of headwinds, bricks-and-mortar retailers can only do so much to adapt. 
At the Great Outdoors, founded in 1976, online sales have rocketed, and click-and-collect bags line the front of its store on South Great George's Street. 
"We're still taking a 50%, 60% hit on business – no matter how low you can get your expenses. And you can't carry on like that," said co-owner Ken Costigan.
"I see around our neighbours – guys I'm used to seeing every single day. And some of them have not been open since March. And I really fear for how many of them are going to come back," Ken said.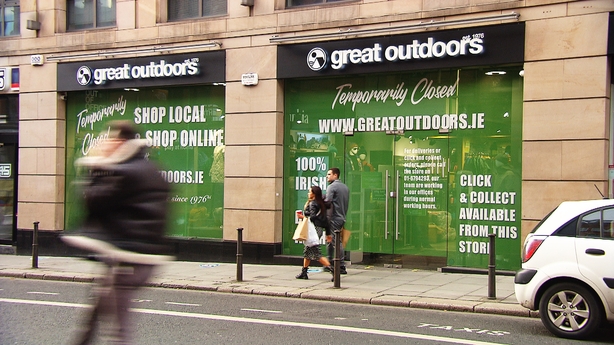 Of course, it's not just in Dublin. Retailers have been taking a hit all over the country. 
Nevil's Shoes, a fixture on Limerick's O'Connell Street for 34 years, has made the shift to online sales and click-and collect, too. 
But it has also stepped into the world of online videos to promote the shop.
"That was the biggest challenge of Covid – throwing myself on the dance floor, where you had to just to get out there and say who I am," said owner Chris O'Sullivan. 
"We're all learning skills that we didn't know anything about: hashtags, videos, uploading videos," she said. 
Chris still doesn't see it getting any easier for the business.
And while Nevil's has always emphasised the fact that it is an independent retailer, Chris points out that being independent means you are on your own when times are tough. 
"I've been drowning," she said. "I'm swimming to America, but I'm not there yet, you know? So even when I get there, what's that going to mean?" 
Conor Pope compares Covid-19's impact on consumer behaviour to getting married, moving house, or having a baby. 
"The pandemic is one of those moments. And that has transformed consumer behaviour, not just in Ireland, but all over the world," Conor said. 
Though acknowledging that things may never be the same again, Ken Costigan thinks that the trust that bricks-and-mortar retailers have built up over decades will still have currency in a post-pandemic world. 
"People know who we are and they're buying from us because we're the Great Outdoors," he said. 
"And I think there'll still be a huge place for people to genuinely go into bricks-and-mortar shops, try things on, see what they look like. And browsing! Shopping is a hobby for a lot of people too – a nice hobby."