Amid uncertainty about how long the Covid-19 pandemic will last, one thing is clear right now: in cities and urban areas, councils want fewer vehicles on our roads.
By day and by night, engineering works have been rolled out, all designed to give more elbow room to cyclists.
At Constitution Hill on the northside of Dublin city last month, a big machine scraped away the surface of an old cycle track, leaving a cloud of dust in its wake.
Up until recently, cyclists using this track had to contend with buses in a shared road space. If a cyclist was on that stretch of road, the bus had to slow down, especially if the cyclist was heading up the hill. And if the bus was in front, the cyclist had to pull in behind it and keep a safe distance.
But by 6am the next morning, dedicated cycle lanes, replete with kerbing that separates them from the rest of the traffic, had been put in place on both sides of the road. Overnight, traffic has been realigned to better protect the cyclists.
The other reality is that there is now less road space for vehicles.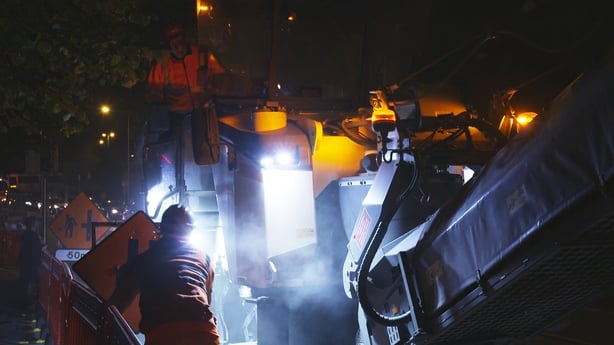 Covid Mobility Measures
This work on Constitution Hill was done as part of so-called Covid Mobility Measures that have been enacted by councils across the country.
The message from the Government is that councils should encourage cycling during the pandemic and that they should do so primarily by making roads safer for cyclists. Some councils have responded with gusto.
"A lot of these works would have been billed as temporary Covid Mobility Measures," said Olivia Kelly, the Dublin Editor of the Irish Times.
"A lot of these works I could see not being reversed, if they prove successful. It's a huge roll-out of cycling infrastructure, some of it long promised. And when I say long promised, I mean a decade or more ago."
Dublin City Council's efforts are particularly noticeable on the quays of the Liffey. Where once there were three lanes for vehicles, now there are two. And in place of the missing lane, there is a generous cycle lane.
As you might expect, some people are asking when it will all stop. Councils say they are simply responding to the reality before them.
During the first restrictions earlier this year, traffic volumes in Dublin city plummeted by as much as 70%. While the drop-off hasn't been as stark during the Level 5 restrictions, volumes are still around 35% lower than they were prior to the pandemic.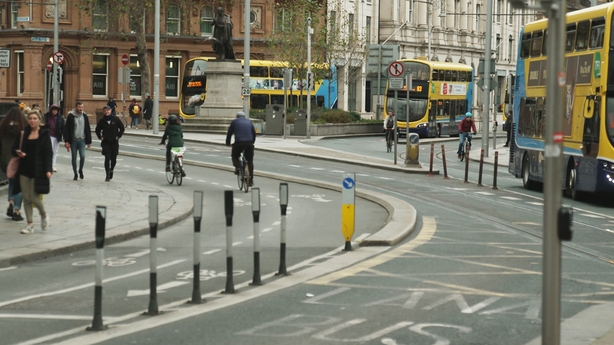 "The message from the department is you have to facilitate walking and cycling," said Brendan O'Brien from Dublin City Council's transportation department.
"Now is the perfect time to trial things," he said, noting that off-peak cycling levels have shot up throughout the city.
"By its nature, with a trial, you are open with people and saying: 'we are not sure if it will work'. Otherwise it wouldn't be a trial."
One of the most ambitious, and controversial, trials planned by Dublin City Council is a 2.5km two-way cycle track for Sandymount in south Dublin.
The construction of this track, which will be trialled early next year for six months, will mean that the road space for vehicles will be halved, turning a large section of the route into a one-way street for cars.
Dún Laoghaire Rathdown County Council, meanwhile, is being even more ambitious.
Having already constructed kilometres of cycle track along the coast under the Covid Mobility Scheme, it has also announced plans for 25km of dedicated cycle track along three routes further inland.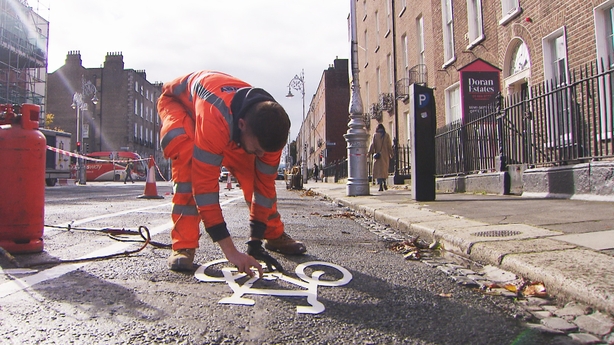 And the council is considering 6,000 submissions received from the public under its Active Schools Travel initiative, through which it hopes to provide safe walking and cycling routes for the 30,000 schoolchildren in its catchment area.
The council told Prime Time that a report on "next steps" will be made within a month.
Welcoming the plans, David Timoney, a volunteer with the Dublin Cycling Campaign, said that such changes would open cycling to a much broader range of people.
"Over the last 30 years, there's been a collapse in the number of kids walking and cycling to school – and that's been taken up by people driving to school," he said.
One of Dún Laoghaire Rathdown County Council's proposed cycle routes is in Deansgrange, where the council has raised the possibility of making part of the Deansgrange Road one-way for traffic, so that a cycle path can be created.
The plan has been met with significant opposition from local business people, many of whom say it could limit access to their business premises, in turn affecting their ability to trade.
"As a food delivery business, our business model hinges on accessibility," said Tadhg Leonard, the owner of Tiger Wood Fire Pizza.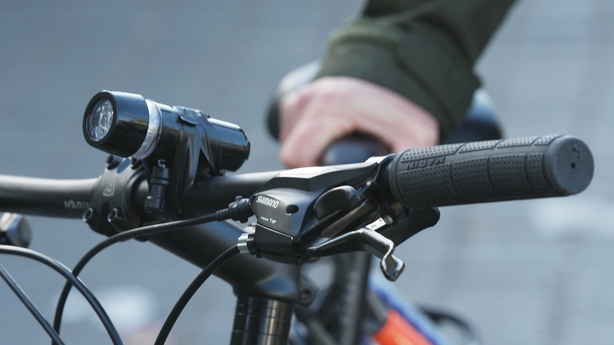 "We're not against cycle lanes. We're not against cycle safety at all, but not at all costs, and the cost of this infrastructure is the viability of the businesses on the street," he said.
Anne Marie Murtagh of MF Autoservices said that the changes could mean that she is no longer able to accommodate customers with large vehicles.
"For us, it could potentially make our business non-viable, which will have an impact on my own family, our staff and their families," she said.
Back in the centre of Dublin, Conor Faughnan, the director of consumer affairs of AA Ireland, notes that he is a cycling enthusiast himself.
As a well-known voice for motorists, he is keen to emphasise that this debate is not simply a narrative of motorists versus cyclists.
"Every time someone chooses to bike, it pays the city in terms of pressure on public transport and on road space," he said.
"But what you have to do is recognise the city isn't just about cyclists. There are other transport modes which will remain necessary and you have to plan for that," he said.