Scramblers and quadbikes are terrifying neighbourhoods and have been involved in serious accidents. Prime Time's Kieran Dineen spoke to victims and asks if there is a solution.
Every day, for the last 18 months, Anzhela Kotsinian gets the bus to visit her husband Ilabek Avetian in hospital.
Their lives were changed terribly and forever on 9 June 2018, when a scrambler bike was driven over them while they were sunbathing in Darndale Park.
They had lived in Ireland for just a month, having moved here from Lithuania, when the scrambler went over Anzhela's pelvis and over Ilabek's head.
The 40-year-old Armenian lost his left eye and suffered multiple facial fractures, including to his forehead.
His nasal bones were broken, as was his jaw, and he suffered a severe brain injury and haemorrhage.
He is still in hospital and there is little hope of a major recovery. He can't walk, but he can now speak a little.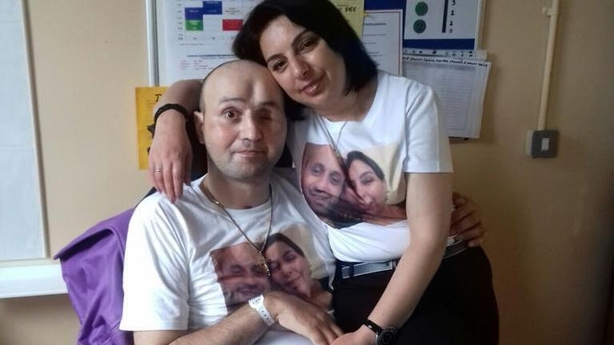 Scramblers and quads are a scourge now for many communities. What happened to Ilabek shows the dangers of these vehicles.
They are being driven at speed throughout estates, parks and even playgrounds.
With Christmas now approaching, the fear is more of these machines will be bought, allowing for more potential tragedies to unfold.
In 2017 alone, 62 people were injured in quad and scrambler bike accidents. While there were four people killed on accidents on public roads between 2014 and 2017 involving scramblers and quads.
For some councillors, it is the main grievance they hear at the doorsteps.
In the north side of Dublin, it was the biggest complaint mentioned in a survey of 600 people by the Finglas Safety Forum, with 76% very concerned and 11% somewhat concerned by the use of scramblers and quad motorbikes.
Tonight on Prime Time Anzhela Kotsininian tells @KieranDineen about being hit by a scrambler motorbike while sunbathing in a public park.#RTEPT pic.twitter.com/I8xLAWfEYE

— RTÉ Prime Time (@RTE_PrimeTime) November 28, 2019
Anzhela told us she does not want anyone to think she is doing anything special by being there for her husband.
She goes to see him every day, and is by his side from morning to evening time, getting four buses to the National Rehabilitation Hospital in Dun Laoghaire when he was there, and to Beaumont Hospital where he is now.
She is mainly sad for Ilabek, naturally, but she is also angry at the legal system.
To use public roads, scrambler and quads must have tax and insurance like any other vehicle.
Due to their loud noise and off-road design specs, they are generally not roadworthy so are being driven illegally.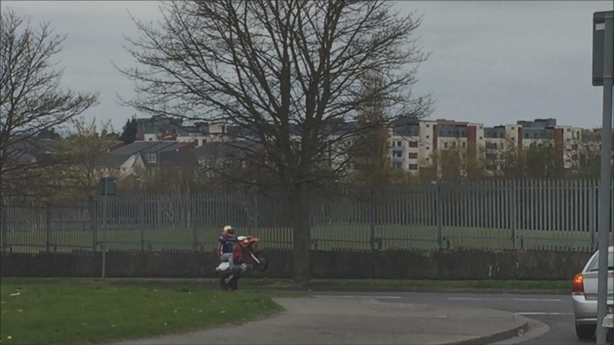 While parks prohibit their use, the law is unclear whether road traffic laws apply to green spaces. This rules out a raft of possible offences, such as dangerous driving or driving of a dangerously defective vehicle.
In Ilabek's case, legal documents seen by RTÉ, show the incident was "investigated as Endangerment and not a Road Traffic Collision".
The teenager was not prosecuted and was instead admitted to a Garda Youth Diversion Programme.
Fianna Fáil and Sinn Féin have both put forward legislation to help gardaí deal with scramblers. But as yet the law has not been changed.
Fianna Fáil has introduced a bill aimed at regulating the illegal use of scramblers, quad bikes and other mechanically propelled vehicles in public areas.
They say it would make riding a quad or scrambler in an antisocial and dangerous manner a public order offence and introduce a vehicle register.
Sinn Féin first tried to get a bill passed aimed at regulating scramblers, back in 2017.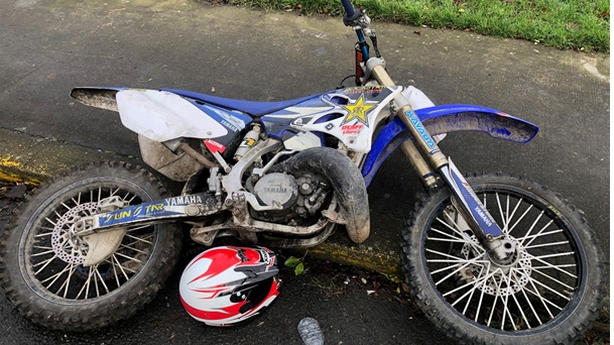 A cross-agency group, including staff from the RSA, gardaí and Departments of Justice, Transport, Culture and Housing, has been created to examine the issue of scramblers and quads.
In response to a recent parliamentary question, Minister for Justice Charlie Flanagan said his officials were "striving to find solutions to this complex policing issue".
He said "in the main, current legislative provisions appeared to be sufficient" but that he was open to finding "solutions to any specific legislative gaps specifically identified by An Garda Síochána".
He revealed Garda Commissioner Drew Harris has suggested "potential legislative changes".
But so far the Government has not given its backing and no laws have been changed.
And with weeks to Christmas, more scramblers are expected to arrive into homes around the country.