Stories often come to us in Prime Time while we're covering something quite different. While working on another story last year we spoke with some youth workers who told us they were worried about the number of young people who were self-harming.
Mental health is a huge issue. Prime Time has looked at depression and suicide but we've never asked why someone might decide to deliberately hurt themselves? It seems like such an extraordinary thing to do.
On tonight's programme we talk to three women about their experience of self-harm. They tell very different and sometimes disturbing stories. Leona O'Callaghan self-harmed to deal with the trauma of childhood sexual abuse. Sandra Byrne's daughter Yasmin began self-harming to cope with her mental distress and Xanax addiction. She was later diagnosed with borderline personality disorder. Hearing these two stories you could try and understand why they might engage in this destructive behaviour. But Abigail Mc Donnell's story was different.
Abigail was a 17 year old 5th year student with no family issues and no problems at school but she started to self-harm.
"I guess this is the thing that upset me the most.. I couldn't pinpoint it to one thing, I had an amazing life. I had really good friends. I did well in school. I really had a good set of people around me, so for this to come on so quickly... it really was a case of 'what is happening to me?' "
For Abigail, not knowing where this feeling was coming from only added to her distress. She describes how she felt that her brain was making all these emotions that shouldn't be there and it didn't make sense to her at all. Things finally came to a head in her bedroom one night
"I remember one day feeling so upset having regular panic attacks and I remember having just a few hours of being so amped up and feeling so upset that you can feel it in your stomach, a physical kind of depression, and I remember looking over at my bedside corner and there was a tiny nail scissors there and I just needed to do something to get this energy out to control myself and that's when I self-harmed for the first time"
She describes the initial feeling as an adrenalin rush but that feeling doesn't last long. Now she felt shame "why did I do this to myself why did I need to do this to myself, then the feeling of shame behind that that leads to more depression"
And there are many more like Abigail. Ireland has the most profoundly depressed young people in Europe with three times as many young people who are seriously depressed compared to the rest of Europe. In just 10 years the number of young people aged between 10 and 24 who self harmed has jumped by 22%.
Psychologist Dylan Moore treats people who self harm. He says that those who deliberately hurt themselves don't always have a clear reason why they are engaging in this behaviour.
"Helping them to understand themselves is a huge part of treatment. Anxiety and depression is very common amongst young people who self harm. They would feel overwhelmed and not know what to do about that, and engaging in a behaviour like self-harm is them doing their best to try and figure out how to cope with something that is overwhelming for them"
Abigail eventually got treatment privately from St Patrick's Hospital in Dublin. They helped her try to understand why she might behave this way. She underwent behavioural therapy which helped her to understand and manage her feelings. She says that she later came to understand that the pressure she put on herself to please others was a significant factor in her anxiety and depression.
Behavioural therapies are seen as very effective treatments for self harm. The HSE itself has seen the benefits of this treatment, with significant reductions in Emergency Department admissions for those who get this type of care. But, for public patients, where you live can determine how long you have to wait for help or if you can access this treatment at all.
Abigail has now stopped hurting herself and is a final year student in DCU. She's also an ambassador for mental health charity Seechange.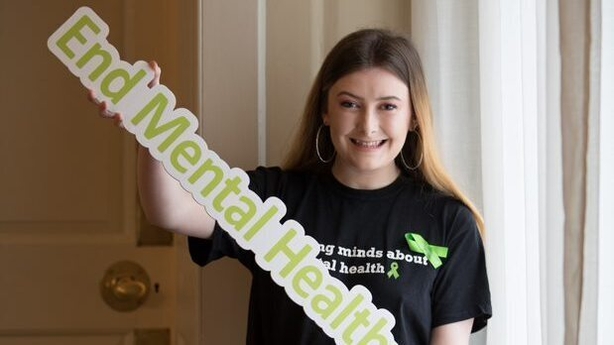 When I meet her on the college campus she seems confident and happy, a far cry from the overwhelmed self-harming secondary school student she described to me.
" I have stopped self harming but I am not ashamed of my scars. Obviously it was a horrible thing to do to myself and obviously, after going through therapy, I learnt better, safer, coping skills but at that time it was the only thing I knew I could cope with"