Cothrom an lae seo céad bliain ó shin a dhúnmharaigh na Dúchrónaigh triúr fear i nGort an Ghleanna in Íochtar Chiarraí.
Ar an 12 Bealtaine 1921, lámhachach Paddy Dalton, Jerry Lyons agus Paddy Walsh. D'éirigh le fear eile, Con Dee, éalú.
Tugtar an eachtra mhíchlúiteach chun cuimhne san amhrán aitheanta The Valley of Knockanure.
Tá comóradh á dhéanamh ag pobal na háite ar íobairt na bhfear ag an láthair chuimhneacháin gar do Chnoc an Iúir inniu.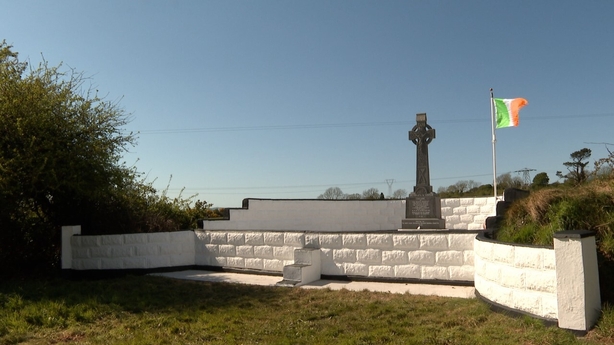 Ghabh na Dúchrónaigh an ceathrar fear a bhí gníomhach sna hÓglaigh sa cheantar le linn dóibh a bheith i mbun cómhrá ar dhroichead i nGort an Ghleanna.
Ní raibh aon airm á n-iompar ag na fir.
Tugadh isteach i bpáirc iad i nGort an Ghleanna agus scaoil na Dúchrónaigh leo.
D'éirigh le fear amháin acu, Con Dee, na cosa a thabhairt leis nuair a theith sé trí na páirceanna ach cuireadh Paddy Dalton, Jerry Lyons agus Paddy Walsh chun báis.
Dar leis an staraí áitiúil Martin Moore gur mar gheall ar Con Dee atá teacht againn ar fhírinne an scéil inniu.
"Do chum na Dúchrónaigh tuairisc oifigiúil," a dúirt sé, "a thug le fios gur dhein suas le céad óglach luíochán orthu i nGort an Ghleanna, go raibh cath ann agus gur maraíodh an triúr fear sa chath. Éitheach iomlán a bhí ann. Ní raibh ann ach ceathrar fear agus ní raibh aon airm in aon chor acu agus ní raibh aon chath ann."
Inniu, leagfaidh gaolta na bhfear bláthfhleascanna ag an láthair chuimhneacháin i nGort an Ghleanna.
Dúirt an file Gabriel Fitzmaurice go bhfuil sé tábhachtach comóradh a dhéanamh ar dhúnmharú na bhfear.
"Cíonn tú gur cuid den scéal mór muid anso i gCnoc an Iúir agus i Maigh Mheáin agus in Áth an tSléibhe agus i nDubháth agus i mBaile Uí Dhonnchú - na háiteanna as a dtáinig na mairtírigh", a dúirt sé.
"Cuireann sé bród orainn go bhfuilimid páirteach sa scéal seo, scéal na saoirse in Éirinn."
Tá cáil ar an amhrán The Valley of Knockanure a chum an scríbhneoir cáiliúil as Lios Tuathail Bryan McMahon faoin eachtra agus atá taifeadta ag na Clancy Brothers, na Wolfe Tones, Seán Ó Sé agus Seosamh Ó hÉanaí.