A new catalogue of all the books printed in the Irish language from the first edition in 1571 until 1871 has been unveiled.
The Clóliosta is the most comprehensive catalogue of Irish-language books to date and was presented at a conference of Celtic scholars in Dublin today.
The last catalogue was published in 1905 and had just 156 entries.
The Clóliosta, put together by Prof Richard Sharpe of Oxford University and Mícheál Hoyne of the Dublin Institute for Advanced Studies, provides a list of some 800 editions across three centuries.
The list begins with the first book printed in Irish Aibidil Gaoidheilge agus Caiticiosma (Irish Alphabet and Catechism).
The book by Seán Ó Cearnaigh, and commissioned by Queen Elizabeth I, was a Protestant catechism printed in Dublin in 1571 in the innovative gaelic, or Irish, typeface.
Its publication was part of the attempt to advance the Reformation among the natives in their own language.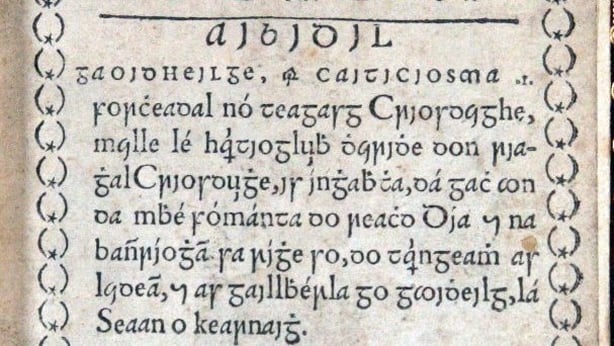 The first book printed in Irish, Aibidil gaoidheilge & caiticiosma, 1571
The list ends with, among other books, A Selection of Moore's Melodies, translated into the Irish Language by the Most Reverend John MacHale, Archbishop of Tuam, printed in 1871, just before the Gaelic Revival, which ushered in a new era of modern publications.
Thomas Moore's melodies, such as The Minstrel Boy and The Last Rose of Summer, were hugely popular in Ireland and abroad throughout the 19th century and beyond. They were translated into Irish several times during the the 19th century as, according to the authors, "romantic nationalism wanted to clothe them in the first national language".
The books catalogued in the Clóliosta were printed in various parts of Ireland, including Dublin, Belfast, Cork, Galway, Limerick, Waterford, Carrick-on-Suir, Clonmel and Newry. There was even a very productive printing press at one stage in Achill. Many of the books were printed in foreign cities too - London, Louvain, Paris and Rome.
Most of the books were printed on hand-presses, but by 1840 bigger steam-driven presses were more widespread.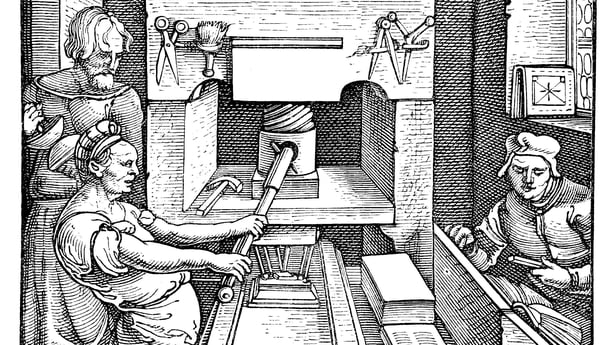 Book-printing hand-press, 16th century. (Pic: Getty Images)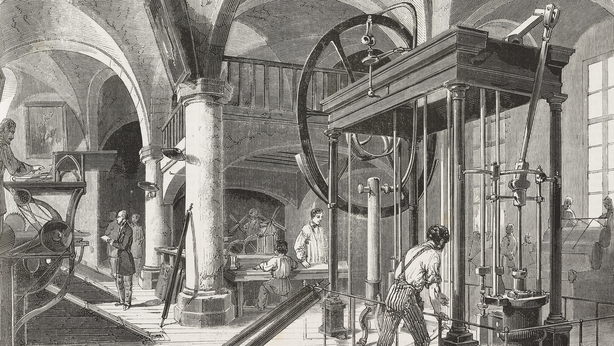 A steam-driven printing press, 1840s. (Pic: Getty Images)
The authors say the Clóliosta seeks to provide a narrative above and beyond a simple list. For each entry, they give information about the contents and circumstances, where copies are to be found and often incidental information about the physical production of the book.
The catalogue also includes information on dictionaries, grammars and primers, although they are not strictly books in Irish.
Interactions between print and the Irish manuscript tradition as technology changed are explained in the Clóliosta. Prof Sharpe said: "Printed books were copied by scribes and printed editions of texts sometimes depend on or exist in parallel to what is also transmitted to us in manuscript."

There is evidence that print was used to foster literacy in Irish in the 18th and 19th centuries. During that period, Catholic catechisms - such as the one in the image below - were printed in Irish using roman type and combinations of Irish and English spelling.
Prof Sharpe said: "These were little books for the children to use, we presume. Another explanation might be that a non-Irish-speaking priest could read aloud to Irish-speaking children, who would understand. The Protestants went in much more for teaching literacy in traditional Irish spelling and Irish type.
"The Irish typeface initiated by Elizabeth I, although approved of by antiquarians and romantic nationalists, was almost never used in successful Catholic books. Against all evidence, the evangelicals thought Irish types would be better received by Irish speakers."
The most frequently reprinted works used the roman type and combinations of Irish and English spelling. These works are now invaluable sources for insights into dialect pronunciation.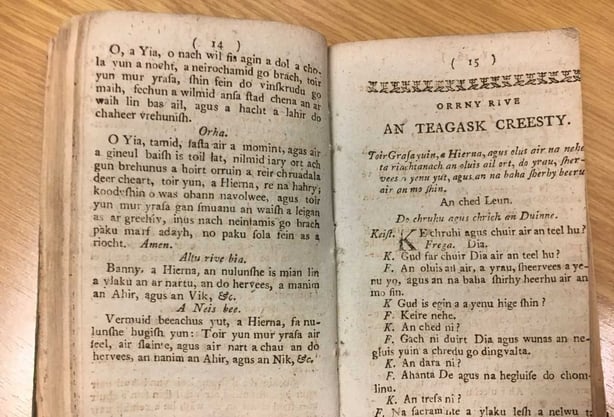 O'Reilly's Catechism, Dublin 1800, printed in a combination of Irish and English spelling

The authors of the Clóliosta say that completeness in any sense is nearly impossible to achieve in work of this kind. By making a pre-publication version available here from 7 November, they hope that librarians and others will share their knowledge to avoid the list going to press next year with known gaps.
More here on Irish dialect pronunciation.