Never in the 101 year history of Northern Ireland has there been a day like this.
A nationalist politician has never before been in a position to lead the government.
A seismic political moment.
It's hugely symbolic for nationalists. When Northern Ireland was founded it was designed to have an inbuilt unionist majority, but that no longer applies.
Hugely symbolic too for unionists as it marks the end of just over a century of political dominance.
Symbolically and politically important for Sinn Féin as it strives to fulfil its ambition of leading governments on both sides of the border.
It wants a Sinn Féin Taoiseach and a Sinn Féin First Minister at Stormont to drive its all Ireland strategy.
The party will hope to use this historic result to galvanise its support base and increase votes in the Republic, while also increasing pressure for a border poll.
The Irish government parties will be watching closely, and perhaps with some nervousness.
"Sinn Féin President Mary Lou McDonald said planning for a border poll should begin immediately"
Taoiseach Micheál Martin, Ténaiste Leo Varadker and Minister for Foreign Affairs Simon Coveney have all said they believe setting a date for such a poll at this stage could be destabilising for Northern Ireland.
The other political parties at Stormont share that view.
The border poll was not front and centre of Sinn Féin's election campaign, but has been the focus of comments by its leadership this weekend.
Party President Mary Lou McDonald yesterday said planning for a poll should begin immediately and the she believes referenda on both sides of the border is possible within five years.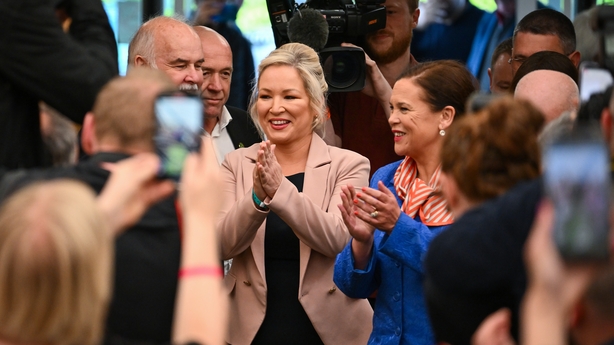 Its leader in Northern Ireland Michelle O'Neill, who the party will nominate as First Minister, today said the Irish government must create the conditions for a discussion around constitutional change.
The other big story of this election has been the continuing surge of the centre ground Alliance Party, up from eight seats in 2017 to 17.
In her formal East Belfast election speech, party leader Naomi Long told supporters they had "knocked it out of the park."
The nationalist and unionist blocks at Stormont now have a strong third grouping to contend with.
"Taoiseach Micheál Martin this evening said it was 'incumbent' on the parties to reform the power sharing Stormont Executive"
But at this moment the likelihood of this election resulting in a quick return to power sharing is close to zero unless something dramatic happens before the first meeting of the new Assembly takes place, which is expected to be on Thursday.
Taoiseach Micheál Martin this evening said it was "incumbent" on the parties to reform the power sharing Stormont Executive and nominate a First and Deputy First Minister.
"Power-sharing and principles of partnership, equality and mutual respect are at the heart of the Good Friday Agreement, through which peace has been secured and progress achieved for almost 25 years," he said in a statement.
"A new power-sharing Executive is vital for progress and prosperity for all in Northern Ireland."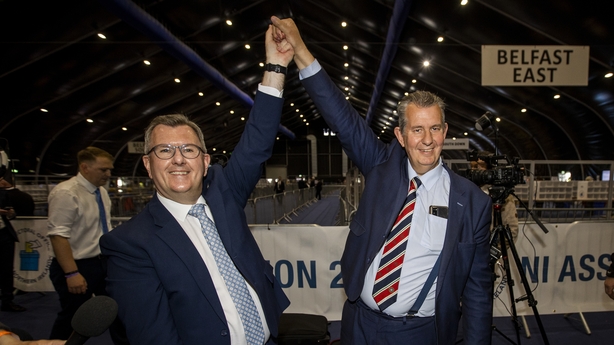 DUP leader Jeffrey Donaldson has reiterated that he will refuse to nominate a Deputy First Minister unless the dispute over the Northern Ireland Protocol is resolved to his satisfaction.
As the offices of First and Deputy First Minister can't exist without the other, that means Michelle O'Neill cannot be appointed unless the DUP also nominates.
The parties would then have up to 24 weeks to try to reach agreement to go back into power sharing and restore the Executive.
The clock on that 24 week period would start ticking on the day the Assembly first meets.
At the end of that six month period Northern Secretary Brandon Lewis would be under a legal obligation to name the date for a fresh election.
In a statement this evening he said he will meet all the party leaders in the coming days and urged them to form an Executive as soon as possible.