"The anti-social behaviour is out of control, there's no end to it, you know?"
Exasperated frontline transport worker "Michael" – whose name has been changed to protect his identity, told RTÉ Investigates he is simply sick and tired of dealing with the abuse he gets every day, and doesn't see an end in sight.
"There's just groups and groups of young teens, young adults going around, not having a care in the world, just being aggressive, being like little sh**es, excuse my language, to everybody that they encounter," he said.
Over the coming decade Ireland's public transport system will be greatly expanded under the National Development Plan. It is an expensive strategy in line with the Government's Climate Action Plan.
Public transport requires a high volume of passengers to remain viable. As private vehicles are increasingly disincentivised, the system can only function if commuters have confidence in its reliability and safety. But transport workers are reporting a serious rise in anti-social behaviour on Irish buses and trains.
According to the National Bus and Rail Union (NBRU), in 2016 there were 492 reports of anti-social behaviour on Irish bus and rail services. In the 12 months up to June 2021, a total of 2,300 antisocial behaviour incidents were reported, of which 369 were classed as 'aggressive'.
Over several weeks, RTÉ Investigates travelled on most forms of public transport to see first-hand what the daily commute is really like. Using hidden cameras our researchers witnessed a wide variety of anti-social activity including begging, substance abuse, unruly individuals, and gangs, and even threats of violence.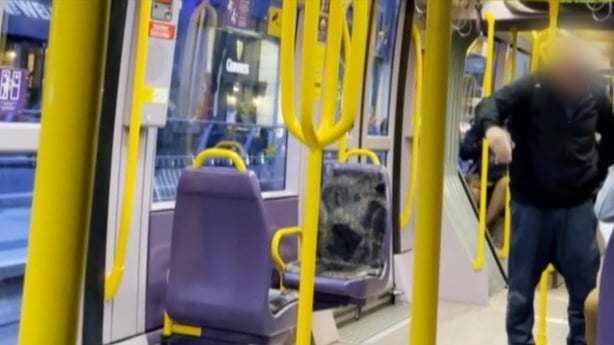 On a quiet summers' evening in June, a young Maltese couple holidaying in Dublin, boarded the green line Luas at Dawson Street to return to their accommodation after their dinner. They quickly, and inexplicably, drew the ire of another passenger.
The situation escalated when the couple tried to ignore the man and did not comply with his demands to move to another section of the tram. He threatened the couple with violence, shouting "I'll put your head through the window with a side kick now in one second, what are you looking at them for when I'm talking to you don't pretend like you can't hear me ignoring me now are ya."
The irate passenger told the man to "Take your wife and f**k off, go on off you go, go on off you go, f**k off."
He was standing over the couple continually shouting. Eventually they moved. When they got off at the next stop, they were visibly shaken.
They told RTÉ Investigates they had never experienced anything like this before. The couple said they were planning to attend The Killers concert in Malahide the following night, but as a result of their experience, they would not be using public transport.
Teenagers travelling in gangs is an increasing problem on the public transport system. Many passengers described a sense of menace when travelling close to these gangs.
Drinking and drug-taking on public transport are also adding to the anti-social behaviour and the sense of fear experienced by the travelling public.
Frequently, RTÉ Investigates witnessed people drinking alcohol on board Luas trams, and the DART. Some passengers were also seen rolling joints, and consuming pills taken from bags concealed in their socks.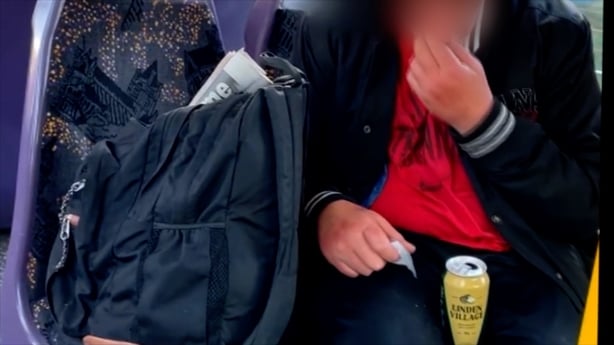 The anti-social behaviour is not confined to the trains, buses, and trams. There is also a general sense of decay and squalor around many of the stations and stops, particularly in Dublin.
Begging outside Connolly Station is a daily occurrence. At the bottom of the escalator to the Luas platform, the smell of urine lingers in the air. And piles of sleeping bags can be seen tucked away at the end of the Luas track.
At Heuston Station, groups of teens congregated while several of them cycled bikes in and around the station, swerving through groups of passengers waiting on buses and trams. Most of this behaviour going unchallenged.
In the shelter at the Luas stop on Marlborough Street, people can be seen drinking and exhibiting the signs of drug abuse.
Along the bus shelters on Westmoreland Street, O'Connell Street and the Luas stop at Abbey Street commuters and the marginalised can often be seen sharing a bench.
Undoubtedly, these are societal problems, and are not exclusive to public transport. But public transport, their associated shelters, stops, hubs, and platforms provide a focal point where many of those tackling addiction or homelessness congregate.
At the same time, those same shelters, stops, hubs, and platforms provide the vital network for commuters to get to work, school, and socialise.
The NBRU is calling for a dedicated Garda Public Transport Division to tackle what they claim is a steep rise in incidents of anti-social behaviour.
However, this sentiment is not shared by the transport companies. In a statement, Dublin Bus, said it "has a strong and close working relationship with An Garda Síochána, and have set up a number of community forums in different areas across the city which has proven successful. We believe that this is the most appropriate approach".
Similarly, Irish Rail said: "While the structure of policing is a matter for An Garda Síochána, we work closely with the Gardaí and are very satisfied with the support – both proactive and reactive – to issues of ASB and public order, and with the range of initiatives taken jointly."
And the operator of the Luas stated: "Transdev is not calling for a dedicated Garda Transport Unit as policies in this regard are a matter for An Garda Síochána. We have an excellent working relationship with An Garda Síochána and believe the existing structure is very effective in dealing with incidents of anti-social behaviour."
Although the transport companies are not calling for a dedicated Garda Public Transport Division, they have been forced to massively increase their spend on security.
Irish Rail spend on security has increased from €3.7 million in 2016 to €5.7 million in 2021.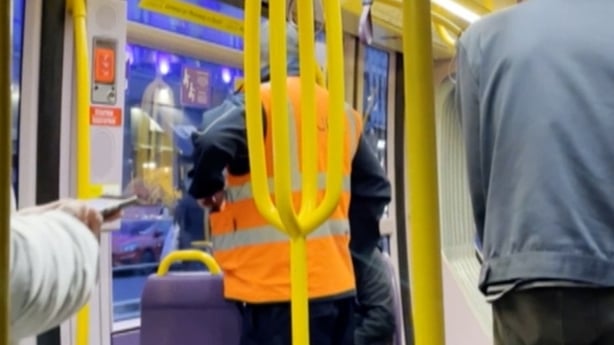 Frontline staff say in addition to increasing financial costs, there are human costs.
Many current and former frontline transport workers shared their experiences with RTÉ Investigates. All of them described two common themes: their love for their jobs, and the increasing danger involved in doing their jobs.
Transport workers who interact with the public say they have endured physical and verbal assault on an all too regular basis.
One transport employee who has been given the pseudonym "Greg" to protect his identity said: "You never feel safe. You go out every day and you know you have it in the back of your mind just to try and be aware. You have to be on your guard all the time, and you have to be expecting the worst and if you go home without something happening it's a good day."
Staff say the mental strain of daily abuse and safety fears is taking its toll. Staff morale is described as low, while staff turnover is described as high.
"Greg" told RTÉ Investigates: "It's just one of those things, and you just always have to be on your guard. There's just so much that you have to think about before you even begin the job."
When asked about the groups of young teens travelling, it seems that for some staff the best course of action is avoidance, despite knowing they may not have a ticket to travel or that they may be causing a nuisance.
The constant response from frontline workers was that there was a sense of fearlessness about the children. They felt untouchable, that nothing would happen to them, and they were emboldened as they know security staff can only ask them to disembark or contact the guards if that is refused. So for some workers who would have to see them over and over again, they reluctantly choose to ignore them for their own safety.
Frontline worker "Michael" spoke of his experience. "Yeah, they are out of control as well. We do try our best to avoid them because what can we do? There's nothing we can do to them people, we can't say anything to them, we can't put them on for anything because of their age."
"Michael" said that transport workers feel that gangs of youths want a confrontation so transport staff prefer to avoid them altogether. "They're looking for reaction out of us, and to be chasing around, or having a go at them for getting on and off trams especially along the canal. They're looking for a reaction. They're going around in gangs of 10, 12, 15 ,and there's nothing we can do. So, we do try our best to avoid them when we can."
Whether or not the NBRU achieves its aim for a dedicated Garda Public Transport Division to be established remains to be seen. But at a time when the use of public transport has never been more vital, staff and customers have to contend with an inhospitable environment on a daily basis.