In Enniscorthy, Co Wexford, independent councillor John O'Rourke frequently receives complaints about air pollution in the town, which became a Low Smoke Zone in September 2020.
He has also experienced it himself, particularly when he is refereeing local soccer games.
"You'd get the taste of it in your throat," Cllr O'Rourke told RTÉ Investigates.
"During winter, or coming into spring, on open pitches under lights, the cast of the smoke that was coming over the pitch was absolutely toxic," he said.
"The breathing wasn't great when you were running – it'd hit you in the face."
Since 2012, under the Air Pollution Act, the sale, marketing, distribution and burning of smoky coal is prohibited in Low Smoke Zones, which now include all towns with a population over 10,000.
But the fossil fuel is still being sold and delivered to people in Low Smoke Zones, RTÉ Investigates has learned.
These include towns where air quality readings show dangerously high pollution levels.
Responses to questions sent by RTÉ Investigates to councils with Low Smoke Zones show that nobody was either fined or prosecuted for burning smoky coal in 2021, even though this activity has been prohibited since 2012.
A smoky coal ban is due to come into effect nationwide from next September as part of Government plans to tackle air pollution.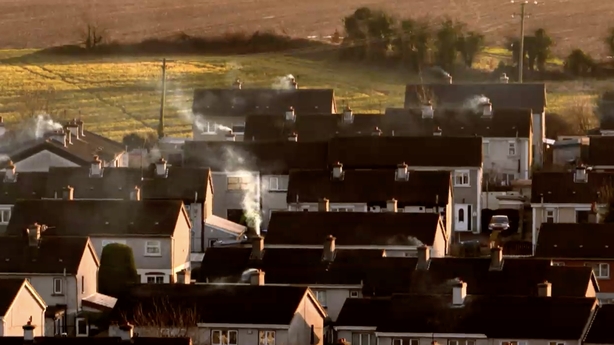 But residents in two towns covered by the ban told RTÉ Investigates that current legislation has not led to any noticeable change in air quality.
The Air Pollution Act dates to 1987 and was introduced initially in a bid to ban the use of smoky coal in Dublin in response to widespread smog around the city, particularly in Ballyfermot.
This ban was introduced in 1990 following scientific studies, led by Professor Luke Clancy, that established a direct link between Dublin's air pollution and severe, sometimes fatal, respiratory illnesses.
"We continued to monitor it all through the 80s and to join with people in groups who were advocating for clean air," Prof Clancy told RTÉ Investigates.
"These were people who could see with their eyes that it was bad – and that their children were getting infections and asthma and wanted something done about it. When we got the data, we could see that the pollution levels were very high."
Prof Clancy said the studies revealed a "very close temporal relationship" between pollution and fatalities, noting that deaths occurred within days of smog appearing.
Since 1990, the scientific research into the impact of smoky coal has evolved. Much more is now known about the health impact of chimney smoke, which carries tiny particles, or particulate matter. The particles are usually invisible to the naked eye, but scientists have found they carry a serious health risk.
"They are mysterious because they are regarded as inert or doing nothing. But, in fact, they get into the body and into the blood and into the blood vessels and they cause inflammation and that's the basis of the changes that we found both in the heart and in respiratory system," Dr Clancy said.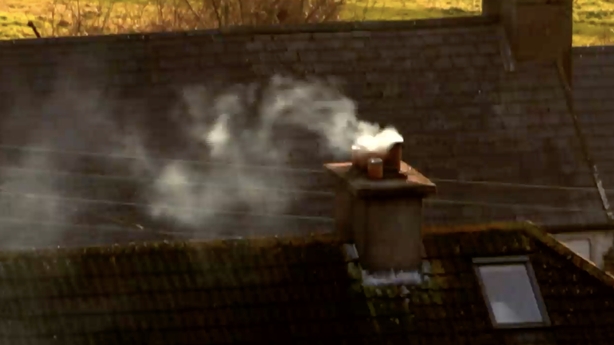 Poor air quality caused by particulate matter, or PM 2.5, results in an estimated 1,300 premature deaths every year in Ireland, according to the European Environment Agency.
Burning any fossil fuel creates PM 2.5, but smoky fuels – including smoky coal – are the worst offenders. According to John Sodeau, UCC's Professor Emeritus of Chemistry, research shows a clear connection between air pollution and dementia, miscarriages, and diabetes, along with cardio and respiratory problems.
While the ban currently applies to larger towns, smoky coal is still sold to households in small towns and rural areas.
For the past 30 years, there have been calls to remove smoky coal from the market fully, and the Government will finally extend the ban to all areas in the 26 counties next September.
But, for Professor Sodeau, any change is meaningless unless properly enforced.
"The national smoky coal ban that's coming in later this year depends obviously on the level of enforcement and prosecution that can actually happen with local councils. This must happen. They must do that. If they don't, the law has got to be changed."
The EPA has 67 air-quality monitoring stations around the country. Daily readings would indicate that smoky coal is widely used in towns where the ban is supposed to apply.
The World Health Organization recently lowered the safety level for PM2.5 to a mean daily figure of 15 micrograms per cubic metre.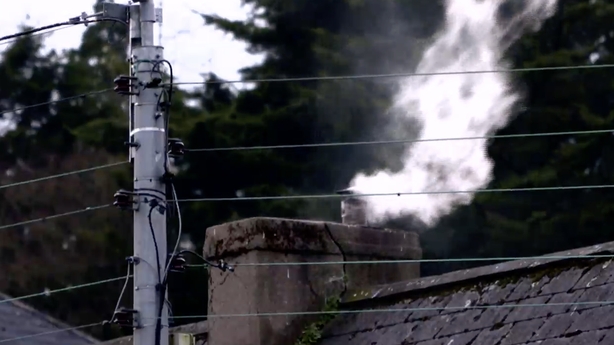 EPA readings show the hourly rates of PM2.5 in Ireland rise to many multiples of this mean daily figure – particularly on cold, still nights when people are more likely to light house fires.
Professor Sodeau said these hourly figures are worrying and present a serious health danger to anyone who is outdoors at those times.
"What people I don't think realise so much is the direct short-term effects they may be doing, to themselves, their children, their parents, their neighbours, by simply burning carbon," he said.
During January and February, RTÉ Investigates tracked the EPA measurements of PM2.5 levels in ten towns to see how many times the 100 hourly microgram level was exceeded.
This level represents almost seven times the WHO safety guideline.
The highest levels recorded occurred in seven towns that are covered by the smoky coal ban.
Ennis and Tralee both had 17 days where the 100-microgram figure was exceeded, followed by Wexford Town on nine, Enniscorthy on eight, Longford and Waterford on six and Letterkenny on three.
In Ennis, the readings breached 100 micrograms per cubic metre eight nights in a row in January.
On one Sunday evening at 7pm, the dial in Ennis went as high as 467.
In smaller towns where smoky coal is still allowed, the limit was exceeded 12 times in Macroom, Co Cork; 11 in Edenderry, Co Offaly; and seven times in Tipperary Town.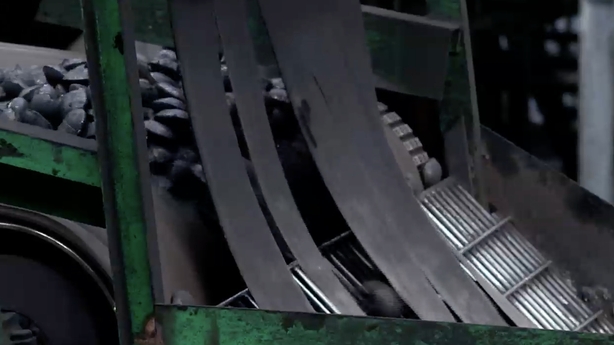 These figures indicate that smoky coal is still a problem in Low Smoke Zones.
Under the Air Pollution Act, powers of enforcement lie with local authorities.
Yet RTÉ Investigates found that there were only five prosecutions last year: three by Dublin City Council, one by Sligo County Council and one by Clare County Council.
Councils also handed out 16 on-the-spot fines, ranging from €250 to €1,000.
Half of these were handed out by Sligo County Council followed by four by Waterford County Council, three by Westmeath County Council and one by Clare County Council.
These prosecutions and fines were for sale, distribution, or marketing offences.
Our research also shows that, despite smoky coal being prohibited, local authorities don't have the power to hand out on-the-spot fines to anyone caught burning smoky coal in Low Smoke Zones.
It is an offence to burn smoky coal in a Low Smoke Zone and offenders can be brought to court and fined up to €5,000.
However, when it comes to enforcement, some local authorities told us their interpretation of the legislation is they must give householders 24 hours' notice in writing before they can inspect a house, thereby making it almost impossible to enforce the law.
In response to our questions, Waterford County Council explained that local authorities do not have the power to issue fixed payment notices for burning smoky coal.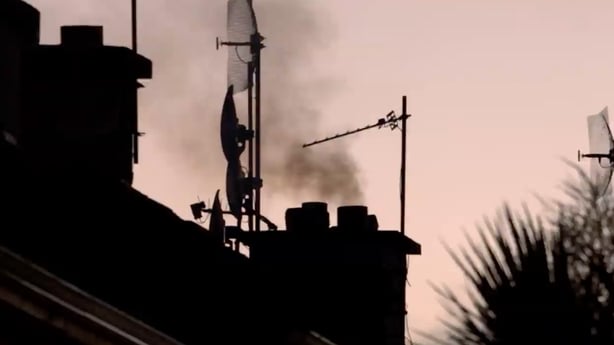 "The offence of burning smoky coal in a Low Smoke Zone can only be punished by summary prosecution in the District Court. Authorised Persons, other than with the consent of the occupier, cannot enter into a private dwelling unless they have given to the occupier of the dwelling not less than 24 hours' notice in writing of their intended entry," it said.
"Effectively it means that the Council would have to indicate that it will return the next day to see if the householder is burning smoky coal. This makes determining whether someone is burning smoky coal virtually impossible. There is no offence for possessing smoky coal, so having a coal shed full of smoky coal can't lead to a prosecution. For this reason, inspections of private dwellings are not carried out."
Some councils do send officials to houses to follow up on complaints.
Limerick Council, for example, carried out four visits, with a spokesperson saying: "The general approach is to educate the householders first and if the problem persists to send reminder and warning letters as appropriate. All cases were resolved. Please note that there is no power of entry into a domestic dwelling unless 24 hours written notice is given."
Some of the coal being used in Low Smoke Zones is coming from Northern Ireland, due to the significant price difference either side of the border.
Carbon tax must be paid on solid fuels in the Republic of Ireland – in the order of €88.23 per tonne - but no such tax applies in Northern Ireland.
As the law stands, you can drive into the North and buy a few bags for your own use without paying tax. But if you order coal from Northern Ireland, carbon tax is due, and the Revenue should be notified.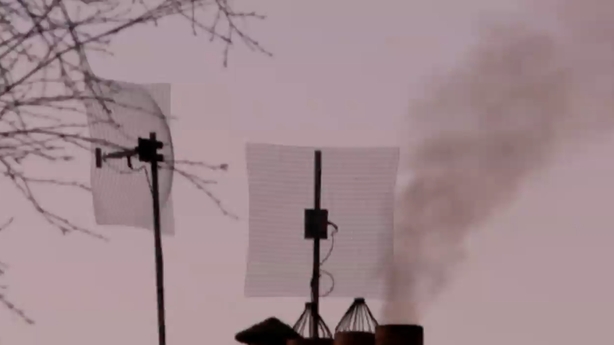 On top of that, VAT on coal is 5% as opposed to 13.5% in the South – all of which means coal is cheaper in the North.
For instance, a 40kg bag of smoky coal will cost €15 at a depot on the Northern side of the border, whereas in the south the same bag will cost anything from €20 to €25.
Tommy Sheehan, owner of North Pole Fuels in Cavan Town, told RTÉ Investigates that he is struggling to compete with cross-border trade.
"My main problem is: who is patrolling it for the carbon? Carbon has to be paid on every bag of coal that's sold in the Republic of Ireland or smoky coal or smokeless. [On a] bail of briquettes, it has to be paid," Mr Sheehan said.
"They are not paying it, you know. I am paying it. My business is gone down by 25% to 30%. We were talking the other night about even downsizing a couple of the trucks, selling them off, because you know the business is really going."
Industry sources estimate that 100,000 tonnes of smoky coal come across the border every year.
Some of this coal is being bought by people driving over the border and loading up their own cars for personal use.
But some of it is also being bought by individuals who then go door to door selling it from vans in estates around the country.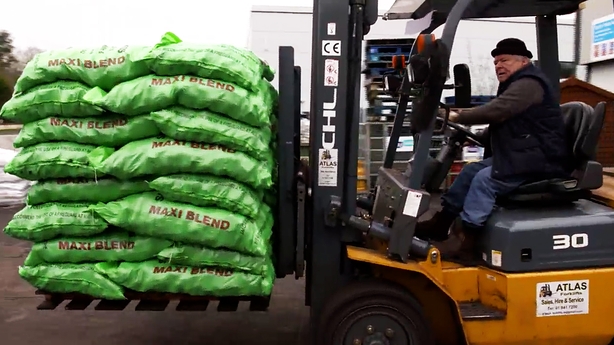 There are Northern-Ireland based businesses who can provide coal deliveries to anywhere on the island.
They advertise openly online on websites, on social media, and in newspapers.
We phoned 10 of these and gave the address of Ennis, Co Clare, which has been a Low Smoke Zone since 2011. We also told them we were not supposed to use smoky coal and were unable to get it locally anymore. Nine of the 10 companies responded that they were prepared to sell us smoky coal.
The respondent for one of these companies explained to us that carbon tax could be avoided if the order was marked as "collect" and a third-party courier was used to delivery the coal.
"He goes in, collects from us and brings it to you. No biggie. if we put it down as collect/delivery on a phone call you will not be liable for carbon tax because you are collecting from the North," they said.
As part of our research, we visited Ennis, Co Clare – which has one of the worst air pollution ratings in the country – and spoke to members of the Clare COPD Support Group.
This support group runs exercise classes and meetups for people who suffer from chronic obstructive pulmonary disease (COPD), a chronic inflammatory lung disease that causes obstructed airflow from the lung.
James Gallagher, who runs the group with former Clare hurler Eugene Moylan, told us: "For people like myself who have a lung condition – I have COPD and emphysema – breathing that in… it catches you. So, as a result, in winter time, I hardly go out in the evening any more."
We also spoke to Mary O'Callaghan, who suffers from COPD.
"It's difficult enough to go for a walk or to breathe because of the smoke," Mary said.
"You notice it in your breathing. It's more difficult to breathe. At night if you look around you can see a pall or something, like a mist over the place."
"I think it's up to the authorities to investigate this and come down hard on people doing this," Eugene said.
RTÉ Investigates phoned one of the Northern Ireland depots who had earlier agreed to sell us smoky coal.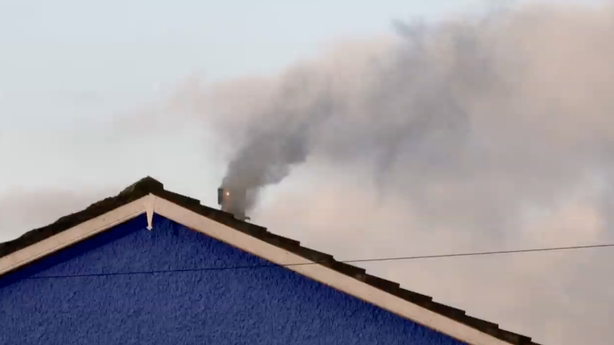 We ordered 25 bags of 20kg Colombian coal – which is smoky coal – and the delivery arrived on schedule in Ennis. We confirmed the load was clearly marked as Colombian coal before telling the courier it had to be returned to the seller because bituminous or smoky coal is banned in the town.
The invoice showed a VAT rate of 5% was charged, which is the rate set in the UK and much lower than the 13.5% that is supposed to be collected and paid over to the Irish Revenue Commissioners.
There was also no mention on the receipt of carbon tax, which would have added up to €44 for this delivery.
The total charge, including delivery, came to £206.48 or €247.
It could cost more than €300 euro to buy the same load from a coal merchant in the South.
"That's movement of coal which is dangerous to us and that should be stopped," Professor Sodeau said.
"That's up to the lawmakers. It's above my pay grade how that should be done. But it should be done."
While the Government plans to bring in a nationwide smoky coal ban in September, there is concern that this won't address the problem of coal coming down from Northern Ireland.
The ban is necessary, Prof Sodeau said, but the Government should also ensure that smoky coal cannot be purchased.
But Prof Clancy said that there will always be somebody who chooses to break the law.
"What matters is that nearly everybody and that most people do the right thing. And they will, if they believe in it and if we help them," he said.
Fuel merchant Tommy Sheehan is less convinced.
"I don't know what's going to happen," he told us, "but they have to do something. If the Government don't do something quick about it, they'll all be paying the 5% to the Queen."
That's what they will do, every one of them, when this all-out ban comes into force in September next. There's no ban in the North, so how they going to stop them?"