In December 2006, Niall Dennehy – an entrepreneurial councillor from Clonmel, Co Tipperary – identified a gap in the market for providing training and conference events for his fellow councillors.
That year, he set up Kadenza Consultancies Ltd, which traded as the Institute of Professional Training (IPT), and hosted training weekends for local politicians.
"We try to provide councillors with relevant training – something we felt was not on offer out there," he told The Irish Mail on the Sunday in 2007.
Between 2015 and 2019, there were over 700 councillor attendances at around 50 IPT seminars, involving almost every local authority in the country.
In total, local authorities paid the IPT over €100,000 in fees during this time.
The attendees were led to believe that the institute's seminars were accredited, with brochures circulated stating that they were "FETAC Accredited" and that "the Institute is a State Accredited Educational Trainer."
However, Quality and Qualifications Ireland (QQI), the State agency that regulates training providers, told RTÉ Investigates that it removed the IPT from its register of accredited training providers as far back as November 2014.
(QQI replaced the Further Education and Training Awards Council, more commonly known as FETAC, in 2012.)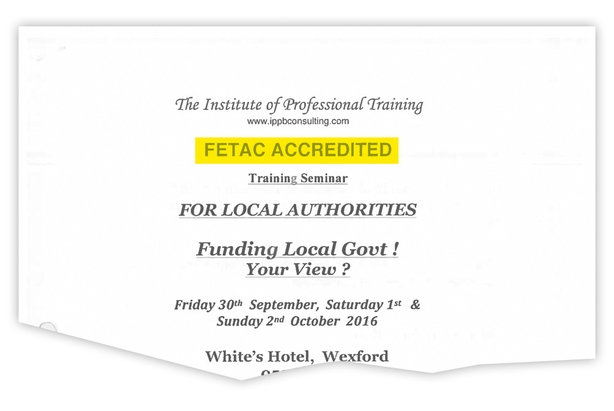 Under Section 67 of the Qualifications and Quality Assurance (Education and Training) Act 2012, it is an offence for a provider to provide an enrolled learner with information that is false or misleading in a material sense.
The accreditation claims made the seminars appear particularly attractive to councillors and local authorities, and implied that the seminars were externally validated.
'No further certification was requested'
QQI told RTÉ Investigates that the IPT, which was later operated by another Niall Dennehy company, Irish Private and Public Bodies (Consulting) Ltd, had its quality assurance procedures agreed by FETAC in October 2011.
It said that the institute offered one "Minor Award" in applied psychology to a "small number of learners who were certified in 2012" but that "no further certification was requested."
"No application was made by the Institute to FETAC or QQI to have any new programmes validated," QQI said.
QQI's award programmes are validated for a maximum period of five years, after which providers can apply for revalidation, on the condition that the programme was active during that period.
QQI explained that its decision to remove the IPT from its register of providers in November 2014 "was based on the Institute not meeting the conditions of recent certification of learners and for not validating a programme of education and training."
"The seminars which you reference in your query were not accredited by FETAC or QQI," it said, referring to a sample of around a dozen IPT seminars that took place from 2015 to 2019.
'This is to ensure training is externally validated'
State accreditation can be particularly helpful for a provider of training to councillors.
Directions issued by the Department of Housing, Local Government and Heritage, which set out the rules concerning councillors' expenses, distinguish between training events and conferences. The latter is subject to an annual spending cap of €700 in expenses per councillor, but there is no corresponding spending cap for training events, making training events more attractive for councillors.
The directions list various criteria by which events can be classed as training, which includes "programmes of education and training... which are validated by Quality and Qualifications Ireland... formerly FETAC and HETAC courses."
The directions explain that "this is to ensure that the training is externally accredited or validated."
'We accepted IPT's bona fides'
While most councils classed the institute's events as conferences, several classed them as training events.
Between them, Roscommon County Council, Wexford County Council and Galway City Council accounted for around 400 of the more than 700 councillor attendances at the institute's seminars between 2015 and 2019.
They each told RTÉ Investigates that they classed the institute's seminars as training because they fulfilled the criteria set out by the Department concerning State accreditation.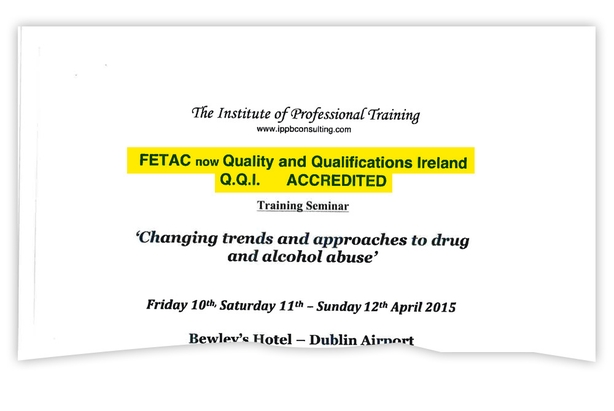 Galway City Council added that "with no information to the contrary, Galway City Council Corporate Services Section accepted [IPT's] bona fides that it is/was an approved body under FETAC, as specified on its promotional literature."
Laois County Council, which had around 120 attendances with the IPT that it classed as training, would not respond to multiple queries from RTÉ Investigates about this classification.
South Dublin Council, meanwhile, which had around 60 attendances with the IPT between 2015 and 2019, stated: "In 2019, following contact with QQI, it was discovered that the Institute of Professional Training were not accredited to provide FETAC/QQI training. Councillors no longer attend or claim expenses under Training for these training events."
'We are contacting all councils'
Cllr Dennehy has an extensive and varied background as an elected member of local government. In 1994, he was elected to Clonmel Corporation for the Progressive Democrats.
He joined Fianna Fáil the following year and served as a member of South Tipperary County Council from 1999 to 2004.
He is also a former Mayor of Clonmel and was a member of Clonmel Borough Council until the 2009 local elections.
He campaigned against the abolition of town and borough councils in the 2014 re-organisation of local government and made a return to electoral politics in May 2019, when he was elected to Tipperary County Council as an Independent.
Cllr Dennehy repeatedly failed to respond to questions from RTÉ Investigates concerning IPT's claims to have been State accredited.
RTÉ Investigates asked QQI if it intended to contact local authorities about the Institute's claims.
It stated: "QQI is currently in the process of contacting all city and county councils to highlight this issue. Organisations procuring the services of education and training providers are directed by QQI to the Irish Register of Qualifications to ensure that the provider or programmes they are engaging with are quality-assured."