She is funny, quite witty. She is polite and gentle. On a recent summer's day, we walked along the street together and joked about all sorts of things. She told me about the nice schools she went to as a child, and then as a teenager. About her early career, about how she found her calling when she got the job she had always wanted.
She talked about her parents and family, about growing up in a tight-knit community in Dublin. We ate crisps as we walked along the street chatting. She picked up some treats for one of her children, and we perused several shops. We laughed with the staff, had the banter.
In another world, we might stop off for lunch in a nice restaurant, or even have a drink with friends.
If you've got a picture of two people enjoying the sunshine in Dublin, you will no doubt have drawn a mental picture of how things look. Perception is everything. But I met this woman begging outside a shop.
Lydia, who asked RTÉ Investigates to use a pseudonym to protect her identity, is a chronic drug user.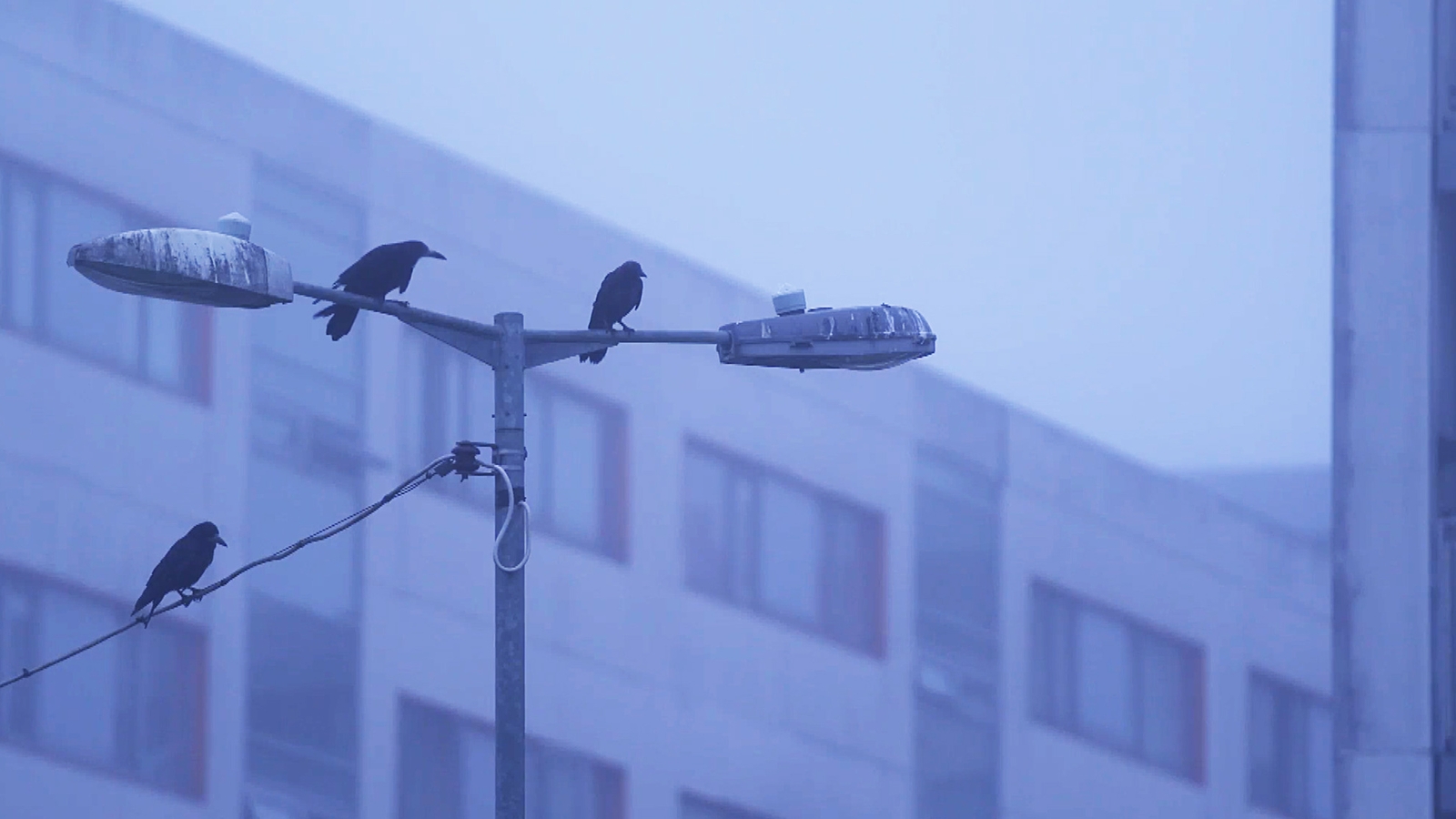 She smokes heroin, crack cocaine, and cannabis, and takes a cocktail of pills to keep herself on track. She buys the pills from street dealers. Buying drugs, she said, is easier than buying sweets. They are available on her doorstep.
Lydia is not exaggerating. Over the course of several weeks, RTÉ Investigates monitored several locations in Ballymun where drugs are openly sold on the streets, in parks and housing estates. One of the busiest dealing spots is an area where senior citizens live at Dolmen Court on Balbutcher Lane.
It's an area where you can see up to 10 people hanging around all day, most days. There are dealers, spotters, couriers and others associated with running the illicit trade.
The location is well chosen: the residents are elderly and less likely to confront the dealers, and there are multiple exit routes if Gardaí arrive. During our filming, they did arrive. But the dealers were gone within seconds, and the visit was futile: the dealing recommenced within 10 minutes.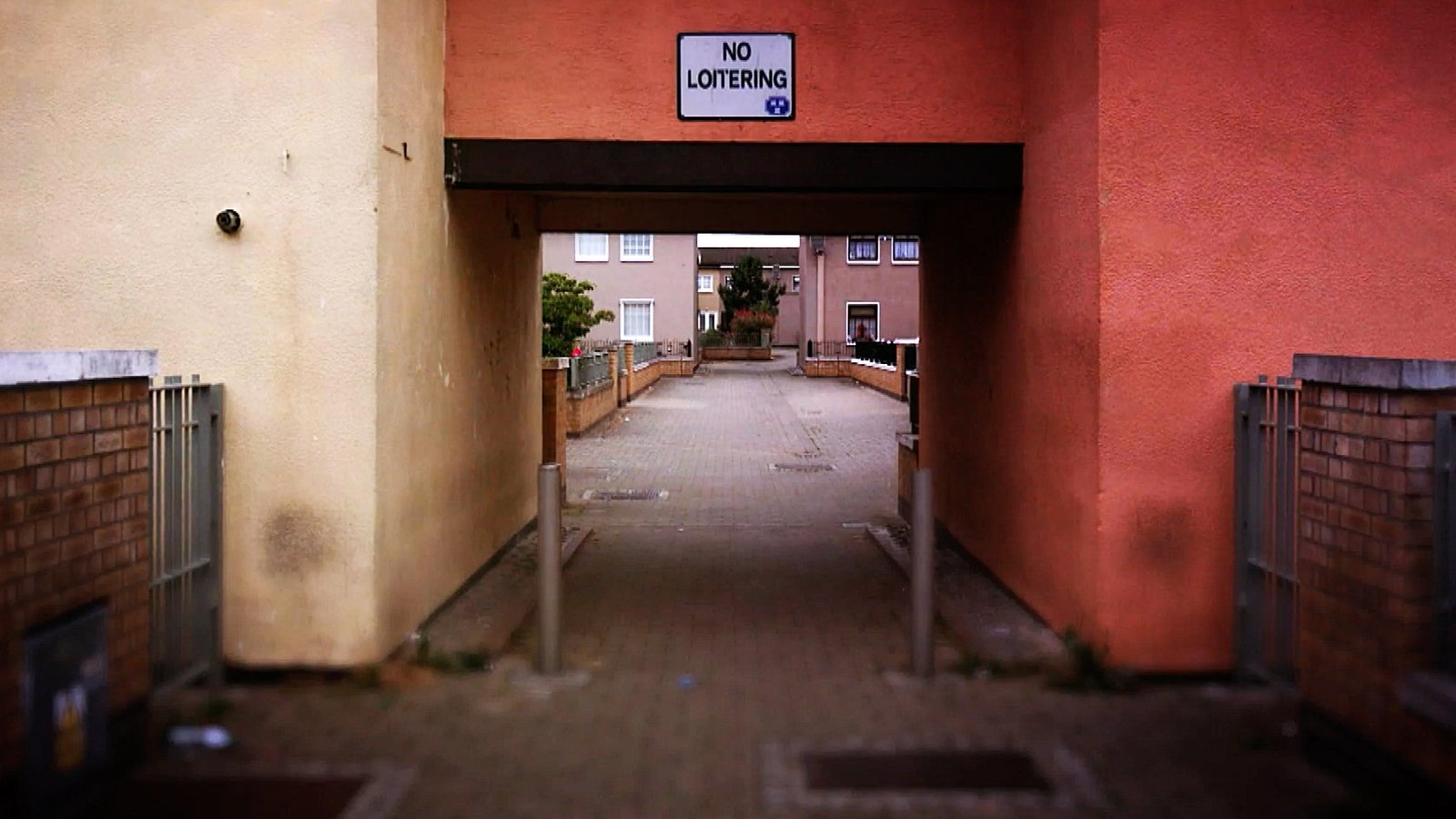 Over one week, we secretly filmed the dealers at Dolmen Court, we logged their interactions with buyers and the conversations between the dealers themselves. On one day alone, over a four-hour period, we filmed more than 42 potential drug deals taking place at Dolmen Court.
Sheelagh Brady, a former undercover garda, was shown the footage recorded by RTÉ Investigates on that day.
The operation at Dolmen Court, she said, is "indicative of quite a complex sales and supply event going on."
"40 people over four hours is a significant drugs market," she told RTÉ Investigates.
"It would also say that there's heavy drug use within that area – or people are travelling to that area to purchase drugs."
Ms Brady estimated that one of the dealers filmed by RTÉ Investigates could be making anywhere up to €2,000 per day.
But he was just one dealer at this location, and Dolmen Court is just one location of many across Ballymun where open street dealing has become an everyday sight.
RTÉ Investigates also captured the drug dealers handing their takings over to the so-called "money man".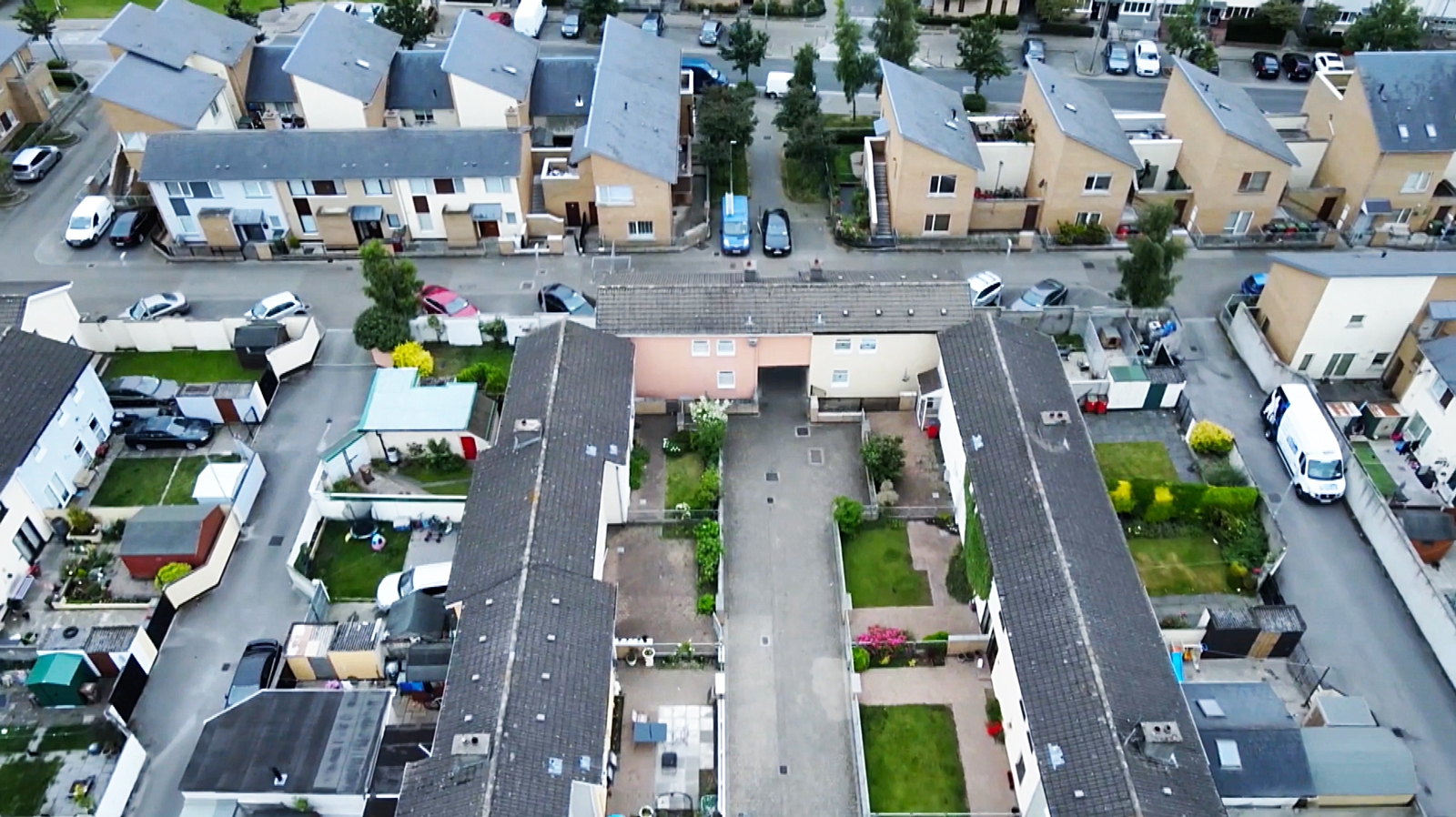 Bundles of notes were quickly counted mere metres from hidden cameras, the men oblivious to the fact that they were being watched and listened to as part of an investigation.
Exchanges like this, Ms Brady said, happen regularly for a reason: the money is the asset.
"The money man is usually a role that somebody plays within these criminal gangs to actually take the money from the scene very quickly," she said.
"He's probably higher up the chain in many respects than the dealer, and probably has links to the supplier of the drugs, to your kingpins."
Ballymun became the focus of the investigation because the Health Research Board describes the crack use there as "acute".
One in three people being treated for cocaine addiction in Ballymun are on crack – higher than in any other part of Dublin.
Dr Anne Marie Carew from the HRB told RTÉ Investigates that the data suggests crack is a growing issue, not just in Ballymun, but in several other parts of the capital, too.
"The areas that had the highest numbers of crack cocaine users in treatment included the inner-city areas. It also included Finglas and Cabra and Tallaght," she said.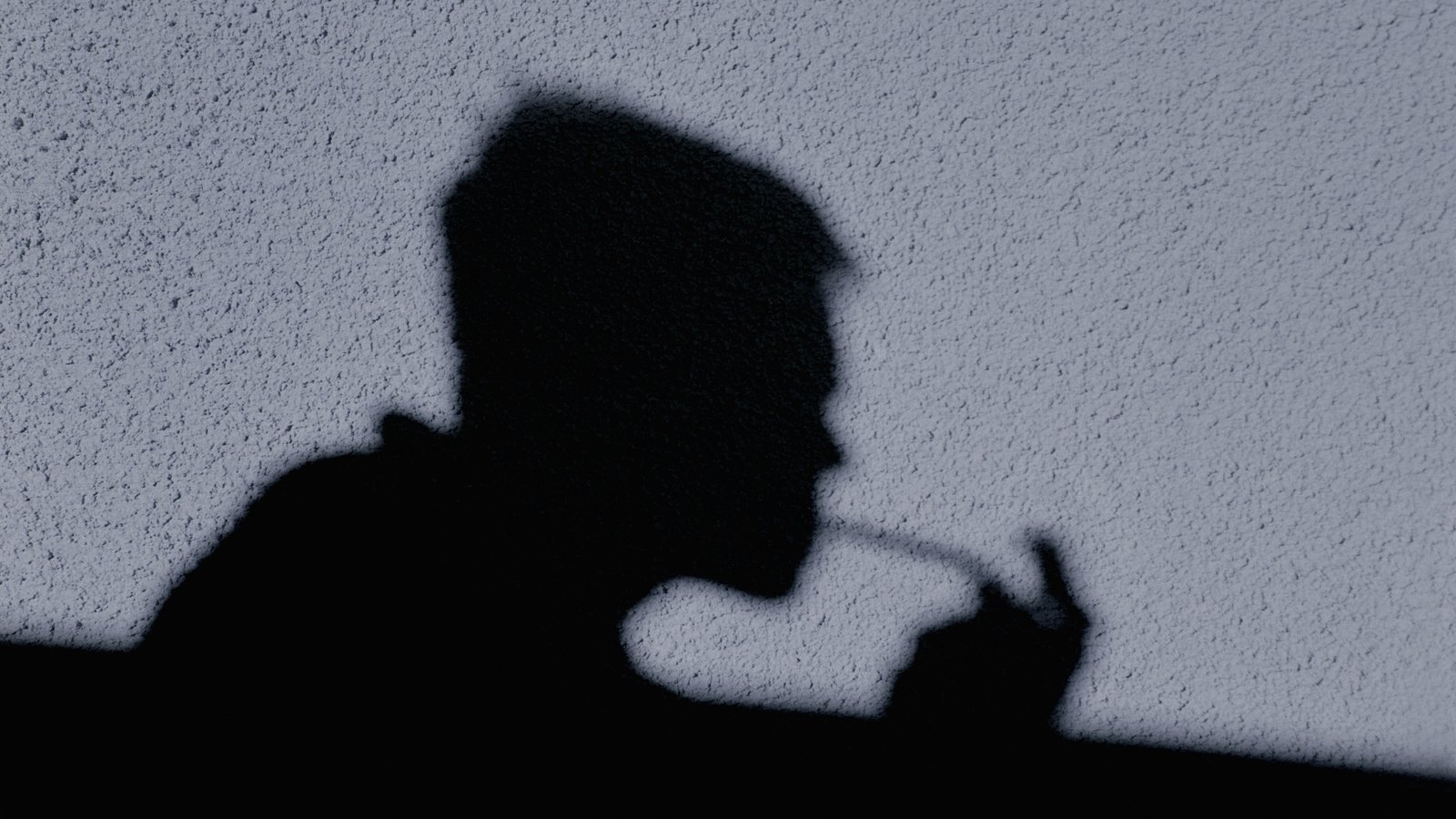 In Ballymun, the number of people entering treatment for crack cocaine use has been increasing year on year.
Crack cocaine takes a heavy toll on the body, and Lydia has all of the physical attributes of a crack smoker. She is thin, grey, her hair is thinning. She looks ravaged.
She told me about the hurt she feels, about how her life has gone so wrong. She knows she's an addict, and she hates herself for it. The continued cocktail of drugs helps her deal with it. It's a circle of addiction, which sounds like hell.
Lydia lives to score drugs. She says her heroin use is somewhat under control, but says she simply cannot get a handle on "the rock", or crack cocaine. She says she smokes it a few times a week, but the accounts of home life suggest otherwise.
Lydia is one of many people lost in addiction because of a boom in crack cocaine in Ireland. The drug is tearing through communities, in particular in the capital.
New statistics due to be published later today by the HRB will indicate crack usage has surged here since 2014. But any statistics on increased usage only represent those who came forward seeking addiction treatment. The actual number is probably much higher.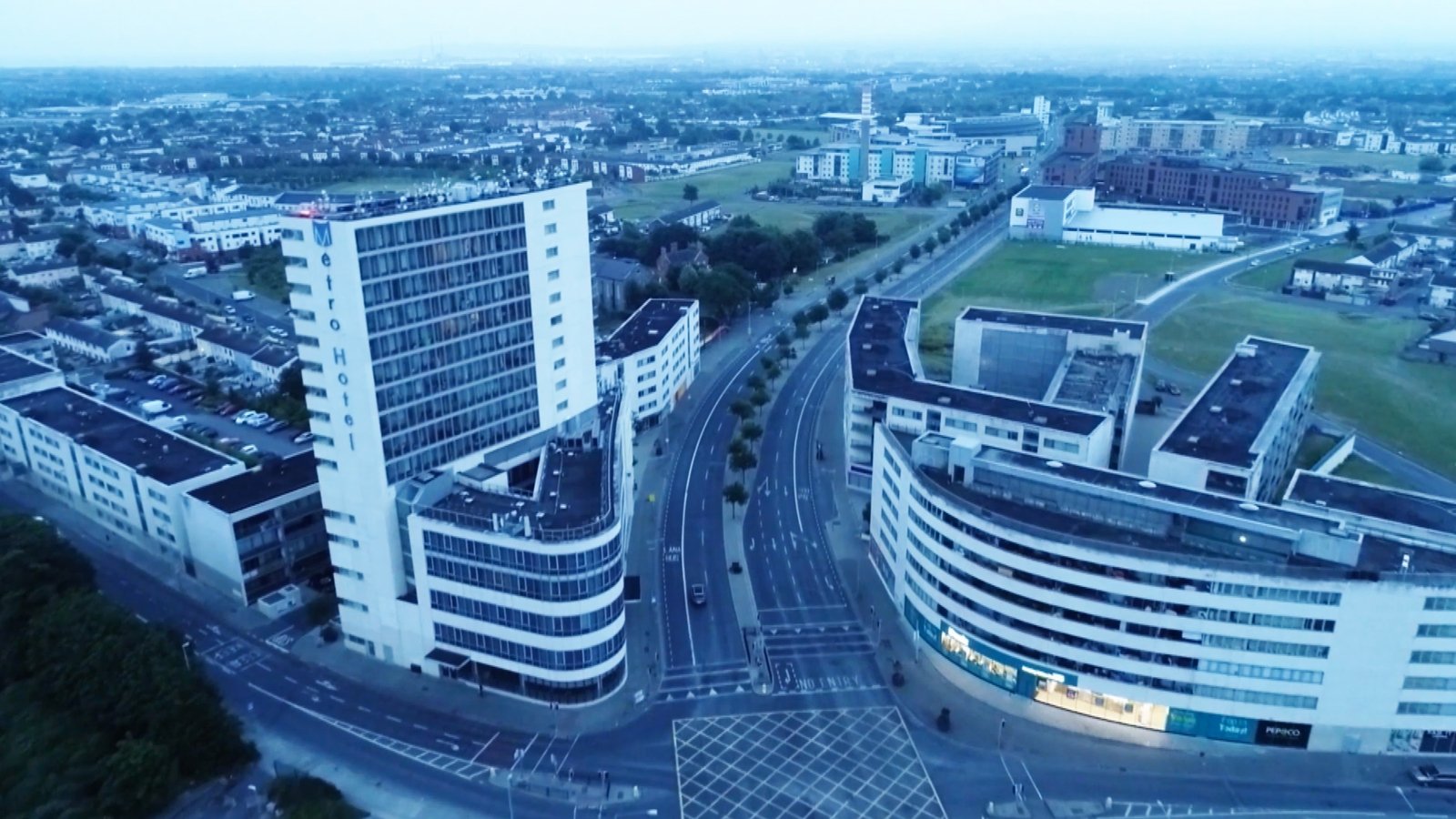 But statistics aren't really needed to identify the problem. Not only can you spot users like Lydia, but you can see the dealers too.
Ballymun is no different to many other communities in this regard. But it is, even by the admission of some gardaí, a kind of "Wild West" when it comes to drug dealing.
Locals speak about drugs having taken over again. The area still bears the scars of the heroin epidemic of the 1980s.
A large number of people remain on methadone, a heroin replacement treatment, several decades after coming off heroin.
It remains the community with the highest level of people with opiate addiction in the country, 10 times the national average.
That makes it a ripe trading ground for drug dealers selling crack cocaine. People on methadone speak about the dullness of life – they are numbed by the state-sponsored heroin replacement.
If they take crack, they feel alive again. It's why areas like Ballymun have been targeted by the dealers.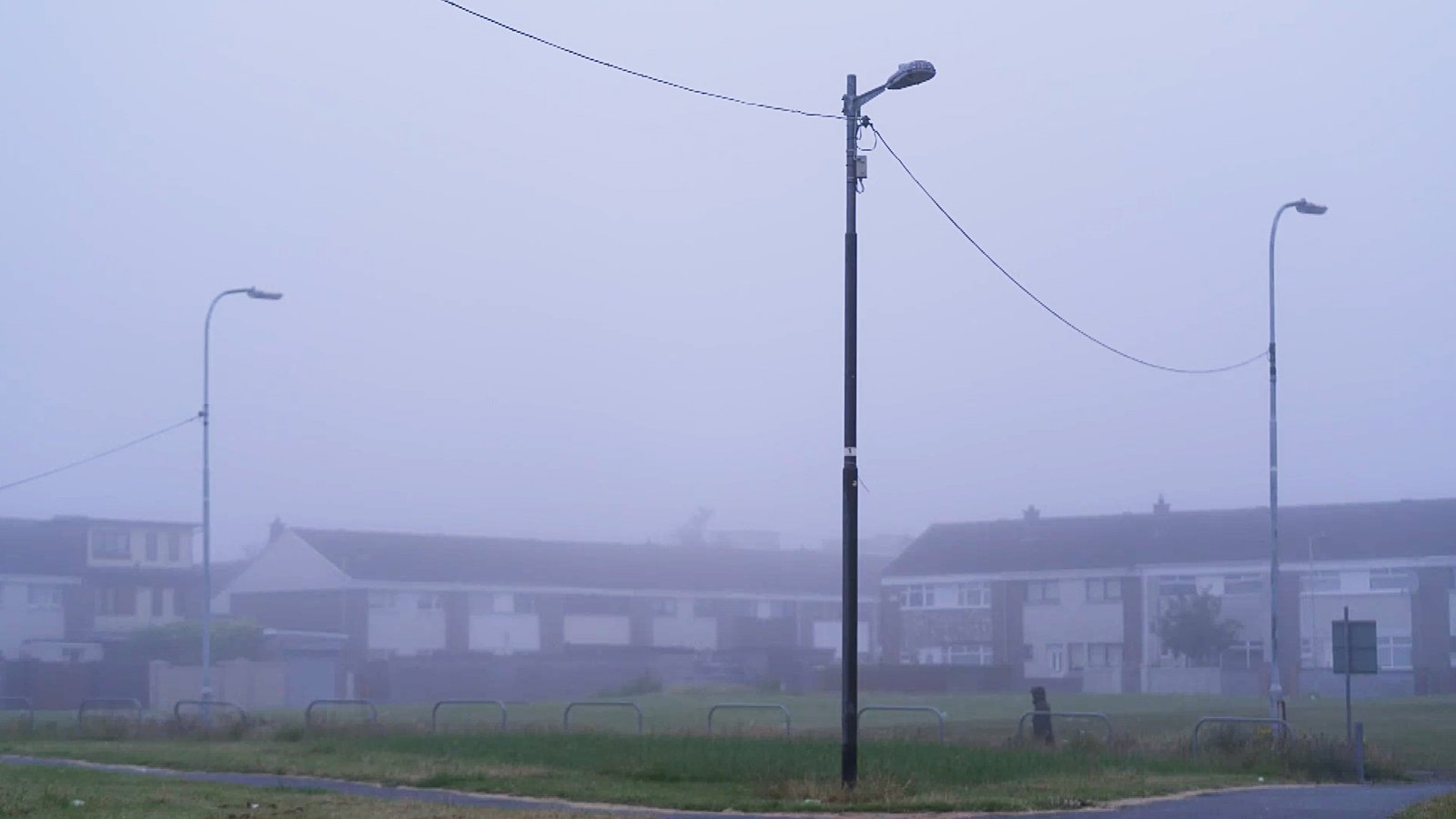 Free samples, product being pushed through letterboxes and daily text messages from dealers offering the best "rock" and the best "bobby brown", or heroin, are just some of the things vulnerable people have to contend with.
I've seen the text messages. Dealers start sending them from early in the morning.
The dealers are relentless and persistent. Some of them are grown men, but often they are just teenagers.
You can see them busily buzzing about on their electric bikes and scooters, either running drugs from one dealing post to another, or delivering to someone's house.
One crack user told RTÉ Investigates that the aggressive sales approach makes it virtually impossible to stay clean.
"Even if you tell yourself you are going to get clean, the next morning you are woken by at least 10 text messages from different drug dealers telling you they have the best crack around," they said.
They tell users that they have great deals, where they are, and that they are going to be there all day.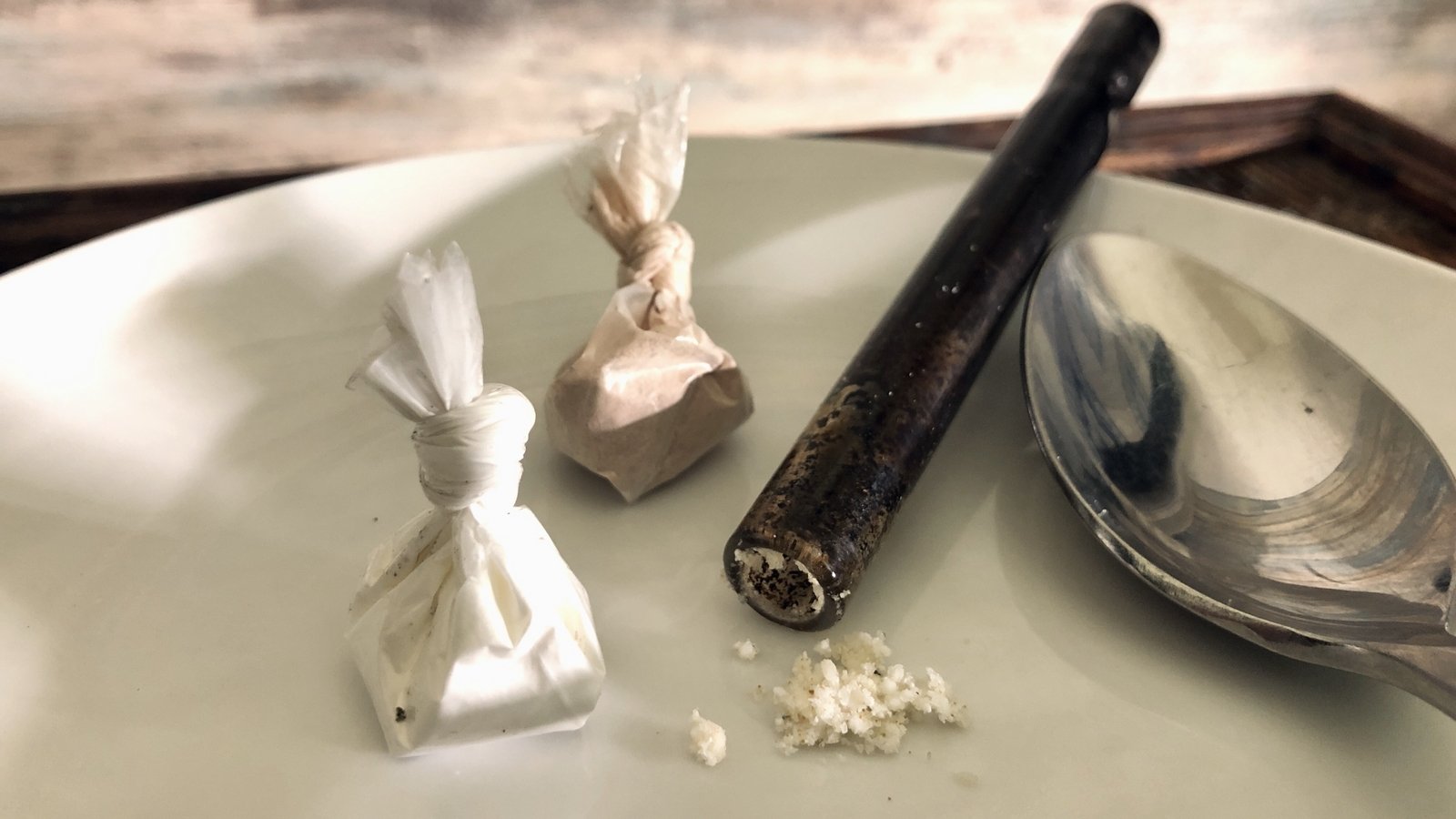 "So as soon as you open your eyes, no matter how good you are thinking, the seed is planted straight away. And it is non-stop. There is no escaping it."
On a sunny Monday, I sat in the undergrowth in a Dublin park.
RTÉ Investigates monitored this area for months. It is a busy crack den.
Pieces of tinfoil, needles, plastic bottles fashioned into crack pipes and human faeces litter the secluded hide out. Just metres away, members of the public pass by, many oblivious to what's going on.
It is one of several areas in the Dublin suburbs where crack users come – they buy the drugs in a nearby housing estates and come here to smoke.
Users approach and ask for "two white and one brown" – two rocks of crack cocaine and some heroin.
The crack is the high. And smoking heroin afterwards brings you right back down, so you can enjoy the next high.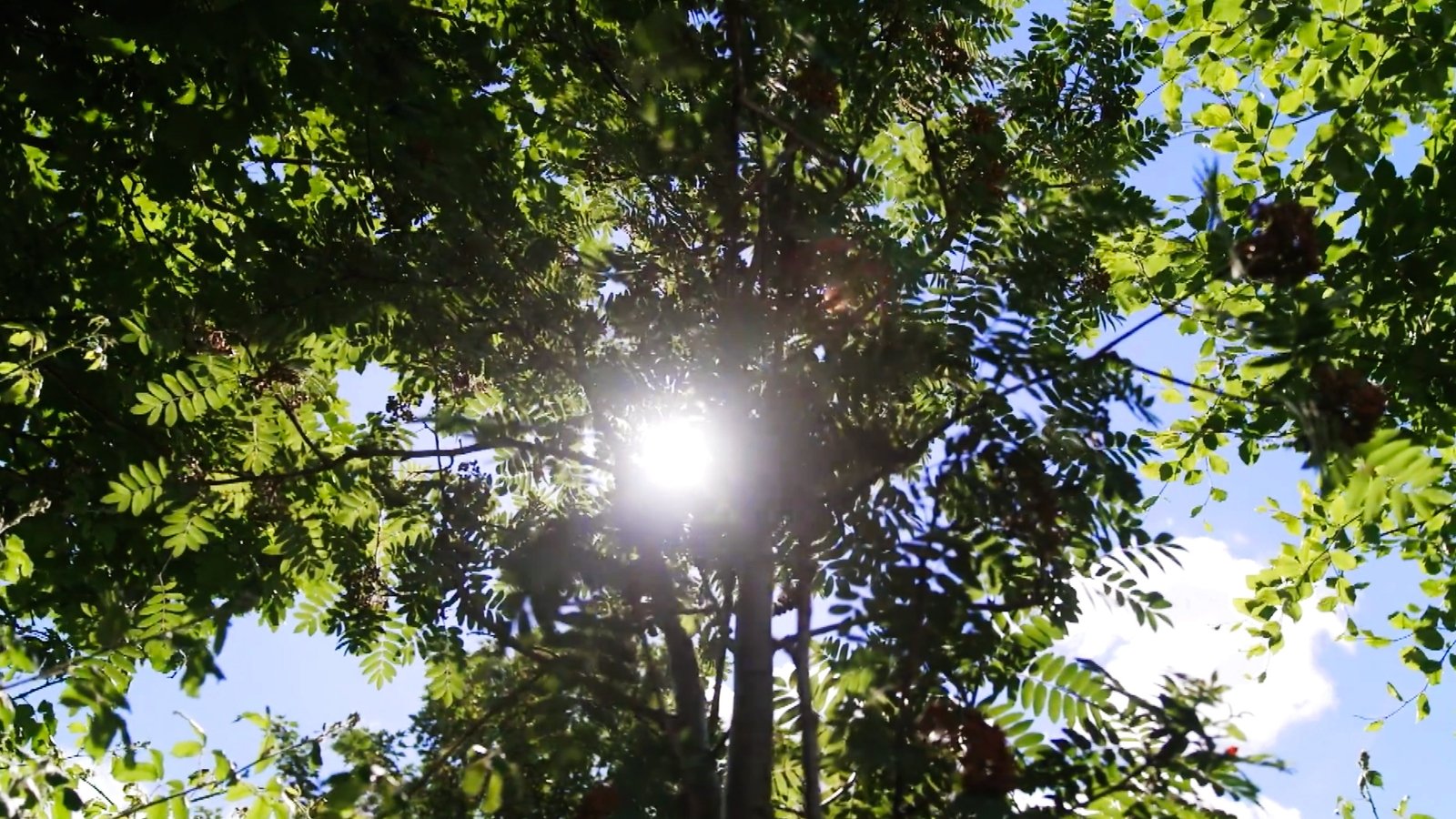 With heroin, you will overdose and pass out, like with alcohol.
But there is no natural stopping point with crack: you could literally smoke pipe after pipe for days, never sleeping. And people do. It's very addictive and very potent.
Take Aisling and Jason, two crack users I encountered in the crack den. Aisling and Jason are not their real names: to protect their identities, we are also using pseudonyms for them.
I could see that they had been smoking – their pipes, illuminated by the summer sun, billowed smoke.
"If we have money, we do it," said Jason. "If we get money during the week, we do it. Crack comes first. It takes over. You can't get enough of it."
Aisling wanted to do another pipe, so Jason lined up the tiny white crumbs of crack cocaine and carefully placed them on the pipe, before lighting it.
She inhaled deeply, holding it in, before exhaling.
"I feel like I'm floating. My heart is racing. I don't have a care in the world," she said.
"All my problems and my worries are just gone."

Aisling and Jason then took out a sheet of tinfoil and smoked another few lines of heroin.
The heroin took away the noticeable shakes that the crack had caused.
Sitting on a supermarket trolley, the pair told me about where crack had led them.
"It's crazy how much it takes over. With heroin, it's a physical sickness: you will go out to rob, but you don't have the energy. You'll do anything to get your next rock – you'll lower yourself, do things you'd never do," said Jason.
"Your morals go out the window, and when it wears off, the depression hits".
This is the reality of being addicted to crack.
The surge in crack in the area led the local Drugs Task Force to commission a report to, "tackle the underlying causes of addiction and crime and to tackle open drug dealing".
It's author, Ballymun resident and former Lord Mayor of Dublin Andrew Montague, concludes in the report, entitled "Ballymun — a Brighter Future", that "open drug dealing is happening on a scale that is seen in very few other communities".

It is a pointed reference to the policing of the drugs industry in Ballymun, and the report constantly points to an under-resourced drugs unit in the area.
I met Mr Montague in Coultry Park, a beautifully planned park built as part of the €800m regeneration of the area.
The former politican pulls no punches when he speaks about what is happening.
"I think that the level of open drug dealing we have here just would not be tolerated in other communities – in more advantaged communities in this country."
Mr Montague is very open about his theory about why Ballymun has seen such a surge in crack cocaine use.
"Unfortunately," he told RTÉ Investigates, "we were one of the areas most badly hit by the heroin epidemic in the 1980s and the 1990s."
"I think they're a very vulnerable population – and we have more people here in this community who are on some form of opiates, whether that's methadone or heroin than any other community in Ireland," he said.
"So for the drug dealers, they kind of had a target audience. And they went after them and they managed to get a lot of them hooked onto crack cocaine."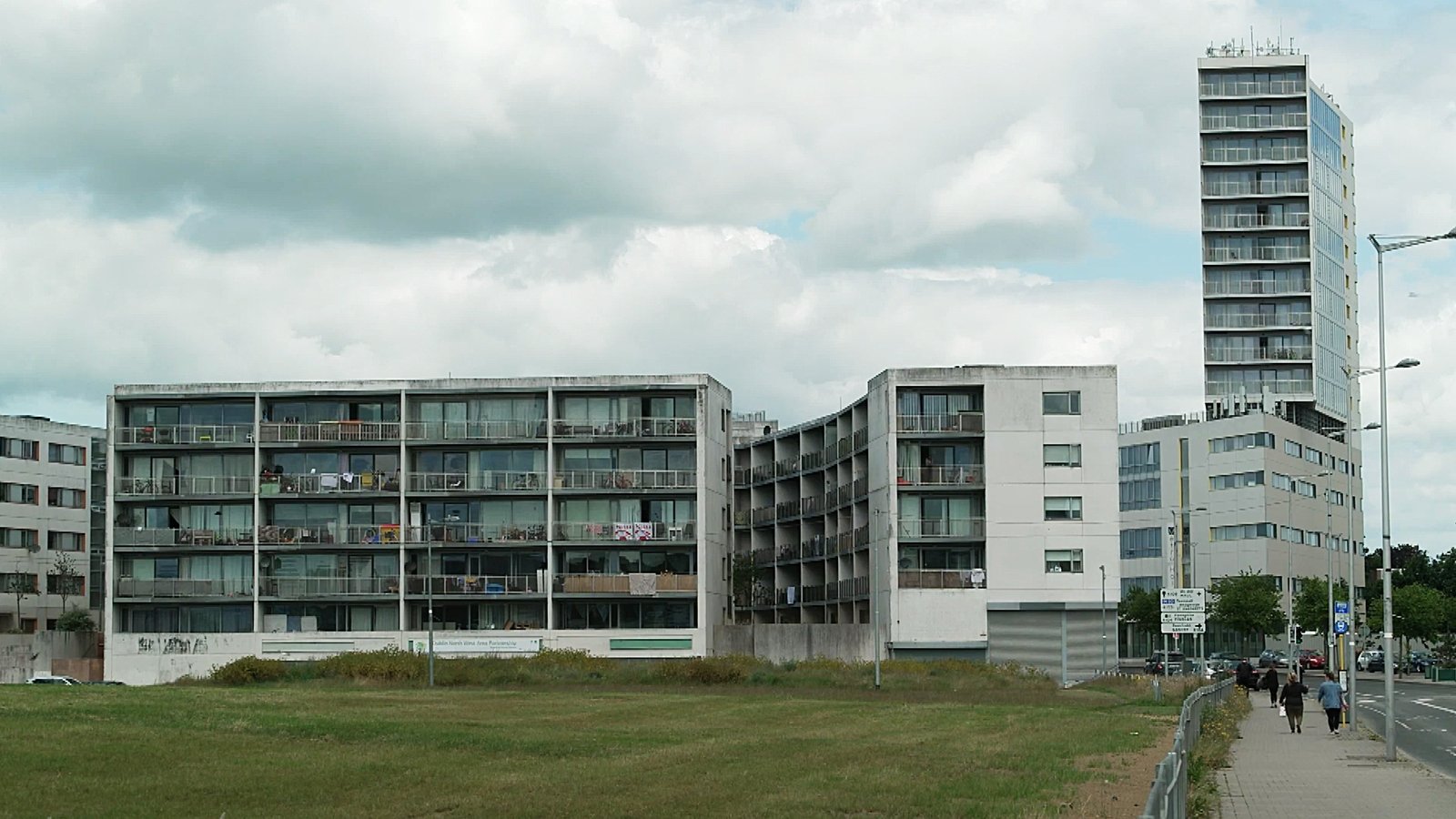 Locals talk about being afraid of the gangs that are openly selling drugs in the area, in parks, outside shops – even in residential areas like Dolmen Court, where people from all walks of life strolled in to buy drugs.
There were mothers with their children, men in high-viz jackets, and one man wearing a shirt and tie. Ballymun doesn't only have a drug addiction issue with people living there – it has also become a destination for people to come and buy drugs.
It's striking to see normal life go on. Children walk through the dealing area on their way home from school. Older people arrive home with their shopping, trying to avoid making eye contact with the dealers.
It is quite obviously a community living in fear. I met locals outside one of the churches in the parish on a weekday, asking people about the open dealing. One woman said she'd love to speak to us, but is afraid her windows would be put in if anyone recognised her.
But few people, not even Mr Montague, think policing alone will solve the problem.
But he thinks gardaí need to be more visible – and need to stamp out the brazen open dealing.
Ms Brady, who took part in undercover drugs operations, knows the territory better than most people.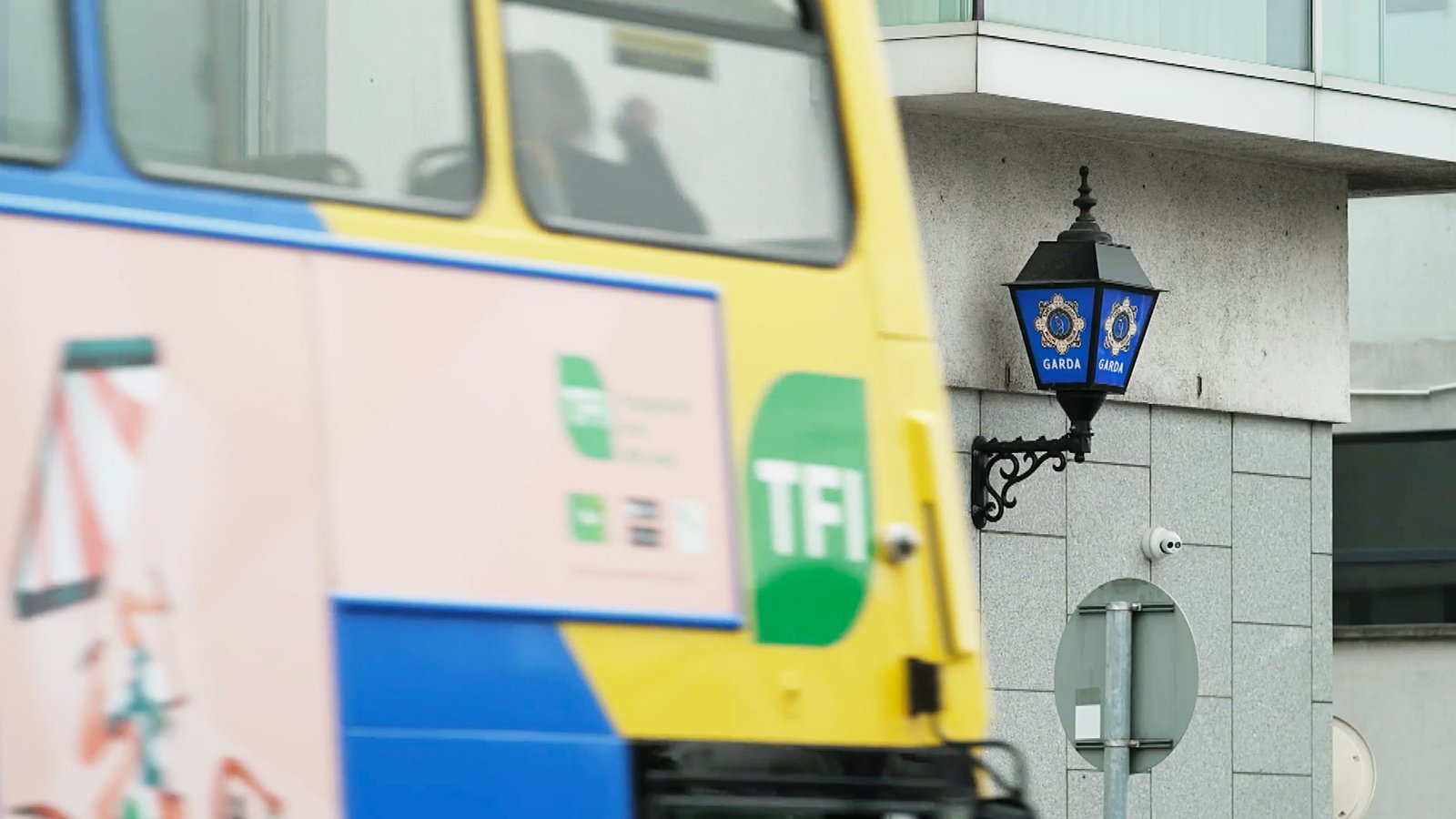 Gardaí could destroy one gang, she said. But another will quickly spawn in its wake.
Instead, the underlying issues of deprivation – the same ones that caused the heroin epidemic in the 1980s – need to be addressed, she told RTÉ Investigates.
"If the previous epidemics are anything to teach us," she said, "it is that this is not going to go away fast – unless we actually get to the root cause of this, and, unless we decide today that enough is enough."
Lydia told me that, even if she wanted to get clean, she doesn't think she could. The drug is being pushed too strongly by the dealers on the street corners of Ballymun.
"The crack is a disgrace," she said, with a straight face and total conviction.
Moments later, begging outside the same shop where I first met her, she counted her takings and rubbed her hands together, concluding she almost had enough to buy her next hit.
"Only €3 to go," she said. "Won't be long now!"

Watch RTÉ Investigates: Crack and the Community tonight on RTÉ Player.