Prof Eamonn de Valera Jr, the son of former President Eamon de Valera, repeatedly facilitated the illegal adoption of babies long after the introduction of the 1952 Adoption Act, which made the practice a criminal offence, RTÉ Investigates has learned.
While the involvement of Prof de Valera Jr in illegal adoptions has previously been disclosed, new evidence uncovered by RTÉ Investigates demonstrates the extent to which some of the country's most elite and powerful individuals acted in contravention of the law.
Over the course of several decades, the high-profile consultant gynaecologist at the National Maternity Hospital on Dublin's Holles Street arranged for the children of unmarried mothers to be adopted by couples, usually those who could not themselves conceive children.
In one case uncovered by RTÉ Investigates during a six month-long investigation of the practice, Prof de Valera Jr facilitated the adoption of four children by the one family over the space of five-and-a-half years.
Brenda Lynch, 62, was one of those children. For more than six decades, Ms Lynch believed she was the biological daughter of a middle-class couple from north Dublin.
---
Read more:
Who am I? The story of Ireland's illegal adoptions
---
She discovered in January 2020 that she had been illegally adopted and later learned that Prof De Valera Jr had facilitated her adoption.
Ms Lynch was born in St Brendan's in Percy Place, a private Dublin nursing home. There, she was taken away from her birth mother and handed over to her adoptive mother, who had feigned pregnancy.
Despite the introduction of the 1952 Adoption Act some six years prior to her birth, there was no record of Ms Lynch's adoption and no documentary evidence of her birth mother's consent.
She was handed over to her adoptive parents as a newborn baby. Like many others, her birth was illegally registered on her birth certificate as if she was the natural child of her adoptive parents.
"I have nothing. I don't even know when I was born," Ms Lynch told RTÉ Investigates. 
In another instance, RTÉ Investigates uncovered evidence that Prof de Valera Jr arranged antenatal appointments for a woman who was not actually pregnant, to further the impression that her illegally adopted baby was actually her biological child.
Years later, Prof De Valera Jr wrote a letter regarding the placement of another baby in the late 1960s in which he said "given his illegitimate background we felt it best the child was placed with a good family".
Though Prof de Valera Jr was the son of one of Ireland's most dominant political figures, he was just one of several powerful individuals involved in facilitating illegal adoptions.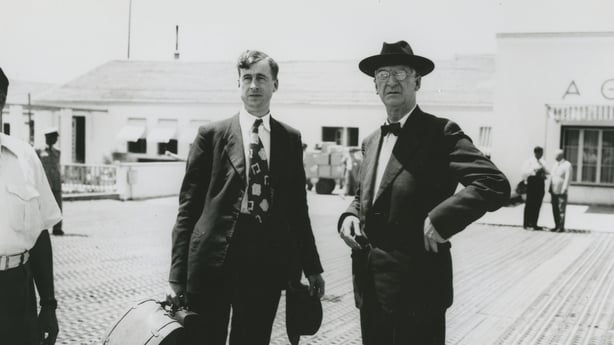 For decades, thousands of other Irish babies born to unmarried women were illegally adopted. 
Many of their birth certificates had been falsified to suggest that their adoptive parents were their biological parents. 
As a result, they have been denied their true identities.
Registering a child as the child through birth of someone who is not that child's mother is a criminal offence under the law that has applied regulating births and registrations in Ireland since 1880.
But with no legal oversight, a practice of ad-hoc arrangements allowed large numbers of illegal adoptions to freely occur in Ireland. 
That was supposed to change with the 1952 Adoption Act, which introduced strict requirements around the informed consent of the mother.
The new law enshrined a mother's right to change her mind at any time before her baby turned six months old.
The act also required that adoptions only take place via registered adoption societies. Any person operating outside that process was "guilty of an offence" and could face imprisonment or a fine.
However, in reality, it did little to change or regulate Ireland's adoption system. 
The then-government even sent the draft bill to the then-Archbishop of Dublin, John Charles McQuaid, for his approval before it was enacted.
Watch the RTÉ Investigates documentary Who Am I: Ireland's Illegal Adoptions on RTÉ Player.