The Medical Director at one of the country's biggest hospitals has warned it could lose up to a quarter of its acute bed capacity as a result of Covid-19.
Dr Barry O'Connell at St James's Hospital in Dublin told RTÉ the need to operate safe social distancing measures could see the hospital lose up to 200 beds.
Dr O'Connell said: "We're trying to get back to normal business which is a normal hospital. Covid on top of that means our normal business cannot be how it was. It has to be more spread out, a lower concentration of people.
"We have six bedded ward bays, we probably have to change that and change it pretty promptly to fewer people in each ward, maybe try and change to all single rooms.
"If we do that we will lose somewhere between 100 to 200 beds from a hospital which essentially has 850 acute beds. That's a huge loss."
Dr O'Connell, a consultant in respiratory medicine at St James's, further warned that resurgence in Covid-19 cases could put even more pressure on bed capacity.
"We don't have much here that we can just turn off ... if we had a bad flu season, a bad surge in winter with Covid on top of that, if we did have a significant second wave of Covid, that could be difficult," he said.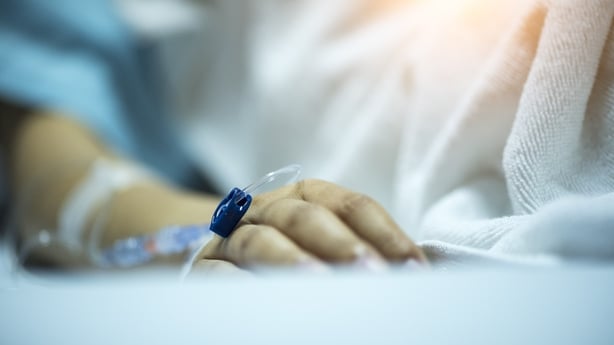 According to staff, the changes required at St James's will have an impact on the delivery of healthcare right throughout the hospital, including the emergency department.
Consultant in Emergency Medicine, Dr Una Kennedy, said: "There were days last winter where at moments we had up to 100 patients in the department.
"Now we physically can't take more than 45 patients here safely and so patients will end up having to queue in the emergency department but can we queue them safely? We could not queue them safely last winter."
Hospital management admit social distancing measures are also likely to further affect waiting times.
Deputy CEO of St James's Hospital, Anne Dalton, said: "We've struggled with waiting lists and waiting times even before Covid, so I do anticipate that there's going to be a lot of pressure on the system ... they're [waiting lists] going to get longer, I think that's quite obvious."
The comments feature as part of the final documentary in a series by RTÉ Investigates looking at life on the frontline as the country battles Covid-19.
The programme, 'Covid - Future Health Care', examines how normal hospital life, already overburdened by crowding and waiting lists, can exist alongside the coronavirus.
Covid-19 is leading to dramatic change in the delivery of healthcare here and inevitably there are consequences arising from those changes. From the provision of cancer care and how outpatient appointments are delivered, to how patient flow and attendances are managed in future.
Amid all the pain, suffering and deaths as a result of the virus, there have been significant beneficial changes in how healthcare is delivered in Ireland. Changes that would not have happened so quickly, had it not been for Covid-19.
But the big question remains - will we continue to see change for the better in the delivery of healthcare, or will we simply slip back to where we were pre-Covid-19?