There are 63 District Court judges working across 24 areas around Ireland. Last year each judge dealt with an average of almost 5,000 criminal offences.
To get a picture of how the system operates we visited all 24 court districts observing the cases of 6,500 defendants at 100 court sittings.
On three of those days over 150 defendants were due to appear in court at a single sitting.
---
Charges Struck Out
Perhaps the most controversial sentencing option is judges' use of the court poor box, which is most commonly used for public order and minor drugs possession cases. Once payment is made the judge usually strikes out all charges against the defendant which means that no criminal conviction is recorded.
More than one quarter of the €1.5m paid to charities from Irish courts in 2016 came from the pockets of defendants in Kerry courts. At the other end of the spectrum are court districts such as Mayo, Cavan/Monaghan and Roscommon where the poor box is used infrequently.
The figures in this graphic don't capture all court-ordered donations to charity because the Courts Service only counts money that it processes via its offices. If a defendant pays the charity directly and brings a receipt to court it isn't counted in the figures, according to the Courts Service.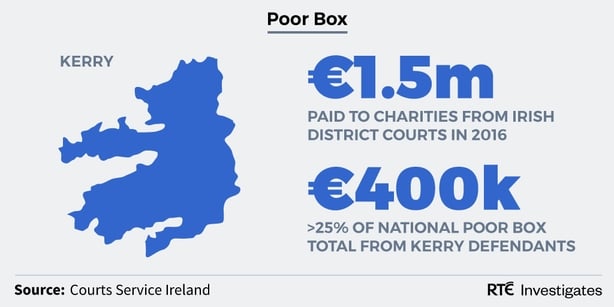 ---
Total Poor Box Payments by District Court
District Court OfficeAmount
ATHLONE
37,000.00
BALLINA
1,245.00
BALLINASLOE
6,320.00
BLANCHARDSTOWN DMD
19,604.28
BRAY
47,350.00
CARLOW
3,200.00
CARRICK ON SHANNON
2,564.22
CASTLEBAR
8,685.00
CAVAN
450.00
CHILDRENS COURT DMD
250.00
CIVIL OFFICE DUBLIN
11,650.00
CLONAKILTY
22,500.00
CLONMEL
71,500.00
CLOVERHILL
100.00
CORK
106,815.00
CRIMINAL COURTS OF JUSTICE
165,982.87
DONEGAL
11,043.92
DUN LAOGHAIRE
32,590.00
DUNDALK
13,770.00
ENNIS
58,577.17
GALWAY
27,100.00
KILKENNY
25,050.00
LETTERKENNY
550.00
LIMERICK
60,104.92
LONGFORD
43,550.00
MALLOW
11,650.00
MONAGHAN
3,071.69
MULLINGAR
60,470.00
NAAS
11,950.00
NENAGH & THURLES
3,140.00
PORTLAOISE
45,415.00
ROSCOMMON
200.00
SLIGO
5,395.46
SUMMONS OFFICE DMD
93,875.00
SWORDS
36,655.00
TALLAGHT DMD
38,135.00
TRALEE
394,080.00
TRIM
2,400.00
TULLAMORE
7,840.00
WATERFORD
29,380.00
WEXFORD
2,900.00
YOUGHAL
9,900.00
GRAND TOTAL
1,534,009.53