The birth mother of 'Grace', a young woman left in a foster home in the southeast for almost 20 years despite a succession of sexual abuse allegations, has said that she was repeatedly led to believe her daughter was living with a loving foster family.
She was speaking to RTÉ Investigates in an exclusive interview, to be broadcast on Claire Byrne Live tonight.
In her first interview, Grace's mother speaks about placing her baby into care as a young, single mother in the late 1970s. 
Over the intervening years she says she stayed in contact with the then South Eastern Health Board (and later the Health Service Executive) and regularly checked on Grace's welfare.
She maintains she was repeatedly led to believe that Grace was living with a loving foster family, in a caring foster home and she therefore had no cause for concern until she first learned of the sexual abuse allegations in 2009.
At that point she immediately demanded the removal of 'Grace' from the foster home.
In the interview, Grace's mother called on Minister for Disabilities Finian McGrath to ensure the upcoming commission of investigation, for which the terms of reference will be brought before Cabinet this week, provides the answers to the many questions she has been asking for the past number of years.
Grace's mother has rejected a written apology from the HSE saying she feels it was half hearted and that no one from the HSE has ever spoken with her personally to ask how she is coping or to apologise for what happened to her daughter over a prolonged period of time.
She described the events of the past number of years as "a living hell" that she is still enduring.
RTÉ Investigates has also spoken to Sinead Carroll, a solicitor who was contacted by a significant number of former service users or their families.
Ms Carroll said the families were devastated to learn of allegations surrounding the foster home, adding that the publication last week of the Conal Devine and Resilience Ireland reports has still left them with many unanswered questions.
Ms Carroll has called for a change in legislation, saying that the only way to ensure there is truth in the future is to introduce a law to make it compulsory to adequately investigate complaints and notify affected family members in an open and timely manner.
She argues that failure to do so by staff should become a criminal offence.
In a statement to RTÉ Investigates, the HSE said it wishes again to offer "an unreserved and heartfelt apology to all those who experienced serious failings in the care provided" at the foster home and for "the significant failures of the former South Eastern Health Board and the HSE to make the care situation safe."
The HSE says this apology was, and is, offered with the greatest of sincerity.
In relation to allegations that Grace's mother was never told about the sexual abuse allegations when they first arose, the HSE said "this is a matter best dealt with by the commission of inquiry."
The RTÉ Investigates report will be broadcast on Claire Byrne Live, RTÉ One tonight at 10.35pm.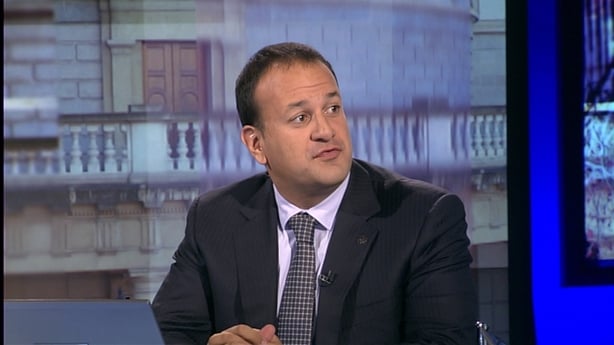 Minister for Social Protection Leo Varadkar has said he finds it hard to comprehend why Grace's birth mother was not informed of allegations that existed. 
Speaking to RTÉ's Morning Ireland, Mr Varadkar said the most important thing is the fact that Grace is now being well cared for. 
He said the Conal Devine Report of 2012 and Resilience Ireland Report of 2015 leave a lot of unanswered questions which is why it is important that the Government goes ahead with the Commission of Investigation.
Meanwhile, the Public Accounts Committee Chairman has said he wants the Commission of Investigation into the Grace case to "have teeth" and that legal change would have to come about, regardless of the outcome of the Commission.
Sean Fleming said the terms of reference for the Commission of Investigation must deal specifically with the current position of staff who were all involved in the case and, more importantly, the issue of appointment and promotion of personnel in Tusla and the HSE.
Also speaking on RTÉ's Morning Ireland, Mr Fleming said that if medical personnel are negligent, they get sued and the same must apply to non-medical personnel.
Mr Fleming said that unless a point is reached whereby people who are guilty of negligence in performance of their duties are held accountable, cases such as Grace's will continue.
"To me, there's a fundamental systemic weakness in relation to the recruitment and promotion system within all public service organisations - if this is the case. We can have people who are guilty of possible reckless endangerment and who can get promoted, if it's not recorded on their file," said Mr Fleming.
Mr Fleming said he does not accept what the HSE has said in relation to the Grace case.
He said he accepts the HSE's Head of Disability Operations Social Care statement that there was not a conspiracy but Mr Fleming believes there was gross negligence by the HSE in relation to the handling of the case.