By Conor Ryan (@conor_w_ryan) and Ken Foxe (@kenfoxe)
Councillor Hugh McElvaney is a four time mayor of Monaghan and a winner of nine successive council elections. He is one of the most experienced local politicians in Ireland. Up to recently he was a member of Fine Gael.
He was chairman of the Local Authority Members Association from 2009 to 2014 – this put him at the helm of the representative body for councillors that each year rewards best practice in the sector.  He still sits on its board.
Like every politician – both local and national – in Ireland, Mr McElvaney must make a declaration of his business interests every single year by listing each property he owns and any commercial businesses with which he is involved.
When completing his declaration for 2014, in the section for his property interests, Mr McElvaney drew a line across the box to indicate that there were none. In the section for his business interests, he failed to disclose a consultancy firm.
In fact, he had a large undeclared property portfolio. Just days earlier he lodged an application seeking planning permission for development at two of the sites he owned.
Mr McElvaney was not alone, he was one of a considerable number of politicians who failed to declare properties or commercial activities this year.
Ethical Standards
There are 949 councillors, 166 TDs, 60 senators and 11 MEPs. There are three key pillars in place to ensure our politicians adhere to ethical standards;
First, at the start of each year politicians must list all of their interests.
Second, there are rules for what they must do if a potential conflict of interest arises while they are performing their role as an elected representative.
The third and most important pillar is the law making it very clear that they cannot seek any private benefit for their public work.
The declaration of interests, which have to be made by all elected to public office, are designed to ensure transparency and so that politicians are not seen to be motivated by private interests they have in property or commercial activity.
RTÉ cross-checked the declarations of every politician in the country against property titles and company registration records.
From that, discrepancies emerged with houses, apartments, development land and company directorships all omitted from the declarations.
Dozens of politicians had failed to include the fact they were directors of companies or owned properties, including members of the Oireachtas.
At council level, the under-declaration was manifest with commercial interests and properties regularly going undeclared in annual declarations.
Based on the evidence gathered, RTÉ decided to see if those politicians, who had failed to meet their declarations of interest requirements, were also willing to take short cuts when it came to their work as elected officials.
Councillor Hugh McElvaney
Cllr Hugh McElvaney failed to declare a farm, houses, and commercial property on February 12 this year.
Yet, just a day before, Mr McElvaney had submitted two separate planning applications to the local authority on which he sat, looking for permission to develop a house in one of the locations and a storage facility at another.
In addition, the councillor was a director of a consultancy company, which he had never mentioned on his declaration.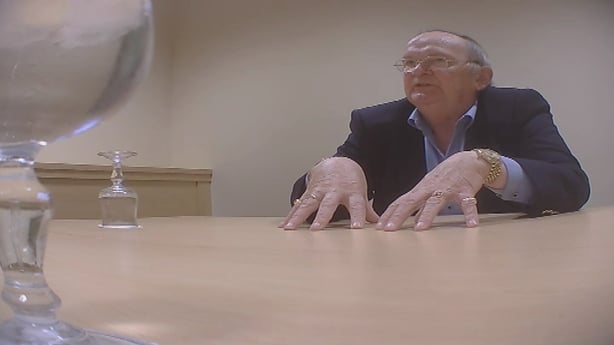 Mr McElvaney has extensive business interests, including waste management firms that operate rubbish collection on behalf of a number of local authorities worth more than €16 million a year.
To try and understand how far a councillor might be willing to go, the RTÉ Investigations Unit set up a fictitious company called Vinst Opportunities.
The imaginary investors of Vinst Opportunities were looking to develop wind farms in Ireland and on that basis, councillors – identified as having failed to declare significant interests – were contacted to see if they were willing to provide assistance in avoiding difficulties in securing planning permission for a development.
When Mr McElvaney was contacted by an undercover reporter posing as a representative of the fictitious company seeking assistance, he made clear that if there were boundaries – he was willing to break them.
"Are you going to pay me by the hour or the job?" he said.
The undercover reporter said that representatives of Vinst Opportunities would be coming to Ireland within the next fortnight and could meet him.
"And you will have plenty of sterling with you?" said Councillor McElvaney. "You need to sweeten the man up. You know what I mean."
Asked specifically how much he was looking for, the politician said: "Ten grand would be a start."
Mr McElvaney agreed to meet the company and explained how he would smooth the way to getting planning permission for the mooted wind farm development.
He said: "I am the conduit between your investment company and the county council. And I am also the conduit between you and the people where you intend building."
Cllr McElvaney was clear in his intentions.
"The more that's in the bag, the keener I will be," he said. "Don't tell anybody else our terms and conditions."
Councillor Joe Queenan
Fianna Fáil Councillor Joe Queenan, who is based in Sligo, also offered to act as an intermediary on behalf of the fictitious company.
"Really what I can be is a link man or a gopher or whatever between your architects and the local authority," he said. "And I will be your eyes and ears because I will know, because they will tell me.
"We have a good working relationship and if there is amendments to be done or anything more … I will go in and talk to planners and see and encourage and impress on them."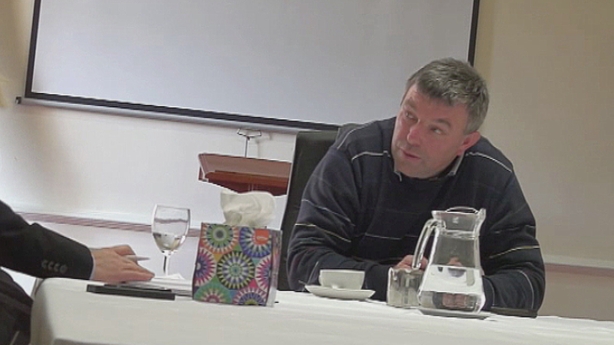 Mr Queenan said he was "not looking for anything out of it". However, he did say he would be interested in receiving support for a commercial project in which he was involved.
The Fianna Fáil councillor had also been anything but thorough in his declaration of interests, omitting a farm, and businesses. He also recently applied for planning permission for a commercial storage facility, which he had not declared.
He told the undercover reporter that he was currently planning an agri-feed business based in Enniscrone, Co Sligo but that he needed additional land to develop it.
Cllr Queenan said he wanted Vinst Opportunities to come on board as an investor to help him buy a property in the town so that he could proceed with his business plans.
"It makes good sense, business sense," he said. "I would have all the figures and all for you. It would mean an investment of max, say, €200,000, right."
During his conversation with the undercover reporter, Cllr Queenan had also said that the business proposal to Vinst Opportunities had been "off the top of his head".
As a result, the RTÉ Investigations Unit believed it appropriate to give him a chance to think again on the improper proposal.
The undercover reporter went back and asked Mr Queenan if the €200,000 would be as a loan or an investment in the actual company. Rather than withdraw the proposal, he said it could be either and it would be "above board" and he would do "it for the benefit of Sligo".
He said: "I hope everything we say is not being taped or totally confident … I trust you in this now that we are not … that I am not being taped in any way? I hope you are being as frank and honest with me as I am with you."
Councillor John O'Donnell
A third politician, Independent Councillor John O'Donnell in Donegal, also said he would be willing to work with Vinst Opportunities to assist with their plans in developing a wind farm.
The 34-year-old did not hesitate when asked to meet with the company.
"I am a developer myself," he said. "I am a business man. I am not a negative person. I like to see things going forward, progress, like … and eh … there's some members of Donegal County Council who would be the completely opposite."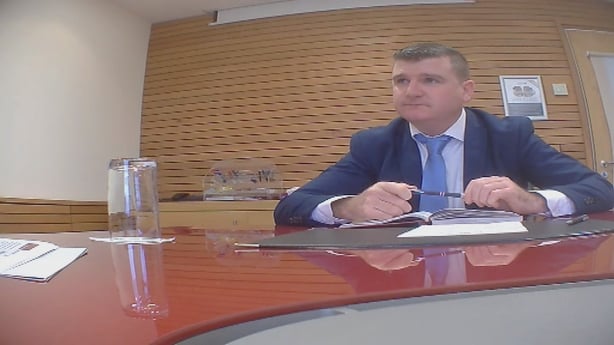 Mr O'Donnell's declarations of interest have also not been entirely upfront. Separately on five occasions in the past four years, his companies have appeared on the Revenue's tax defaulter lists for under-declaring income and using unmarked diesel.
During a meeting with the undercover reporter, Cllr O'Donnell offered to source a wind farm development that was in progress or a landowner with suitable property for development.
He said he would be able to help lobby councillors to support wind farm development, despite the fact it is extremely controversial in many rural areas.
He said: "I have done it before on other stuff … within the council, I would have probably – there's 37 [councillors] there, I would certainly have 25 to 30 that are always nearly with me … you know what I mean.
"Because they know I am a populist, like I use common sense … I am a realist … you know what I mean? Anything that I would be bringing forward normally, it stacks up."
Asked by the undercover reporter what Vinst Opportunities would need to do to secure his support, Cllr O'Donnell said he would put them in contact with a middle-man.
"You'd be paying him, you see I don't want to be seen to be …" he said, "I'll get paid through him."
Asked specifically why this arrangement was required, he said: "Does that make sense … because for me I can't be seen to be involved with Vinst Opportunities directly … I will be working, I will be working for them tirelessly at the coal face within the council. But I will have no connection with them. It will be through … it will be through a [middle-man – name withheld] that we will have somebody doing the consultancy work for them."
Mr O'Donnell said it had to be this way, "because for me politically there would be a backlash. You know the way people are … so many begrudgers out there, it's not even funny."
RTÉ Investigates - Standards in Public Office, tonight on RTÉ One at 9:35pm
We need your consent to load this rte-player contentWe use rte-player to manage extra content that can set cookies on your device and collect data about your activity. Please review their details and accept them to load the content.Manage Preferences