The counting of votes in the Local Elections is complete, with all 949 seats filled.
The final seats were filled for Longford County Council.
The national voter turnout was 50.2%, and Fianna Fáil received the highest number of first preference votes with 26.9%.
Fine Gael got 25.3% of first preference votes, however it emerged as the biggest party in the Dublin area following counts in the four local authority areas.
Independent candidates got 19.6% of first preference votes.
The percentage of first preference votes for other political parties were as follows: Sinn Féin, 9.5%; Labour Party, 5.7%; Green Party, 5.5%; Social Democrats, 2.3%; Solidarity-People Before Profit, 1.9%; Independents4Change 0.5% and Others, 2.8%.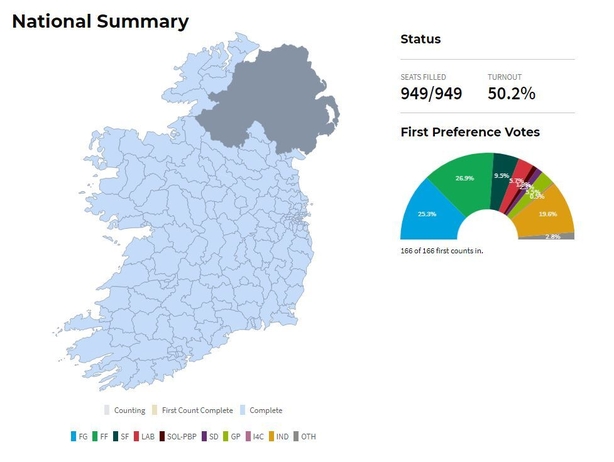 Compared to the last Local Election in 2014, the party which lost the most votes was Sinn Féin – a 5.8% drop. The Labour Party received 1.4% less votes this election and Solidarity-People Before Profit also saw a drop of 1.1%.
The Green Party made the biggest gain this election with a 3.9% increase in votes compared to 2014, while Social Democrats also received a 2.3% rise.
Fianna Fáil saw an increase of 1.6% in votes, while Fine Gael saw a 1.3% rise.
---