One of the two Fianna Fáil candidates for the European constituency of Midlands-North-West, Anne Rabbitte, has said she is "disappointed" with a significant change to the party's campaign strategy just a week before polling day.
Fianna Fáil's National Director of Elections Lisa Chambers said under the new plan, both Deputy Rabbitte and the other candidate Brendan Smith would be able to campaign across the constituency rather than being restricted by designated geographical areas.
Deputy Rabbitte said: "I am disappointed with this change in strategy", adding there had been "no engagement" between her and party headquarters on the logic of the change.
She said: "If there was deemed to have been a problem, the strategy should have been changed two weeks ago."
A directive from Fianna Fáil headquarters had dictated that roughly one-third of the constituency was given solely to Deputy Rabbitte, another third solely to Deputy Smith, with the remaining area open to both candidates to campaign in.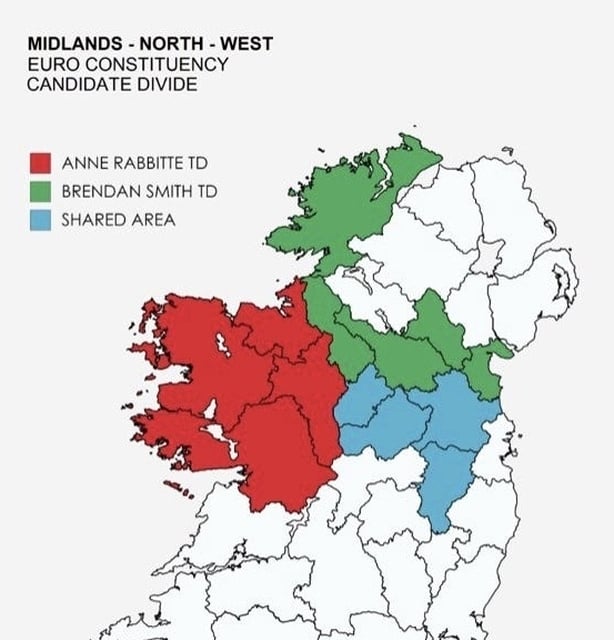 Under the new plan, the only areas deemed out-of-bounds for Mr Smith is Ms Rabbitte's heartland of Galway East and Galway West, and the only areas deemed out-of-bounds for Ms Rabbitte is Mr Smith's constituency of Cavan-Monaghan.
---
Read: EU Elections 2019 coverage
---
The change appears to have been prompted, in part, by an Irish Times poll which suggested Mr Smith and Ms Rabbitte were lying in sixth and seventh place respectively, in a constituency with only four seats.
The poor showing by Fianna Fáil, albeit in a survey with a much higher margin of error than national polls, has also encouraged Fine Gael to re-allocate territory - but this time with the agreement of their two candidates.
Fine Gael's director of elections, Regina Doherty, confirmed that two counties - Longford and Westmeath - are going to be taken from their high-profile MEP Máiread McGuinness and given to their new candidate, Maria Walsh, who came fourth in the Irish Times poll.
Several Fianna Fáil deputies have told RTÉ that the poll sparked concern within the party that there could be a repeat in 2019 of the 2014 European election campaign, when a two-candidate strategy failed to secure a seat.
Deputy Chambers said she had directed that the change in campaign policy take place and the candidates had agreed.
However before that announcement, sources close to Deputy Smith had confirmed to RTÉ News that the former Minister for Agriculture was set to infringe the party's directive by taking out adverts in local media in Sligo - supposedly under the control of his running-mate.
In response to that move, Deputy Rabbitte told RTÉ she was issuing "a tribal call" for the people of the west of Ireland to back her:
"Galway needs an MEP. The west needs an MEP. I believe we can do it."
The full list of candidates in the Midlands North East constituency is as follows:
Reporting: Paul Cunningham, Conor McMorrow