This week, 15 years ago, ten new countries joined the European Union in a so-called "big bang" of enlargement.
Among them were many countries in eastern Europe including Poland, the Czech Republic, Hungary, Estonia, Lithuania, Latvia and Slovakia.
On 1 May Poland hosted a high level summit called "Together for Europe", but there are many issues that are threatening to leave Europe more divided than ever.
Here is a look at some of the issues that have been playing out in countries in eastern Europe.
---
Hungary
Hungary will be one of the most closely watched countries in this election, not least due to the ongoing row between Prime Minister Viktor Orbán and the European People's Party (EPP).
His Fidesz party was suspended from the EPP in March over its record on rule of law, freedom of the press and minority rights.
Mr Orbán, who has been invited for talks later this month with US President Donald Trump, has increasingly been equating the EU with the corrupt elite and a "Brussels bubble".
This culminated in an anti-Brussels media campaign featuring billboard posters of European Commission President Jean Claude Juncker which accused him of plotting with billionaire philanthropist George Soros, the Hungarian born founder of Central Eurpean University.
Mr Orbán warned the EU wanted to bring large numbers of Muslim migrants into Hungary, threatening what he called Europe's Christian culture.
The European Commission has dismissed these claims as "a ludicrous conspiracy theory".
And Jean Claude Juncker has said Fidesz no longer belongs in his centre-right EPP group.
But in an interview with La Stampa newspaper, published on Wednesday, Victor Orbán said the EPP, which is currently the largest part in the Parliament, had to learn to drop its aversion to the far right.
Italy's Deputy Prime Minister Matteo Salvini is trying to form a coalition of the nationalist and far-right forces.
The pair met in Budapest yesterday with Mr Orbán afterwards describing Mr Salvini as "the most important politician in Europe."
Why does this row matter?
The European People's Party is expected to win the biggest share of seats in these European elections, but fall short of a majority, meaning it will have to form partnerships with other groups in order to control the chamber and shape the future of the EU.
Its leader Manfred Weber has described nationalists as the party's enemies and clearly favours hooking up with pro-European Socialists rather than eurosceptics.
But according to the European Parliament's Public Opinion Monitoring Unit, Viktor Orbán is expected to return 13 seats- which would be a significant number for the EPP to lose.
Budapest-based journalist Daniel Nolan says "I think Orban's main hope is to stay inside the European People's Party - the European parliament bloc that his party has belonged to for about 15 years now."
Mr Nolan says: "He's stayed in place up until now because they need his votes. I think they're the third biggest party in the EPP bloc - whether that's the case- who knows at the end of the month.
"Maybe the European People's Party will need his votes more than ever."
Instead Mr Nolan believes making relations with Mr Salvini could be a "Plan B" for Viktor Orbán who could be awaiting the outcome of these elections before deciding where to place his allegiance.
The role of the media
The opposition in Hungary is struggling against big media support for Mr Orbán and the age-old political issue of apathy.
The ruling party is off to a storming head start with new billboards on the streets (some replacing the Juncker ones) advertising new government subsidies for families and declaring "Let's support Viktor Orbán's program, let's stop migration.'
Daniel Nolan says: "In the first quarter of this year, Fidesz which is Orbán's party, spent €30m on what they call an information campaign about Europe but what is de-facto a European Parliament election campaign."
How many MEPs and who is likely to win?
Candidates from 25 parties are contesting 21 seats here.
Just 29% of the electorate turned out for the last European elections in Hungary.
Fidesz currently has 12 MEPs and could have 13 or 14 after these elections.
The largest opposition party, Jobbik, is expected to return three MEPs, according to the European Parliament's Public Opinion Monitoring Unit.
Momentum, which was set up two years ago and is running on a socially liberal programme with policies such as support for LGBT rights and women's right to choose an abortion.
It could win one seat or could struggle to beat the European parliament's 5% threshold for representation.
---
Poland
Poland with 38 million people is the most populous and biggest economy to have joined the EU in 2004.
Despite the euro-sceptic nature of the ruling law and justice party, there is a lot of positive sentiment around the EU in Poland, with opinion polls consistently showing support for the EU.
Jean-Claude Juncker said this week that he did not expect a Polexit to happen even if as expected the Law and Justice party does well - and the Law and Justice party has also denied opposition claims that it wants to take Poland out of the EU - but it has not stood in the way of smaller right wing parties forming, that are now more vocally expressing these views.
It is being given a run for its money by a new European Coalition.
In February five Polish parties led by the liberal-conservative Civic Platform (PO) managed to unite with the Polish Peasants' Party (PSL) and the Social Democrats (SLD), Greens and some other smaller parties to form a new bloc called the European Coalition.
Former Polish prime minister Donald Tusk and President of the European Council has called on his countrymen to support this coalition and oust the ruling nationalists.
Article 7 proceedings
The Law and Justice party has hit the headlines recently, accused of changing constitutional laws, interfering with the judiciary and controlling public media.
In December, the European Court of Justice ruled that Poland must immediately suspend a judicial law that imposed an early retirement age on its Supreme Court judges.
But the European Commission warned on Wednesday that the Article 7 procedures had not had the desired effect on Warsaw's behaviour.
The proceedings could theoretically lead to both Poland and Hungary losing their voting rights.
Jacek Kucharczyk, a Sociologist and President of the Institute of Public Affairs based in Warsaw says the Law and Justice party (PiS) had indulged in "strong EU-bashing" but has had to completely change its narrative in the run up to these elections.
"The conflict about Article 7 and the whole rule of law issue is a big embarrassment and a big problem for the current government because public opinion is very strongly pro-membership, pro-European and despite almost four years of EU-bashing, saying that the EU is meddling in Polish domestic affairs by intervening about judiciary reform- in spite of all this Government propaganda, the support for EU is at a record level."
Warning to Poland
At celebrations this week to mark Poland's 15 years of EU membership, European Vice President Jyrki Katainen warned: "The EU is not just a money machine, a cow that you can milk,".
He said more substantial contribution would be expected from Poland in the future.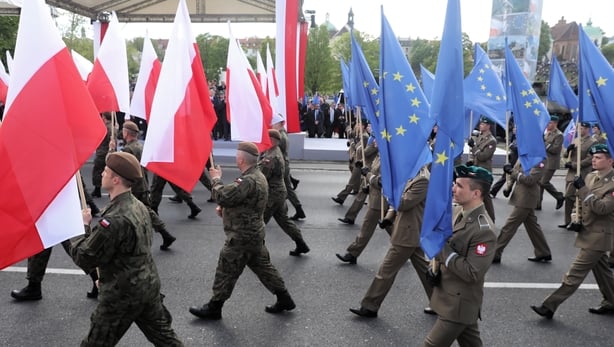 Jacek Kucharczyk says these remarks are a timely reminder that things are not as rosy as the government would seek to portray.
"The remark is very useful because the government is pretending that nothing bad is happening as regards Poland's status in the EU whereas this conflict and Article 7 are really serious challenges because the government has consistently been breaking the European values, so I think it's very good that we hear this voice at this stage when the government is trying to hide heads in the sand."
Poland has received over €100bn in EU funding.
Vice President Katainen said it was now a fiscally prudent country, which would benefit a lot from joining the eurozone- even though Law and Justice has said it should only adopt the common currency when its economy is a big as Germany's.
How many MEPs and who is likely to win?
Poland will elect 52 MEPs, ranking it fifth among EU states by number of MEPs.
The European Parliament's Public Opinion Monitoring Unit says the ruling Law and Justice party (PiS) is expected to return 23 MEPS.
Most of these seats would go to the Alliance of Conservatives and Reformist in Europe unless a new bigger Eurosceptic group is formed.
The European Coalition could win 21 and Wiosna (Spring) could win four.
Jacek Kucharczyk says it will be a closely fought campaign:
"I think the liberal, pro-European voice will be stronger in this election, even though technically it's possible that Law and Justice will come first, but even if they come first it won't be a big victory.
"It won't be anything compared to 2015 when they were a clear winner."
---
Romania
Romania joined the EU in 2007 and currently holds the rotating Presidency of the European Union.
It has a population of 20 million or 4.4% of all EU citizens.
Viorica Dancila, from the ruling Social Democratic PSD party is the country's first female prime minister.
There was a low turnout in last European Parliament election (just over 32%) but almost half Romanians believe their EU membership is a good thing.
The country has a growing economy but youth unemployment remains high.
Corruption remains a major issue for many Romanians - it stands on the edge of an EU sanctions procedure - similar to those issued in Hungary and Poland over concerns about interference in law and order in favour of its ruling elite.
Romania recently tried to obstruct the appointment of anti- corruption prosecutor Laura Codruta Kovesi to a new role as the EU's first chief prosecutor - investigating the abuse of EU funds.
Concern about immigration is low in Romania.
A recent European Council on Foreign Relations survey showed only 10% of Romanians were primarily concerned with this issue, compared to 55% who were concerned about emigration and Romanians leaving their home country.
How many MEPs and who is likely to win?
Romania will elect 33 MEPs.
The European Parliament's Public Opinion Monitoring Unit is predicting the National Liberal Party (PNL) which is to the right of centre could win nine seats the centre - left Social Democratic (PSD) party could be knocked into second place with eight MEPs (it is part of the Socialists and Democrats European group).
Its coalition partner ALDE is competing for the first time and could win four seats.
The anti-corruption Alliance 2020 USR + Plus could win 15% of the vote or six MEPs.
Pro-Romania a new centre-left alliance founded by Romania's former Prime Minister Victor Ponta could win four, with other seats going to a variety of smaller parties.
The Czech Republic or Czechia will return 21 MEPs
There is a lot of indifference towards the EU here, with 42% of people thinking the EU is neither a good thing or a bad thing.
Trust in the EU is also relatively low and there was a low turnout in the last elections at 18%.
A recent survey from the European Council of Foreign Relations showed concern about immigration here is high- with over 45% having concerns.
This is even bigger than in Hungary where only 20% of people thought immigration was their biggest concern.
The populist ANO party which leads a minority coalition government is expected to win up to eight seats here and close to a third of the vote.
It is using increasingly anti-immigration and Eurosceptic rhetoric and has rejected adopting the euro.
Giving it a run for its money is the "Pirates party" - a grassroots anti-establishment party popular among younger voters, particularly students.
It is expected to win four seats but has high hopes for more.
Another party to watch there is the SPD party which has never taken part in EU elections before.
It favours a Czexit from the EU and could form part of Matteo Salvini's Europe of Nations and Freedom (ENF) bloc.
But it is predicted to win just one seat.
---
Slovakia
Its president elect is a woman called Zuzana Caputova - a progressive anti-corruption lawyer.
The EU is hoping her victory is a sign that the populist tide is turning in the region.
Robert Biedron from Poland's Spring party has said her victory shows change is possible.
But the circumstances in Slovakia may be unique.
A turning point in its politics came in February last year when the murder of an investigative journalist Ján Kuciak and his fiancée led to popular outrage with tens of thousands of people taking to the streets of Bratislava.
These protests ultimately led to the resignation of then Prime Minister Robert Fico.
However polls show support for his ruling party Smer-SD has not shifted significantly.
The European Parliament's Public Opinion Monitoring Unit says Direction - Social Democracy (Smer-SD) is expected to win three seats.
Recent opinion polls have suggested up to 40% of voters could vote for one of the country's four Eurosceptic parties - Freedom and Solidarity, the People's Party, SME Rodina (We are Family) and the Slovak National party (SNS).
And Slovakia also has the lowest turnout in all of the EU - just 13% of the population voted in 2014.
---
Estonia
Estonia recently joined the growing number of countries to be hit by the growing wave of populism.
Last month, the liberal opposition Reform Party won parliamentary elections in Estonia, defeating the governing Centre Party.
However, the big surprise was the rise of the anti-EU Conservative People's Party (or EKRE).
Founded in 2012, it won 19 seats in the country's parliamentary elections.
It has now entered a three-way coalition government, taking five ministerial portfolios including economic affairs.
One of the party's leaders Martin Helme has called for a "white Estonia" and his party has also campaigned against immigration, same sex marriage and feminism.
It has also said it would join Matteo Salvini's a far-right Eurosceptic bloc, if it is successful in these elections.
It could win one seat and over 19% of the vote according to the European Parliament's Public Opinion Monitoring Unit.
But EU relations are important in Estonia, which was annexed and occupied by Russia during World War II.
Altogether it will send six MEPs to Europe with the larger Estonian Reform Party, expected to win almost a third of the vote and over 20% of the vote going to the Estonia Centre Party (KE) which is a member of the Alliance of Liberals and Democrats for Europe (ALDE).
Interestingly, hi-tech Estonians are leading the way when it comes to electronic voting, their citizens living abroad can vote online in these elections.
---
Lithuania
The country which was under Soviet rule until 1990, will elect 11 MEPs.
It will also hold presidential elections on 12 May, which means some of the focus is there, rather than on who will be sent to Europe.
Two sets of candidates are running in both the presidential elections and for Europe, whilst one candidate - Ausra Maldeikiene, withdrew her name from the presidency in order to run for Europe.
Here the Homeland Union- Lithuanian Christian Democrats (TS-LKD) - a centre right party is expected to win the most seats.
The Lithuanian Farmers and Green Union and the Social Democratic Party of Lithuania could take 2 seats each.
---
Latvia
Latvia will elect eight MEPs.
It is just seven months since the country held its general election with many seats going to newcomer parties which do not yet have clear European affiliations.
The country is currently governed by a five-party coalition and how the votes will stack up here is as yet unclear.
The centre-right Unity party (an EPP member) won half of the seats in the last European Parliament elections in 2014.
However its popularity has now fallen sharply.
In the 2018 general election it ran under the new name "New Unity" and received only 6.7% of the vote.
A new President of Latvia is due to be elected by its parliament in June this year, after the European elections.
Ongoing corruption scandals and the influence of neighbouring Russia are major issues here.
---
Bulgaria
Bulgaria joined the EU in 2007 and has been subjected to safeguard clauses in areas such as organised crime, corruption and judicial reform.
Recent protests have been held here over low salaries and poor working conditions.
Bulgaria has the lowest minimum wage in the EU and is the poorest country in the bloc.
It will elect 17 MEPS.
According to the European Parliament's Public Opinion Monitoring Unit, six seats are expected to go to the country's second largest conservative and populist party GERB who's initials translate as "coat of arms."
This party has largely dominated since 2009 but has relied on coalition partners from the far right.
The Bulgarian Socialist Party has experienced a recent growth in popularity and is expected to win six seats.
Just 51% of Bulgarian citizens report feeling like citizens of the EU.