AIB Group has set a target for 70% of new lending to be for environmentally friendly projects or to speed the transition to a greener economy, it said today, up from 20% so far this year.
To achieve its goal, the bank has tripled the money allocated for green lending to €30 billion from 2024 to 2030.
AIB said it is on track to exhaust its existing €10 billion climate action fund by the end of the year, meeting a target set when it last boosted the fund two years ago.
The Government set out legally binding climate targets in 2021 for key sectors of the economy to cut overall greenhouse gas emissions by 51% by 2030.
It said that would require about €125 billion of investment, primarily from the private sector.
AIB held its seventh Sustainability Conference in Dublin today, with the theme of the conference "It's Time to Act".
Today's free conference was attended by 500 people in person and more than 6,000 online.
The conference heard from Jacinda Ardern, the former Prime Minister of New Zealand and from Trevor Noah, comedian, author, producer and philanthropist as well as from Irish businesses who will offer practical advice on how they have integrated the green agenda in to their operations.
Speaking at today's conference, Ms Ardern said politics needs to be taken out climate action, adding that "we need decisions that exist for more than one political cycle, we need decisions for the next 30 to 50 years".
She described agricultural emissions as "a very emotive issue", particularly in New Zealand, where they account for 50% of all greenhouse gas emissions.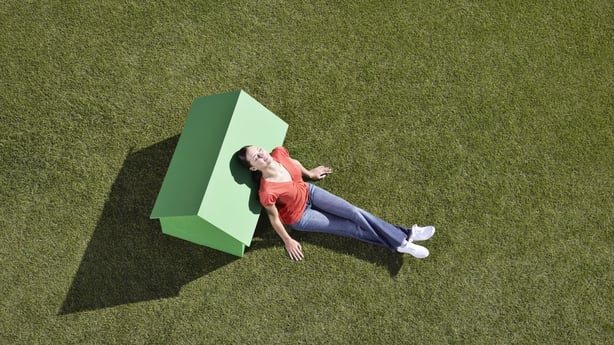 AIB has over the last three years raised a combined €4 billion from the issuance of green bonds after becoming the first Irish bank to issue a green bond in 2020.
When social bonds are included, the bank has raised €5.75 billion from the issuance of bonds for Environmental, Social and Governance (ESG) purposes.
Looking ahead to the next seven years, the bank has set itself ambitious targets including that 70% of its new lending will be green or transition by 2030 and that it will be net zero in its own operations.
AIB chief executive Colin Hunt said that the floods and fires we have seen around the world this year have reminded us yet again of the importance of protecting our people, our planet and our prosperity from the devastating impacts of climate change.
"At AIB we recognise that now is the time to take further action to support our customers by increasing our Climate Action Fund to €30 billion to help build the green infrastructure of the future," the CEO said.
"Furthermore, we are also putting in place plans to align activity across the Group to focus on Climate Capital, increasing and enhancing our capability in this area, supporting delivery of our €30 billion commitment and our ambition to be a driving force in the transition to a zero-carbon future," he said.
"We are also pleased to continue to provide a forum where global and national experts can inspire us to act by sharing their knowledge and experience," he added.