The Taoiseach has said he disagrees with the Irish Fiscal Advisory Council's (IFAC) assessment that the Government's broad spending plans for the upcoming budget are procyclical.
Leo Varadakar said he respects IFAC and was part of the Government that set it up in 2012 for a particular reason.
He also said he does agree with one aspect of IFAC's advice, that the Government shouldn't spend the surplus, but should use it instead to pay down debt and invest in funds for the future.
"I disagree with them on two counts," Mr Varadkar said.
"They are saying that the Government is being procyclical and not countercyclical. I don't think taking €10bn out of the economy this year and next year is procyclical."
He added that the argument that the surplus isn't really a surplus is not correct, as the Government has that money and has to decide what to do with it.
"The other area they said we should stick to is the 5% spending rule," he continued, referring to Government plans to grow spending by 6.1% in the upcoming budget.
But he said this is not an EU rule, all of which will be stuck to. Instead, he said, this is a rule agreed by him and other members of the Government.
"It wasn't just a figure that we made up," he said.
"It was based on inflation being around 2%...and then 3% to take account of demographics and the fact that every year we want to do a little more to improve services."
"But inflation isn't 2%, it is running at 5%. So sticking to that rule doesn't make sense in the current environment."
Mr Varadkar was speaking at an event in consultancy firm Grant Thornton's Dublin office to mark the opening of a new collaboration space, The Mobius.
The firm also revealed it is on course to reach a turnover of €300m this year and will employ 3,000 staff by the end of 2023, having recruited 1,500 new employees in two years, 800 of which were this year.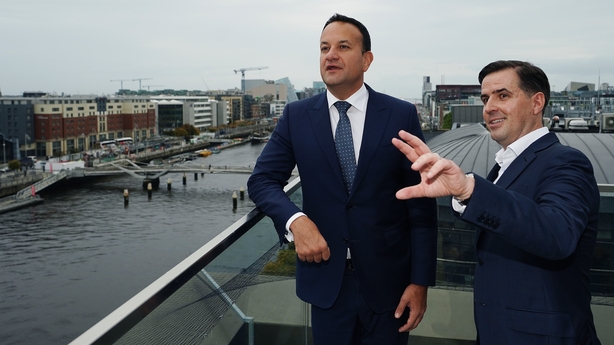 Leo Varadkar said his three main budget priorities are to help people with the cost of living, deliver a package for small business and businesses in general and focus on child poverty and well-being.
He added that the Government can help with higher wages, reductions in income tax and USC and reductions in the cost of living in areas where it can influence it.
He said the State also has to build resilience and this is one of the reasons the Government is not going to spend all the budget surplus, instead putting some into debt reduction and the rest into two funds.
One, he said, would be a fund to meet future pension needs and the other, called the Future Ireland Fund, would be to allow continued investment in infrastructure during economic downturns.
Mr Varadkar said he doesn't know if he will be in Government when the next economic downturn comes.
"I do hope if it isn't me, it is people who think like me who are there at the time. I would fear the decisions that others might make if they were genuinely faced with dealing with a crisis, given their history," he said.
The Taoiseach also expressed the view that the country is at a point where new housing supply is meeting demand, but added that the problem is that there is still a deficit from the years after the financial crash when output collapsed.
"But to actually get the deficit down we need to be hitting 35, 40, 45,000. I think we can get to that point in the next couple of years," he added.
On infrastructure, Mr Varadkar said lessons have been learned around the delivery of big projects, but they are hard to do.
He said projects like Luas Cross City had been done reasonably quickly, largely because the country had experience in doing it.
"But new projects like a massive new hospital, we didn't quite have the experience of doing it, nor did the people who were building it as it turned out, not a project of that scale anyway," he said.
He added that there are some projects that he is opening now that he signed off on when he was transport minister.
"And that's actually a bit frustrating," he said.
Regarding entrepreneurship, Mr Varadkar said a lot is being done through various programmes, but one issue facing the sector is access to finance, with some growing firms still having to look outside the country for funding.
"Some tax changes I think might help as well," he said, but added that they haven't been decided yet.
Asked by Grant Thornton Partner and former IDA Chief Executive, Martin Shanahan, about whether Ireland takes foreign direct investment for granted, Mr Varadkar said certainly the Government doesn't.
"My concern, I don't want to get too political on this, is that there are people in Ireland who I think do take FDI for granted and just think it will be there to pay the staff and pay the taxes and carry out investments, no matter how its treated," he added.