Ireland and Europe are really going to struggle to meet decarbonisation targets due to delays and uncertainty that every single renewable energy project and transmission connection is put under, the Chief Executive of NTR has said.
Rosheen McGuckian said it is getting more and more difficult to get necessary permits to build clean energy infrastructure.
NTR is involved in buying, constructing and managing sustainable infrastructure projects and has built and operated 2,000MW of wind projects and 630MW of solar projects across Europe and the US.
Addressing the Dublin Chamber annual dinner last night, Ms McGuckian said that during 25 years involvement in the sector NTR has had planning caught up for years, planning taken away from it due to retrospective changes and even planning being opened up for objection years after the project has been built.
"Now, we work through this and get projects built," she said.
"But Ireland and indeed Europe is really going to struggle to meet our decarbonisation targets with the delays and uncertainty that every single project and transmission connection is put under."
Ms McGuckian said she was really pleased to see that with the urgency following the Ukrainian crisis, Europe has put a new level of focus on reducing planning legislative bottlenecks.
But she also said more qualified people are needed at local and national level to make planning decisions.
The NTR boss also described offshore wind as "the one that got away from us as a nation."
"We were one of the first European countries to put in offshore turbines 17 years' ago back in 2003," she told the 1,000 attendees.
"We installed seven turbines off Arklow Bay but no offshore wind projects have been built since in our waters."
"We let that advantage slip away. If we look across the pond, the first commercial offshore wind project was installed in UK waters a year after us in 2004 and today they have 2,500 turbines running and providing enough clean energy to support 19 million homes."
She said NTR had debated investing in offshore wind in Ireland 5-6 years ago, but the lack of certainty around planning and maritime certification meant they didn't have the confidence that projects would be able to get off the ground any time soon.
"And unfortunately, we were right about the delays," she stated.
"And Ireland as a nation lost a window of opportunity of access to the cheapest capital and construction costs we are going to see for some time to get these projects into our shores."
"Ireland's first offshore wind auction awards took place earlier this year and I sincerely hope that as costs rise, we won't experience the same issue that has beset the UK in recent weeks, with the pull-out of a number of major projects as costs rise."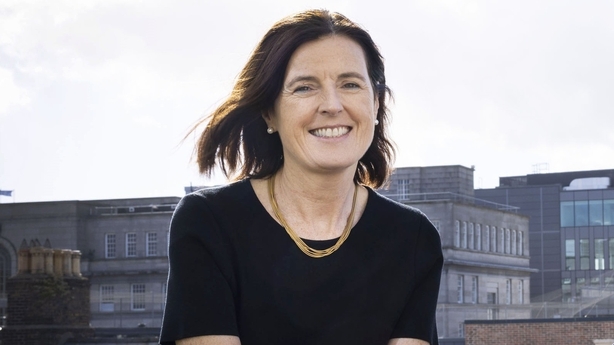 Ms McGuckian also highlighted a lack of available grid capacity as another risk to the rollout of renewables.
"Scarcity of grid here in Ireland has hit the headlines in the context of data centres, but it's not peculiar to this country only. In some markets, you might be waiting to 2028 or 2030 for your project to be connected," she said.
"Part of the issue circles back to planning again – it's not just the clean power projects themselves that are being delayed and delayed, but also the enabling transmission wires."
"And just as with planning, another forgotten piece of the equation is shortage of the highly skilled people needed to plan, build and connect projects onto the grid."
Ms McGuckian said the targets for the rollout of clean energy are ambitious and as a result "we have to up the pace of adding new clean energy to the grid by 3-4 times the pace we've been doing recently to get anywhere near our goals."
She said Ireland has created a great early-stage advantage in energy storage, as it is an island and has low interconnection levels.
"By necessity, we are one of the first European countries to get out the gates for the introduction of battery storage," she said.
She also suggested Ireland should do more to acknowledge the importance of investing in transferable skills in the energy sector, so Irish companies can grow internationally from expertise learned here.
"We often talk about Ireland being a centre of excellence in the aircraft leasing and aviation sector," she said.
"I'd argue that as a country we also have that in spades in the energy transition sector and we just don't exploit that enough."