Large numbers of Irish tourists visiting the 'bucket-list' destination of Las Vegas in the US last year contributed to pre-tax profits increasing almost six fold to €5.9m at the Club Travel group.
Director at Club Travel, Colman Burke said that "large numbers" booking breaks to Las Vegas, Cancun and Dubai was a feature of last year's business performance.
Mr Burke said that these destinations have taken off especially after Covid-19.
He said: "People have taken advantage of the post-Covid savings and splurged on more expensive holidays."
He added: "Las Vegas is a prime example of a 'bucket list' destination, appealing to many people in their 30s and 40s who on average spend around €1,200 per person on accommodation and flights on a four night trip."
Mr Burke said that the typical profile of those going to Las Vegas is not stag parties but made up of couples and sometimes groups of couples.
Mr Burke said that the firm's Las Vegas business is not really seeing an impact from the upcoming U2 concerts at the Sphere venue which start next week.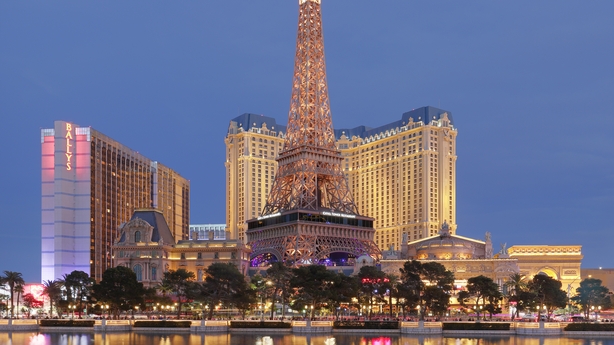 Consolidated accounts for Club Travel Holdings Ltd show that the business recorded the sharp increase after revenues increased by 504% from €23.12m to €139.67m in the 12 months to the end of October last.
The directors state that since October last group trading has experienced further growth and the directors expect that further growth in trading and profitability levels will be achieved.
However, there was no 'Irish rain' dividend to the business arising from the poor weather here in July and August this year.
Asked did the bad weather provide the business with a sun-holiday boost, Mr Burke said that there was 'none really".
He said: "By the time July and August came around, there was very little available and only at high prices. If you don't want to get left out in the rain, you need to book early."
On last year's performance, owner of the business, Liam Lonergan said: "We didn't know what the year might bring so we were pleased by the outturn. Leisure holiday demand was strong. Business travel took a little longer to take off but then it took off stronglyin March 2022."
Mr Burke said that the group's corporate travel had by the end of the year recovered to about 80% of 2019 levels.
He said: "The performance was excellent, considering the challenges posed by the sudden return of business in April. Retaining staff during the pandemic was a priority, and with the help of the Government supports, we were fortunate to retain our strong and experienced team which enabled us to ramp back up quickly."
Mr Burke said that "Spain and Portugal remain the No.1 destinations in Europe for Irish holiday makers".
Last year's rebound post Covid-19 further strengthened the group's balance sheet with shareholder funds of €63.85m.
The group's cash funds increased from €60.2m to €63.8m.
Numbers employed increased from 160 to 180 as staff costs rose from €5.22m to €7.95m. Key management personnel shared €795,332.
The business availed of Covid-19 related Government supports of €1.49m last year and directors state that the availability of such supports assisted the company in maintaining employee numbers and operational activity over the affected period.
The group recorded post tax profits of €5.04m after paying corporation tax of €865,062.
Reporting by Gordon Deegan