Electric Ireland has announced a 10% cut in domestic electricity prices and a 12% reduction in gas charges.
The changes will take place from 1 November and will benefit the utility provider's 1.1 million customers.
The cuts to both unit rate and standing charge will lead to savings of €212.06 a year on the estimated average annual bill for electricity.
The company's gas customers will see an average annual bill fall by €216.67.
It is the first cut in prices by Electric Ireland, which is the largest energy provider in the Irish market, since wholesale energy costs began to soar as a result of the Ukraine war.
Last year, Electric Ireland raised prices three times, the last occasion being October, while in 2021 it raised them twice.
"We know that the last two years have been particularly hard for our customers, given the impact of much higher energy prices following the Russian invasion of Ukraine," said Pat Fenlon, Executive Director of Electric Ireland.
"While unprecedented international wholesale prices have fallen in recent months, Electric Ireland's customers were not exposed to the extremes of these prices as a result of hedging strategies.
"However, wholesale gas prices remain about 300% higher than they were in 2020 which is continuing to impact customer bills."
Electric Ireland added that it has a range of measures in place to help customers who are having difficulty paying their bills, including payment plans and a €5m hardship fund.
The move by Electric Ireland comes after weeks of political and consumer pressure on all the energy suppliers to act on falling wholesale costs by cutting prices.
Speaking on RTÉ's News at One, Taoiseach Leo Varadkar said the reduction in energy prices was welcome, but he does not believe the cuts will be enough.
Mr Varadkar said he plans to meet energy companies soon to tell them there should be further reductions.
Speaking on the same programme, Mr Fenlon said the wholesale energy markets were still at elevated levels compared to before the energy crisis.
We need your consent to load this rte-player contentWe use rte-player to manage extra content that can set cookies on your device and collect data about your activity. Please review their details and accept them to load the content.Manage Preferences
He said that compared to its competitors, Electric Ireland had offered one of the lowest standard rates in the market throughout the crisis.
"After this decrease, we will have the most competitive standing charge in the market," he added.
He conceded that wholesale prices have come down significantly since the peak of last year, but explained that most electricity suppliers, like Electric Ireland, buy electricity wholesale on a forward basis and not from the "on-the-spot market".
Mr Fenlon said he could not comment on whether there would be further reductions, but he hoped there would be continued stability and further reductions in the wholesale energy markets.
He said he looked forward to speaking with the Taoiseach about the energy crisis, and reiterated that Electric Ireland understood the pressures customers were under as energy bills are still "roughly double what they were before the crisis".
He added that the provider would continue to pass on reductions to customers as soon as possible.
Last week, Energia said it was reducing its prices from October by around 20%.
At the end of August, Pinergy said it was cutting its standard electricity prices from October 1 by 9.5%, following a reduction in March.
It is also expected that a recent new entrant to the market, Yuno Energy, will increase competition and therefore help drive prices lower.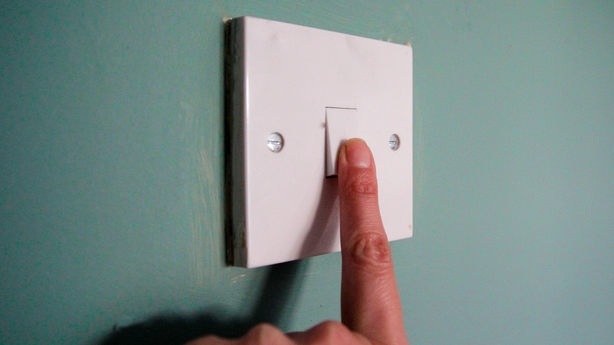 Speaking with RTÉ, Minister for Finance Michael McGrath, welcomed the price cuts by Electric Ireland, but added that there were still some energy providers who had not "made a move" to reduce the prices being charged.
"We would call on them now to reflect on the prices that are being charged, to take account of market conditions at a wholesale level, and to pass on the benefits to consumers.
"Because when we are making decisions in the next number of weeks, in the context of the budget, we want to see consumers being charged fair prices that reflect the market conditions.
"We have seen some improvement in the market conditions although there is volatility, and those improvements need to be reflected in the prices charged to consumers," he said.
Mr McGrath called on the suppliers who have yet to respond to do so now and pass on the benefits to consumers without further delay.
"It has been a really hard period for households and for businesses and we want to see consumers charged a fair price, that reflects market conditions and when those conditions improve the benefits should be passed on to consumers, so the companies that have yet to respond, I believe should now do so without further delay."
Meanwhile, Minister for Public Expenditure Paschal Donohoe said the reductions in electricity prices which have been announced in recent days are "only the beginning".
"I want to see the reductions that have been announced recently by a number of companies and implemented by many others," Mr Donohoe said.
"Because this has such a huge effect on living standards within our economy and has such a huge effect on the ability of people to get by. So this should only be the beginning."
He said we are seeing evidence of a fall in wholesale energy prices and "we want to see all of that passed on to Irish consumers."
But despite the start of a downward trend, experts predict any cuts for this winter will be modest, because wholesale prices remain so elevated.
According to recent data, Ireland currently has the highest electricity prices in Europe, 80% above the average, and the fourth highest gas prices.