The rain poured cold water on the domestic tourism market in Ireland this summer, sending Irish people overseas in search of sunshine.
Despite the prevailing narrative of busy airports and expensive hotel rooms, tourism bodies say the industry is striving to recover following the ravages of the pandemic.
The July downpours depressed visitor numbers and depressed the spirits of business owners already contending with cost inflation, staff shortages, bed shortages and the imminent increase of VAT.
The ray of sunshine for the tourism industry was the strong US market which brought big spenders who traditionally spend time and money not just in Dublin but in the regions as well.
While the US delivered visitor numbers thanks to improved connectivity, tourists from the UK and Germany did not visit Ireland in the same numbers as previous years, largely due to economic woes in their own countries.
It meant it wasn't smooth sailing for the Shannon cruising sector, which depends on visitors from Germany in particular.
Irish tourism bodies described Summer 2023 as a mixed bag with varied performances in different parts of the country and in different sectors.
It didn't just rain, it poured...
The heavy downpours in July had an impact on the domestic tourism market in particular, and discouraged last minute bookings from the UK.
The rain came just as primary schools closed, curtailing even day trips to the seaside.
Eoghan O'Mara Walsh, CEO of Irish Tourism Industry Confederation, said, "If you were an international visitor you would have pre-booked some time ago and you would have come to Ireland and unfortunately it would have rained on you.
"The domestic market is very weather-dependent so if you had heavy rainfall, it deterred the domestic market from 'staycationing', and there has been a big spike in Irish people travelling abroad for the sun and that's partly because of the lousy weather we've had here in Ireland."
Irish holidaymakers swapped umbrellas and wellies for bikinis and sandals this summer.
This was reflected in figures from Dublin Airport which recorded its busiest ever day on Sunday 30 July, when a total of 120,585 passengers travelled through the airport.
In fact, all 31 days in July saw passengers numbers of more than 100,000, according to airport operator daa.
Restaurants were also impacted by the wet weather. Eateries enjoyed a very good summer in tourist and seaside locations in 2022 but having invested in outdoor dining facilities during the pandemic, they were not able to utilise them this summer because of the inclement weather.
"It is something we need to look at in terms of more weather-proof infrastructure for next year," said Adrian Cummins, CEO of the Restaurants Association of Ireland.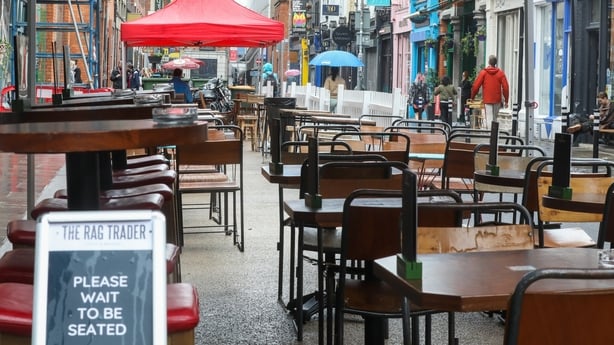 Hotelier Elaina Fitzgerald Kane said the rain "was a big dampener, and you'd worry about the impact that it would have for next year when it comes to making travel plans".
She said tourism businesses want to give Irish people more compelling reasons to holiday at home, "but the weather was so poor, people decided to holiday overseas, so yes, we'd love to have had a bit more sunshine."
Inflation
The rate of inflation in tourism and hospitality in Ireland is in line with other markets, according to Fáilte Ireland.
CEO Paul Kelly said businesses are showing healthy revenue growth, but it's not flowing into the bottom line because they are dealing with really significant cost increases from energy to food to staff.
"It is important that people have a wider perspective when looking at prices because anyone who has travelled abroad this summer will also see prices significantly higher than what they would have experienced in the past," Mr Kelly said.
The margin in the restaurant sector is quite low, according to Mr Cummins, RAI.
"Everyone that I've been speaking to has said that margins are being cut between below 1 to 5% so they are in the drop zone in terms of profitability.
"We've seen energy inflation, we've seen the cost of raw materials inflation and we've seen wage inflation."
Mr Cummins said businesses are trying to mitigate against cost inflation by closing two days a week, "and that isn't good for the local economy or the tourism industry, but needs must at the moment".
Value for money
Before this year's season, Fáilte Ireland wrote to all hotels to warn about the damage to tourism that would be caused by excessive pricing.
Mr Kelly said overseas visitors have not raised significant concerns about the pricing here this summer, "there's a little bit but nothing hugely significant, and that's because the rate of inflation in tourism and hospitality is not far out of line with what's happening in other markets".
The CEO said they are keeping a watching brief on it, and reminding the industry that despite cost inflation and the challenges of supply and demand, "to keep in mind their long term reputation and to keep their prices as competitive as possible".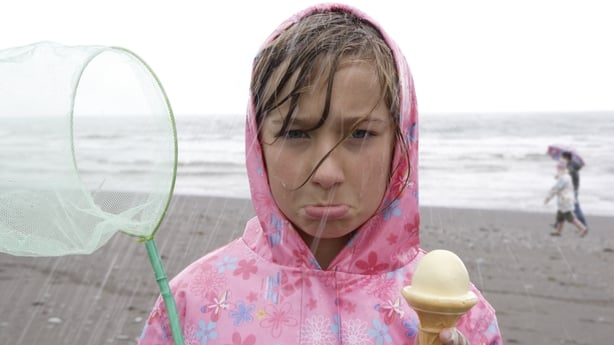 The main challenge is when there are 'compression nights' in Dublin, when big events like concerts are taking place, that cause demand to exceed supply pushing prices higher.
"That happens in every city in the world, Mr Kelly said, "but the challenge with Dublin is we just don't have enough tourism accommodation stock. That means nights when the city is full, happen more frequently than in other European cities."
He said the key long term objective is to increase the stock of tourism accommodation in Dublin in order to retain that balance between supply and demand.
Ukrainian Refugees
The shortage of hotel rooms is further exacerbated by what the industry describes as the Government's over-reliance on tourism accommodation to house Ukrainian refugees and international asylum seekers.
One in five visitor bedrooms is now no longer available to the tourism economy, at an estimated economic cost to the sector of between €700m and €1 billion.
"From a humanitarian perspective, that is perfectly understandable and it is only right and proper that Ireland has a generous approach," said Mr O'Mara Walsh, ITIC.
"It does have profound impact on the local tourism economy."
Ms Fitzgerald Kane, chair of ITIC, said the impact can be seen in traditional tourist towns like Youghal, Rosses Point, Kilkee, Lisdoonvarna, all along the Wild Atlantic Way.
"It's not just the impact on how it has changed the landscape of the downstream businesses, but you have to remember that the season can be very, very short for a lot of these communities."
The industry has urged the Government not to be overly reliant on hotels and guesthouses and to come up with an alternative plan on how best to accommodate refugees.
"Demand and supply are out of sync," said Mr O'Mara Walsh.
"Supply has been constrained and demand from certain markets has been strong so certainly Government hasn't helped by taking so much supply out of the system."
Staff
"Everybody is fighting for staff at the moment, right across the board," said Mr Cummins.
The RAI chief executive said recruitment is made all the more challenging because of the shortage of housing and rental accommodation.
"It boils down to the shortage in accommodation across the entire country," he said. "We've lots of staff that could come in from overseas but we have nowhere to put them. We need staff for all sectors including hospitality. We've a shortage of 3,000 chefs and we need 30,000 staff in the industry to bring it back up to our 2019 levels."
A shortage of staff saw restaurants and cafés shortening their opening hours or closing their doors for a couple of days during the week.
VAT
The reduced 9% VAT rate for tourism and hospitality expired at midnight, Thursday, despite last minute pleas by business organisations for its retention.
It was lowered in November 2020 to help stimulate activity in the tourism and hospitality sectors during the pandemic.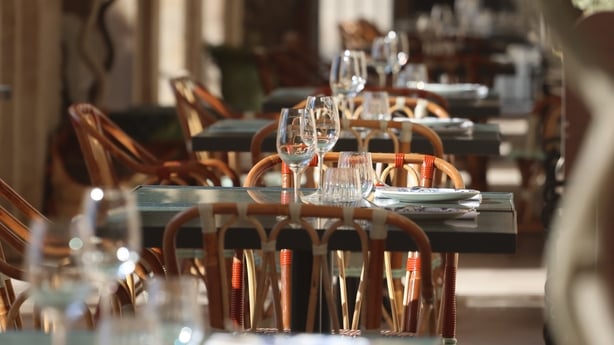 But in a report last year the Commission on Taxation and Welfare recommended that the rate be restored and that it should be increased progressively over time.
Its extension until the end of August is estimated to have cost the Exchequer €300m in tax revenue foregone.
Ms Fitzgerald Kane, whose family run Fitzgerald's Woodlands Hotel in Adare, Co Limerick, described the increase as a hammer blow for the sector. Ireland returns to having one of the highest VAT rates in Europe.
"I'm meeting wedding couples at the moment and all of a sudden their packages for their wedding outlay is going up by a few euro per person and when you multiply that, it really hits hard. It's a consumer tax and people forget that it's the consumer who will be paying," she said.
Mr Cummins said the 9% rate should have been kept in place for the food service sector.
"This is a tax on consumers which will ultimately affect our customers coming in to spend money in our restaurants. You will see businesses closing up, especially when the warehouse tax that is due to the state is called in over the next few months," he said.
Fáilte Ireland said it would like to see VAT stay at the lower rate because it facilitates a more competitive pricing offering and helps business.
"It's a Government policy decision and we understand the challenges around that," Mr Kelly said.
"The industry appreciated the lower VAT rate was kept in place and helped them recover from Covid, and that's been hugely valuable to businesses. We just need to see what the impact of that will be as it unfolds."
He said the VAT rate is talked about in isolation when the combined impact of VAT and excise adds to the cost of eating out in Ireland.
"Most people will have a bottle of wine or a glass of beer with their meal. Ireland has one of the highest excise duty rates on alcohol, and we're not arguing to lower that or anything, but the combined impact of the VAT take and the excise take does put a heavy tax element to a meal out, and it is generally much heavier than the international average," he said.
We need your consent to load this rte-player contentWe use rte-player to manage extra content that can set cookies on your device and collect data about your activity. Please review their details and accept them to load the content.Manage Preferences