Warmer weather and the ending of the academic year in education institutions led to demand for gas dropping by 10% in June compared to May.
Overall, gas demand was 9% lower in June of this year compared to last, Gas Networks Ireland said.
The residential sector drew -53% less gas in June compared to a month earlier, while demand from offices fell -47%, leisure and sports arenas by -31% and retailers -27%.
Versus June of last year demand plummeted by -47% in residential settings, -46% in the construction sector and -32% in offices.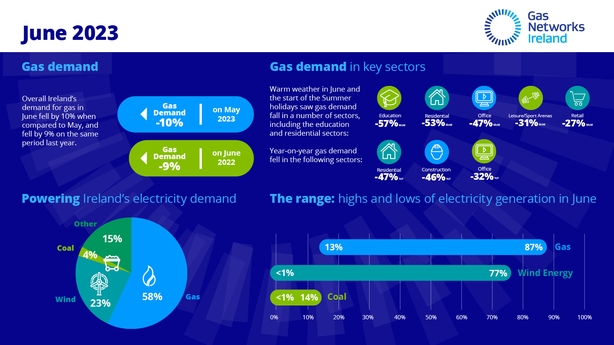 Over the first half of the year, demand for gas rose slightly in comparison to the final six months of last year, but fell 2% below what was used between January and June of 2022.
During the first six months of this year, gas generated 9% more of the country's electricity than it did in the same period last year, coming in at 49%, while the contribution from wind dropped 6% to 34%.
In June alone, 58% of Ireland's electricity came from gas, similar to the previous two months and the same month in 2022.
23% was generated by wind.