The Minister for Finance has called on banks to make every effort to keep mortgage customers out of arrears in the face of rising interest rates.
The European Central Bank is widely expected to raise interest rates again on Thursday, which will be its seventh consecutive rate increase in 11 months.
Speaking at a Banking Payments Federation Ireland conference, Micheal McGrath said genuine people should not be allowed to fall into arrears due to higher interest rates.
He said the consequences of people falling into arrears was well-known, and banks should work proactively with customers to help them avoid that.
Minister McGrath also called on banks to be "open and welcoming" to customers of non-bank lenders.
Many of these customers are now facing considerably higher interest rates than those offered by traditional lenders and were looking to switch as a result.
Minister McGrath said most of these customers were meeting their repayments, while others have issues that could be worked through relatively easily.
He said there was some switching going on already but he believed the volume could be much higher, and he said banks needed to make it known that they were welcome and open to those customers.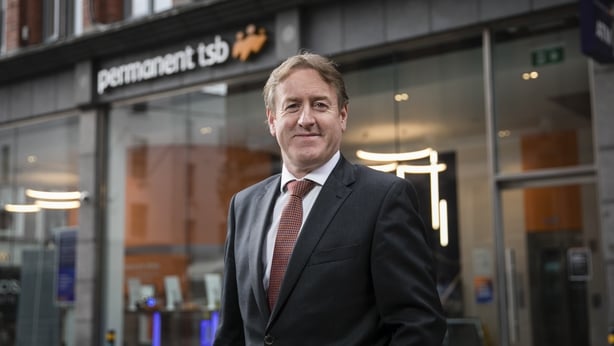 Also speaking at the BPFI conference, Permanent TSB CEO Eamonn Crowley said Irish banks "had not been found wanting" in trying to help struggling borrowers with repayment arrangements.
In a panel discussion also involving senior management from AIB and Bank of Ireland, Mr Crowley said building trust was at the heart of its mission.
"We are continuing to live by our purpose," he said. "Are we building trust or are we destroying trust? The whole organisation knows what that means and we can measure ourselves in that regard."
AIB CEO Colin Hunt said his bank now has more customers than ever, but that means that more is expected from it.
"We are seen as a key part of the country's economic and social infrastructure," he said. "Our industry can be and should be a force for good – economically and socially."
He said he hoped to see Irish banks collectively restore the reputation of an industry that is "vitally important to our society".
He also saw banks as central to the societal push towards environmental sustainability.
"We want to help drive the transition to a lower carbon future, because it is the only truly existential threat outside of war," he said.
Mr Crowley sustainability as a key goal for his bank but said it would be a long-term project.
"It's going to be a marathon and not a sprint," he said.
Susan Russell, Bank of Ireland's director of retail in Ireland, also cited trust and reputation as key to the future of banking here.
She said it was okay to say that profits were important – as returning value to shareholders was part of a bank's function – however how they get there was what mattered.
"That's how we'll be judged by society," she said.
She said that while the retail banking sector in Ireland was shrinking, the financial services sector was bigger than ever – which made it extremely competitive for banks.
That meant lenders were likely to face more challenges in the coming years, and more shocks, but it was key that they did not lose focus on their purpose despite that.